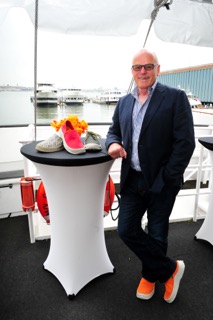 Two footwear veterans, Scott Seamans, a Crocs founder and chief designer, and John Duerden, former president and COO of Reebok and a former CEO at Crocs, have launched a new brand, SoftScience, that promises to take "comfortable, casual footwear to an entirely new level."
We set out to create a shoe that not only takes an uncompromising stand on comfort, but is stylish and fun, in a funky sort of way, said John Duerden, SoftScience president and CEO. Shoes that, from both technical and style standpoints, are distinctive and work. We think this is the most comfortable shoe anyone will ever wear.
With two distinct styles-a lace up and a slip-on that can also be worn as a clog, both men and women can experience the ultimate in footwear comfort, even after long hours on their feet.
We began by designing a shoe which allows the foot to relax, is highly cushioned, stable and lightweight. A shoe which provides immediate relief from those common foot discomforts which we can experience at all ages, continued Duerden. We heard from athletes wearing them as a recovery shoe, golfers grateful for an ultra-light walking shoe, folks who work on their feet all day and from podiatrists whose patients were finding pain relief by wearing our shoes.
Both sailing enthusiasts, Duerden and Seamans made sure their shoes were ideal for water use and effective on slippery decks-making their debut in this years prestigious Newport-Bermuda sailing race.
Striking the right balance between comfort and fashion was key in the brands creation. At the core of the shoes construction and personality is a proprietary, closed cell foam called Trileon.
Scott developed Trileon over many years, continues Duerden. The use of Trileon in the footwear's removable and odor-resistant insoles and outsoles creates an impact-absorbent, stable shoe. They are also ultra-lightweight, weighing just six – ten ounces each.
The science in SoftScience is in the Levelast Universal Comfort Platform (UCP), the footbed form critical to the design. Featuring minimal elevation changes from heel to toe, the shoes keep the foot level to disperse body weight evenly across the sole. The design allows for a generous fit to accommodate most foot shapes and sizes, allowing the foot and toes to spread out and remove pressure points.
The durable, yet simple, design minimizes the need for adhesives and layers of material. Wearers can expect a roomy and relaxed fit, a stable platform, superb shock absorption inside, and an outsole that is slip resistant and non-marking.

The SoftScience Footwear collection is initially available in three styles – Casual, Boating and Fishing. Developed for both men and women, styles include the Drift, an espadrille slip-on that can also be worn as a clog; and the lace-up Cruise, featuring a classic boating collar and laces to customize the fit. The third style, the Fin, features a self-draining system and a mesh upper to keep wearers on their feet while in the water and comfortable on land.
Incorporating a sense of fun into every shoe was important to Duerden and Seamans. This is reflected in the distinctive styling and range of available colors, from popular khaki and black to electric orange and lime. For fun-seekers and artists alike, SoftScience offers the Drift in the Painter motif-a classic slip-on inspired by Artist Jackson Pollack.
SoftScience, Inc. is headquartered in Oceanside, CA, and includes a team of experienced professionals from Crocs and Reebok. The team is driven by a shared and simple passion-to make comfortable, functional and attractive shoes. More information is available at www.softscience.com.