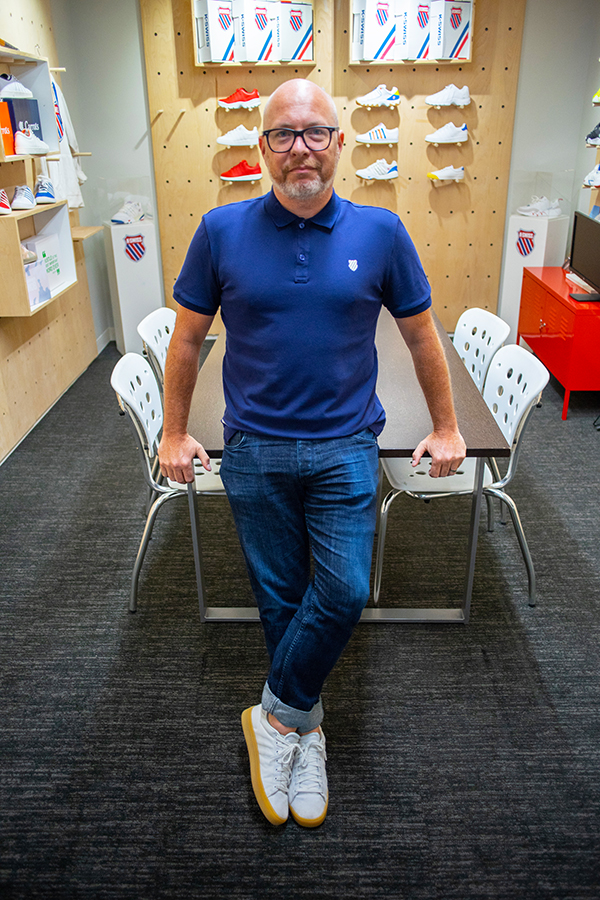 "Today's youth are not trying to be athletes or chasing empty fame. They want more. They are building their own brands, companies and businesses. Driven by creativity and the digital economy, this is the next generation of young entrepreneurs, where smarts, hustle and success define your status." — K-Swiss
—•—
K-Swiss has built a modern brand position around the young entrepreneur as the brand's muse. Their belief is that the aspiration of young people has shifted from trying to be an athlete, or trying to be famous, to wanting to be the next CEO with their own business or brand. We sat down with Barney Waters, President, K-Swiss, pictured left, to learn more.
As a brand, it's hard for us to compete with Nike and beat an athlete brand or Adidas who has the most rappers on their roster. For K-Swiss, it's like an open lane for us to direct our focus on entrepreneurship as our north star.
We built this idea of sneakers for CEO's — with the CEO being a young millennial — who is trying to build their own brand and it's very differentiated, modern, and people have really connected to that idea.
The business model that K-Swiss is working towards is it's not realistic to think that everyone can be a running back in the NFL or a point guard in the NBA, but anyone can be an entrepreneur whether you're 8 or 80 years old. Entrepreneurship, as an ideal or as a goal, is much more attainable to the average person than to be a top athlete or a rapper.
It's really two sides of the coin for K-Swiss. One is our history and our heritage in all of our classics, which are experiencing a resurgence because trends are around the 90s, retro, authenticity, and classic, but at the same time, we have this small modern brand position around entrepreneurship which is allowing us to do some very progressive things. There are two things at play — we're an old preppy brand that was in the tennis business and so it connects the classics and this idea of the entrepreneur that are both high-end and aspirational.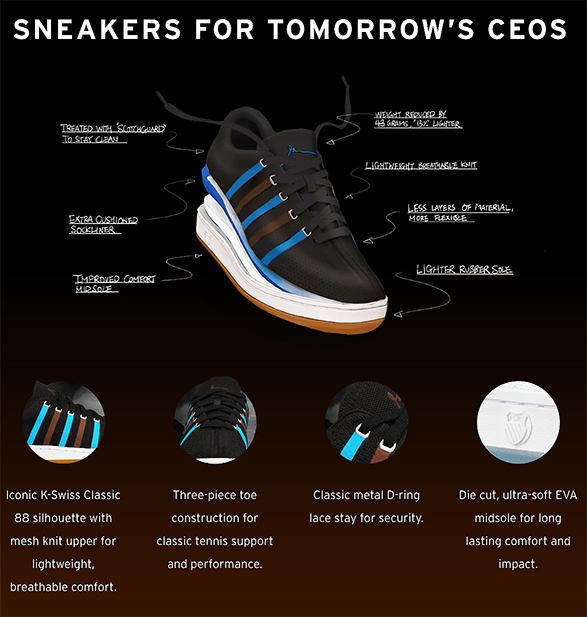 Our most current sneaker, the 003, shown left and below right, which was a collaboration with Gary Vee, is the third sneaker in a series we worked on together called Clouds & Dirt, which was based off of one of Gary's philosophies. The Clouds, blue stripes, represent the vision of your business and the big picture and the Dirt, brown stripes, is the hard work and the details you have to focus on as an entrepreneur, and to be successful, you have to really live in the Clouds and the Dirt.
"When you're an entrepreneur, most of the days are dark and stormy and you've got to navigate them. There's a facade that it's so easy and awesome." – Gary Vee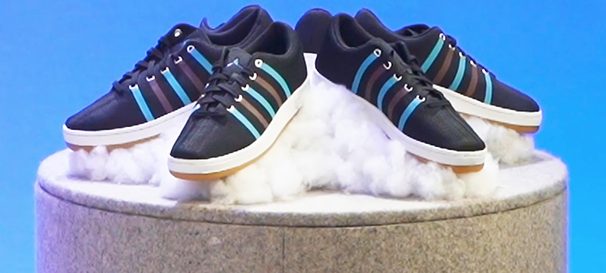 The first shoe in the three-sneaker series we released with Gary was white and we sold thousands of pairs. We released a bonus color, called Dark Clouds, in early November that we launched and then released and sold on NTWRK, a mobile QVC-like mobile app, that literally sold out 1,000 pairs in one minute!
The way it worked was NTWRK pre-promoted that the sale was going to be a Gary Vee episode with K-Swiss, but they did not pre-sell the shoes. The shoes were only released for sale once the 15-minute live segment with Gary started. NTWRK had the shoes in inventory, and the sale began the moment the video started.
Watch the Dark Cloud sneaker go live and sellout on NTWRK with Gary Vee here or click on his photo below.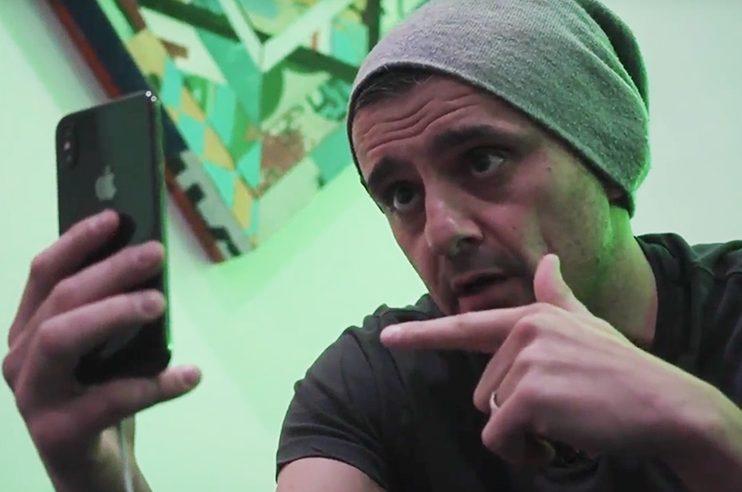 Gary and K-Swiss also pre-promoted the sale. Both brands have a big social following so between the three brands and the app itself, everybody promoted the sneaker to say hey, come on at 6:00 pm and listen to Gary — which is the entertainment part — and then there is this limited product opportunity, all of  which drove sales.
The fact that you are either getting something that's exclusive or you are going to be the first to get something, shows that the old retail approach is not working for many of today's young consumers. 
Using NTWRK as an example, it's the face of today's retail model for the young buyer. You put on a short entertaining piece on mobile with a celebrity and a "click to buy now" button, and we sell 1,000 pairs of Dark Cloud sneakers in under one minute. Gary Vee, as an influencer, has that clout with today's millennial buyer. It's hard to believe.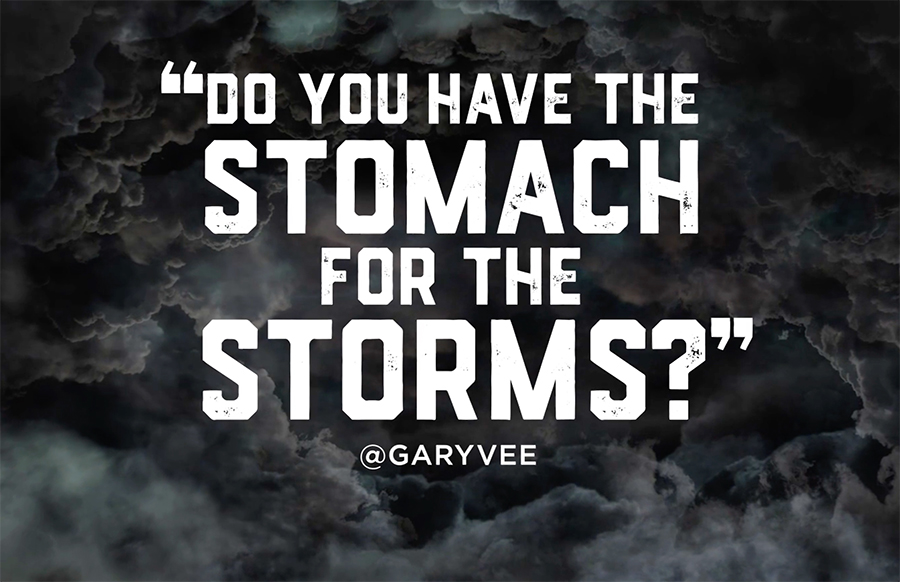 The implied product scarcity is also what drove the "click to buy now" traffic. This idea of it's either going to go away or it's going to be sold out, is definitely part of the ingredient that's making these products fly fast. Sneakers have become such a collectible, and the limited hyped product is really driving a lot of today's brand energy. TheNTWRK app is perfect for what's really happening in sneakers right now.
As a challenger brand, when little opportunities come up like the NTWRK app, we're able to be fast and be progressive. And by working with an entrepreneur versus an athlete, that's breaking the norm. By launching/selling a sneaker on a new video commerce app, is also pretty different for the footwear industry.
The celebrity aspect of selling to the consumer drives sales especially with millennials. There is no denying that it is. You talk with most footwear retailers in the youth space now and that's the only thing that's really selling outside of the big main space except for collaborative, limited edition special projects that's getting young buyers interested.
In early November we launched a sneaker for kids with a utube star named Blippee, who has 5 million kid followers between the ages of 2 and 6. At the shoe launch at Kids Footlocker in LA, there were over a thousand people in line with their kids waiting to meet Blippee and purchase the shoe because he's the hottest thing in kids TV (the laptop). That's another example of our trying to be progressive in the youth space.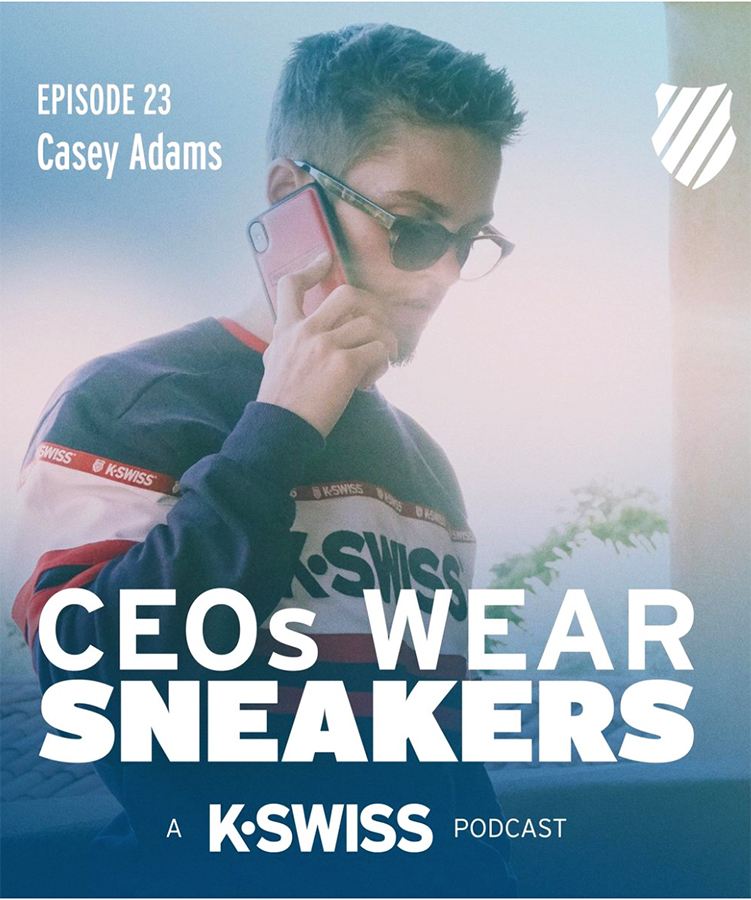 We recognize that things swing like a pendulum. Everything is going one way and naturally ends up swinging in the other direction to counterbalance what's happening. We're in such a time of street wear-hyped drops that the pendulum swinging to the opposite of that is almost like these reliable, simple classic shoes that do not change and to some degree that's where we sit. For example, the K-Swiss white-on-white 50-year-old classic is a good anecdote to the limited edition sold-out, here one minute and gone the next, type of industry that we're in right now. I think on the horizon there are a lot of people talking about the bubble bursting on streetwear.
K-Swiss will continue to manufacture and sell a limited number of sku's with a celebrity for quick sell through. We also have K-Swiss.com exclusives in small runs because the buying window at wholesale is very far ahead of the market. You have to be selling six months ahead of when you are delivering. We want to have some things that are more responsive to what's happening in the marketplace in order to be quick to market and, in some cases, we have to bypass that buying cycle of wholesale and just put it straight on our website. The bulk of our business is wholesale, but some of that brand energy we have to put toward direct-to-consumer just to hit our timelines.
What is the trajectory for K-Swiss? Our business is definitely growing rapidly, driven by the Americas market. We're in the midst of a turnaround since I took over as President two years ago with new product, new strategies and adjustments to our team. In 2018, we're in double-digit growth and are on pace to have our first profitable year in a long time. The things that we're doing are working. We still have a long way to go to get to where we want to be but so far, as indicated by the numbers, we are on pace.
My goal is to take a 50-year-old brand and become the most progressive sneaker brand in the market. Everyone expects our brand to be old and slow, and I'm making sure that it's really dynamic and fast. That's why we are jumping into new things, and so far it's working for us.
Photos courtesy K-Swiss and NTWRK