Smith & Wesson Brands, Inc. reported its last full year as a combined company this week as it prepares for the spin-off of its non-firearms business to a new publicly traded entity in August. Smith & Wesson Brands will maintain its new name and ticker symbol as SWBI and will be led by current Co-President and Co-CEO Mark Smith while the spin-off American Outdoor Brands, Inc. will assume the ticker symbol AOUT and will be led by current Co-President and Co-CEO (and 2016 SGB 40 Under 40 Honoree) Brian Murphy.
In a conference call with analysts, Smith said SWBI was able to keep its factories and distribution center operating in the fourth quarter ended April 30, thanks mostly to its operation teams across the Company who "immediately implemented a broad range of safety procedures and cleaning protocols which remain in place to significantly reduce the risk of COVID-19 transmission and keep our workforce safe." The actions occurred across all facilities and included "travel restrictions, staggered shifts, enhanced cleaning and sanitizing, remote work where possible, social distancing, use of face masks, temperature screening and many, many more." SWBI engineers had repurposed manufacturing lines to produce face shields. To date, the Company has donated more than 8,000 face shields and 14,000 sets of protective eyewear to over 30 front-line hospitals and first responders. Smith also highlighted that the Company donated funds to multiple food banks and charities and the communities where it operates.
Looking at the full fiscal year, SWBI net sales were up 6.3 percent to $678.4 million compared with $638.2 million in the prior year. A change related to the timing of the federal excise tax favorably impacted net sales in the year by $37.5 million. That change had no impact on gross margin dollars or operating expenses. Gross margins declined 80 basis points to 34.6 percent of sales for the year. The full-year GAAP net loss was $61.2 million, or a loss of $1.11 per diluted share, compared with GAAP net income of $18.4 million, or 33 cents per diluted share, in the prior year. The $98.7 million non-cash impairment charge, taken in the fourth fiscal quarter, negatively impacted basic and diluted earnings per share by $1.79.
Firearms segment revenue grew 10 percent to nearly $530 million in fiscal 2020. Smith said growth was driven by strong consumer demand for firearms as reflected by adjusted NICS results, a consumer preference for its products and SWBI's ability to keep employees safe and its facilities operational. Results were also favorably impacted by the changes in the timing of its excise tax assessment as well as strong consumer acceptance of the M&P Shield EZ pistol that helped drive market share gains in the year. The M&P Shield EZ platform, which is available in both 9mm and 380 caliber versions, reportedly generated over $90 million in revenue in fiscal 2020.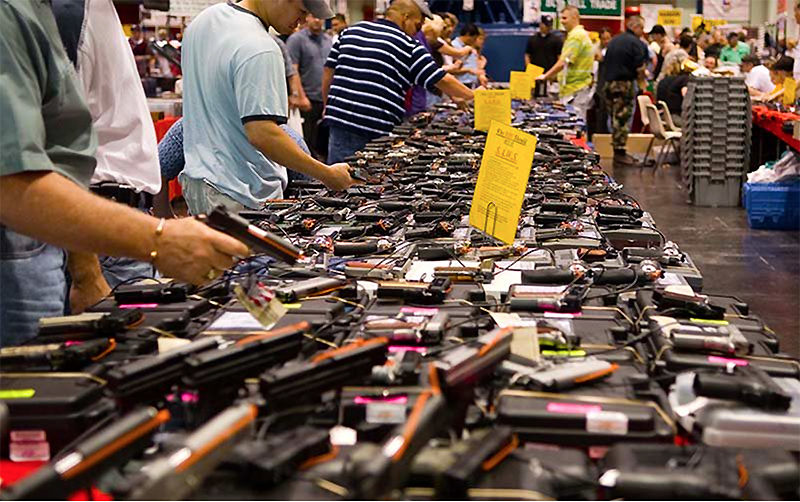 In the fourth quarter, consumer demand for firearms reportedly "increased dramatically," and revenue increased over 37 percent to $193 million versus the prior-year quarter. The primary driver of the increase was said to be "strong orders from retailers and distributors driven by a sudden and heightened consumer demand for the firearms," which began in March and is reflected by adjusted NICS in the period. Smith noted that NICS' background checks for handguns increased 66 percent year-on-year while SWBI handgun units shipped to distributors and retailers increased by 20.5 percent.
In long guns for the same period, background checks grew 48 percent year-on-year while SWBI units shipped to distributors and retailers grew by 42.5 percent. Smith said it believes the difference between the Company's shipments and adjusted NICS results in the period reflects that "retailers and distributors were able to address the increased consumer demand in part with their existing inventories which declined substantially during the quarter."
The distributor inventory of SWBI firearms decreased on a sequential basis from 157,000 units at the end of the 2020 third quarter to 117,000 units at the end of the 2020 fourth quarter. Smith said distributor inventories since the end of fiscal Q4 have further declined and are currently below SWBI's eight-week threshold.
Firearms segment gross margins for the fourth quarter, excluding federal excise tax, increased 430 basis points, primarily due to "improved absorption related to increased production volumes and to a lesser extent increased prices" implemented on November 1, 2019. Firearms segment operating income was $33.9 million in the fiscal fourth quarter, up 33.5 percent from $25.4 million generated in the year-ago quarter.
Looking at the Outdoor Products & Accessories (OP&A) segment, Murphy said the fiscal year included a number of challenges such as increased tariffs and disruptions caused by the coronavirus but that the OP&A business saw consistent point-of-sale growth in hunting, shooting and cutlery products with core brick & mortar customers, as well as strong growth from a newly implemented e-commerce platform.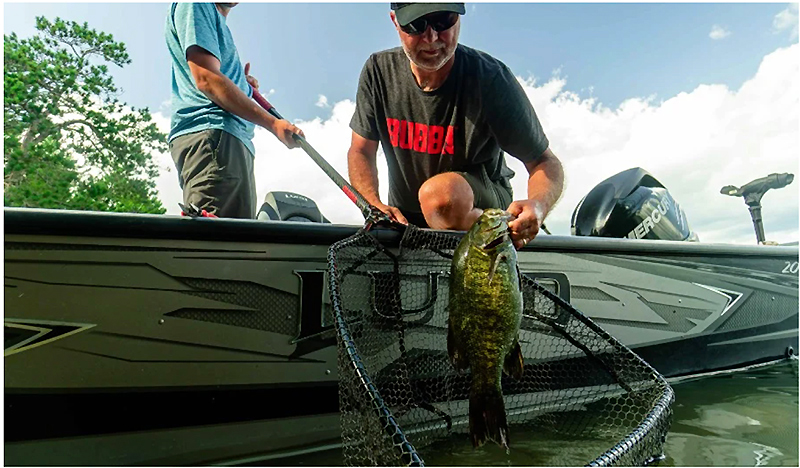 During the year, Murphy said the soon-to-be new company launched over 300 products and extensions, some of which represent their entry into completely new product categories such as meat processing. "At a time when consumers are increasingly looking to outdoor activities such as fishing, hunting, shooting sports, camping, and hiking as a way to address COVID-19 restrictions, we believe our brand lane strategy provides us with an ideal competitive advantage for developing exciting, on-trend and highly innovative new products that turn new consumers into strong long-term advocates for our brands, he explained."
Murphy outlined that OP&A has four distinct consumer activity based lanes within which every brand has a solid fit. Once docked into its appropriate brand lane, "we can then begin to unlock a brand's true potential by leveraging the respective lanes resources, including brand marketing, product development, sourcing and e-commerce". Murphy continued, "Perhaps the best example demonstrating the success of this Dock and Unlock formula is our Bubba brand. When we acquired Bubba Blade in 2017, it was known for its red-handled fillet knives, seizing an opportunity to recast the brand under our Adventurer lane, we expanded its potential by dropping 'Blade' from the name and positioned it to capture the water-to-plate lifestyle which was largely overlooked by other fishing brands. Bubba is now among our fastest growing brands having entered new product categories such as pliers, nets, gaffs, gloves, and apparel, where it now has permission to play reaching a wider audience as it transitions from a niche brand to a known brand." Murphy reported that Bubba's sales in fiscal 2020 grew more than 100 percent year-over-year. He also highlighted the BOG hunting brand, which was known as BOG POD before they repositioned it. BOG posted nearly 200 percent growth year-over-year in fiscal 2020.
Murphy went on to say that strengthening the Company's e-commerce platform is an important element within its growth strategy. "We believe our e-commerce platform, which includes both our online customers as well as their own websites, was largely responsible for our consolidated year-over-year fourth-quarter revenue growth of 2.4 percent as consumers responded to retail store closures by seeking our popular brands and products online."
Fourth-quarter, e-commerce channel revenues grew 103 percent compared to the prior-year period and included "a significant increase in direct-to-consumer sales." Murphy said the increase further validates the Company's decision two years ago to invest in a new e-commerce platform. "Our revenue growth in Q4 occurred despite over 1,000 brick-and-mortar locations in our retail network being closed at one point," he said.
OP&A segment revenues for fiscal 2020 declined 5.5 percent to $167.5 million compared to $177.3 million in the prior year. The decrease was said to be "primarily driven by lower OEM sales of laser sight products, the bankruptcy and financial distress of certain customers and the unexpected acceleration of one major retailer's private label strategy relating to camping accessories."
Fiscal fourth-quarter OP&A revenue grew 2.4 percent to $43.2 million driven by increased sales to online retailers and a "significant increase" in its own direct-to-consumer sales that more than offset declines that were driven by retail closures in fiscal Q4. The growth came as one of their largest customers, a major online retailer, did not place orders with them for a full month as they chose to ship only essential products during that time.
Gross margin for fiscal 2020 was 41.4 percent of sales, a decrease of 380 basis points from fiscal 2019. The decline was said to be driven primarily by "unfavorable manufacturing variances and the increase in tariff costs." The manufacturing variances were reportedly related to "lower production of Crimson Trace laser sight products, which are made in Oregon." Tariff changes in fiscal 2020, most of which were increases, negatively impacted the segment's gross margins.
OP&A inventory at the end of fiscal 2020 was flat to the prior-year end.
The newly minted spin-off company has established a bank relationship and has received a commitment letter for a $50 million senior secured credit facility which will be immediately available after the spin-off. The facility will be expandable by an additional $15 million under certain conditions and will be an asset-based loan subject to typical provisions. This new credit facility, combined with $25 million of starting cash from SWBI, means the new company will have $75 million to $90 million in capital available as a new company to support achieving its long-term organic and inorganic goals.
Photos courtesy Smith&Wesson/Bubba Brand