SkiJoring, a Norwegian word, is 15 to 20 seconds of adrenaline-packed racing for horse and skier — the Western Way.
Competing in the National SkiJoring Finals in Red Lodge, MT, skier Sarah Freeman and cowboy Tom Finley take their skills to the next level. Watch winter excitement between the skier and the cowboy at one of Montana's most unique events here and below.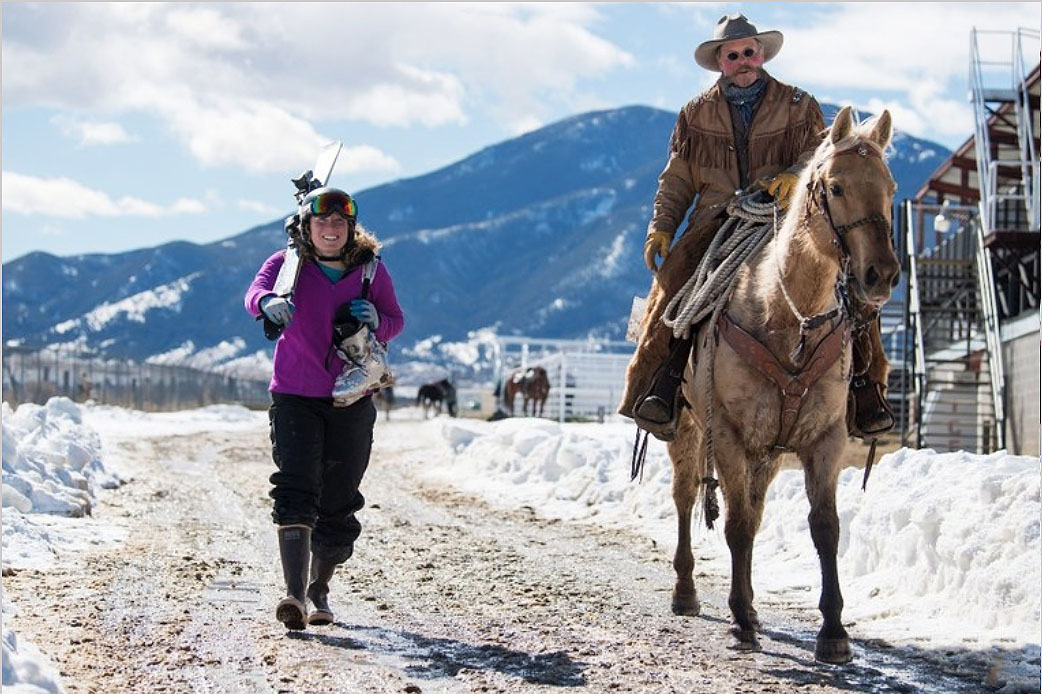 The sport of skijoring requires balance and agility. Think of it like skiing meets the rodeo meets Medieval Times with a course that typically runs 1,000 feet and features 12 slalom gates, six "jousting rings" that a skier must grab and three ramp-like jumps ranging from 2 to 6 feet in height.
Skijoring began in Norway in the 19th century as a way to speed the transmission of army dispatches, according to E. John B. Allen in his book The Culture and Sport of Skiing. The sport gained in popularity in many parts of the Scandinavian world among those with daredevil spirits and access to draft horses and rope. "Horsemanship was one of the aristocracy's remaining differences from the urban masses," wrote Allen.
Baron Pierre de Coubertin, the founder of the modern Olympics, was a fan of the sport, and skijoring made its debut at the St. Moritz Games in 1928 but when the race concluded, no one even bothered to write down the victors' names. That was the end of skijoring at the Olympics.
Skijoring is still popular in Scandinavia, Switzerland and in other northern regions and has gained niche popularity in America in places like Whitefish, MT, home of the World Skijoring Championships, where it first became popular in the 1950s.
Today races are sanctioned across the U.S., and while horse and skier teams dream that the sport might return to the Olympics, it's probably unlikely.
---
In addition to the 2018 National Skijoring Finals at Red Lodge in March, Whitefish, MT will host the World Invitational Skijoring competition for the 15th year at their annual Winter Carnival event in January. To find a skijoring event, check out Montana's skijoring page.