Skechers USA Inc. posted very strong double-digit third-quarter earnings and sales growth and backlogs are continuing to rise at double-digit rates, but results still fell short of Wall Street expectations as a lackluster performance of toning during the BTS season led to some cancellations or deferment of shipping windows.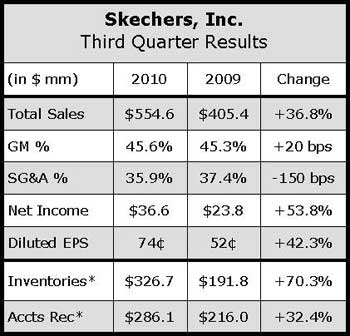 On a conference call with analysts, Skechers COO/CFO David Weinberg said that while the company continues to experience growth in many categories, including toning, several accounts overbooked for back-to-school and canceled orders, resulting in more inventory than initially planned.
Inventories were up more than 70% at the quarter- end.
"Everybody thought toning was going to grow through to the moon for lack of a better metaphor," said Weinberg. "And people bought it. They bought not only Skechers but others that have clogged the marketplace."
Weinberg noted that according to SportsOneSource, Skechers represented 55% of the toning market.. He said management plans to re-align its cost base to sales expectations while working down the inventory glut "at reasonable margins" over the next six months or so. "This inventory is current and is selling well at retail," he said.
According to retail point-of-sale data compiled by SportScanInfo, retail sales of toning footwear overall jumped nearly four-fold for the trailing four-week period, but Skechers market share fell nearly 31 points on stronger Reebok toning sales and the arrival of New Balance, Avia and a number of other brands in the category.
Earnings growth of 53.8% to $36.6 million, or 74 cents per diluted share, and a revenue gain of 36.8% to $554.6 million were well below Wall Street's consensus EPS estimate of $1.02 and sales forecast of $572.1 million. SKX shares were down 18.3% for the week to close at $19.44 on Friday.
Domestic wholesale revenues grew 54% in Q3, reflecting double-digit improvements in women's, men's and kids.
Domestic pairs sold increased almost 30% with an average price per pair jump of $4.15, or over 19%. Growth was seen across several divisions from Heritage, men's USA, kids, Cali and women's sport to the newer toning line.
"We are confident in the direction of our domestic business as we head into the fourth quarter and next year," said Weinberg. He said many key accounts expect their businesses to be strong next year and have placed orders for spring 2011. Skechers' fashion brands – Unltd. by Marc Ecko, Zoo York, and Mark Nason – continue to decline due to the refocusing of some lines and the closing of others.
International revenues improved 24%, led by a 26% gain in the international subsidiary business and joint venture businesses with particular strength in Asia. The international distributor business improved by over 19% in the third quarter. International backlogs increased triple-digits at quarter-end.
Combined domestic and international retail sales for the company-owned stores were up 17.5% in Q3 with domestic sales improving nearly 14% and international retail climbing 52%. The addition of 10 stores when Chile transitioned from a distributor relationship to a subsidiary in 2009 helped boost Q3 sales. Combined comps increased 6% for the quarter. At the end of the quarter, Skechers had 275 stores. Thirteen opened in the quarter, including a Shape-up store in the Santa Monica Place Mall.
SKX plans 9 to 11 more stores in the fourth quarter, including a third Shape-up store, which will be in Hollywood.