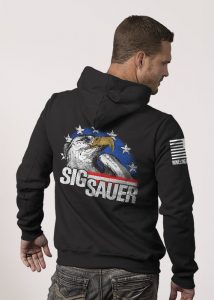 Veteran owned Nine Line Apparel partnered with firearms manufacturer Sig Sauer on a Sig Sauer apparel collection.
"We are thrilled to be partnering with such a reputable firearms manufacturer. Their dedication to quality and pure American ingenuity mirror our own commitment to superior craftsmanship and patriotism," said Nine Line CEO CPT Tyler Merritt, US Army (retired).
"We are excited about the partnership with Nine Line Apparel and the Nine Line Foundation, especially kicking it off at the Army-Navy Game. The two brands really magnify each other and our shared relentless passion for innovation and performance is great combination," said Sig Sauer VP Marketing Allen McCormick.
The partnership was announced on TV's "Fox & Friends" on Thursday, December 7, when Merritt unveiled the companies' first collaborative design on air. SIG also joined Nine Line at the Tailgate for Troops event at the annual Army-Navy game on Saturday, December 9, in Philadelphia, giving away shirts in exchange for donations to the Nine Line Foundation, a 100 percent nonprofit organization dedicated to helping severely wounded veterans.
The first Nine Line-SIG collaborative design, "Sig Sauer Eagle" is now available for purchase at ninelineapparel.com.
Photo courtesy Nine Line