The Colorado-based outdoor gear brand is tweaking its image and revamping its retail strategy for Spring 2018.
Writer: Carly Terwilliger
Sierra Designs is rebranding and going back to its roots with a simple message – "Just get outside."
The outdoor gear brand, which is part of Boulder, CO-based Exxel Outdoors, is heading into Outdoor Retailer Summer Market with a range of consumers on its mind, including those who fall outside the circle of hardcore backpackers. That's right, they're talking to you, person whose last camping trip involved a sleeping bag you had to roll up and tie with a shoestring.
Senior Director Stephen Barnes (pictured above), who among other roles was a product manager at Osprey and The North Face before coming on board at Sierra Designs a little over a year ago, has a personal history with the brand. "I was a mountain guide back in the 90s, and Sierra Designs was one of my gear sponsors," said Barnes. Now, as senior director, he's focused on going back to why the company was started and engaging a broader consumer base.
"There's this idea in the outdoor world that you're not cool unless you're part of this core, high-tech group," explained Barnes. "That's not the image we're going for." The brand's 44 new and revised styles for Spring 2018 bear this in mind, serving the dual masters of lightweight durability and approachable functionality. "The big story in tents up to this point has been weight, and lightweight specs look great on a spreadsheet," said Barnes. "But then you get in the tent and there's just not that much space."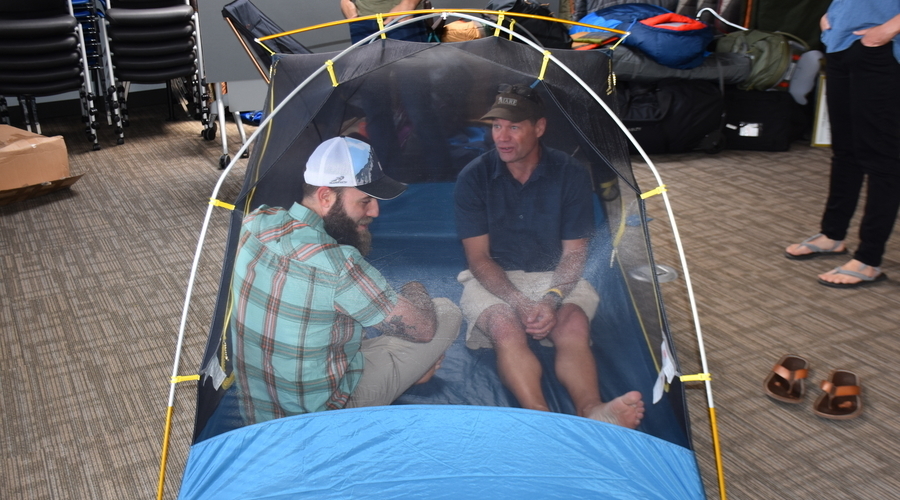 Two of its new tents, the Sweet Suite and the Meteor (pictured above), call out livability and lighter weights as their key attractions, along with a freshly redesigned "burrito-style" storage bag.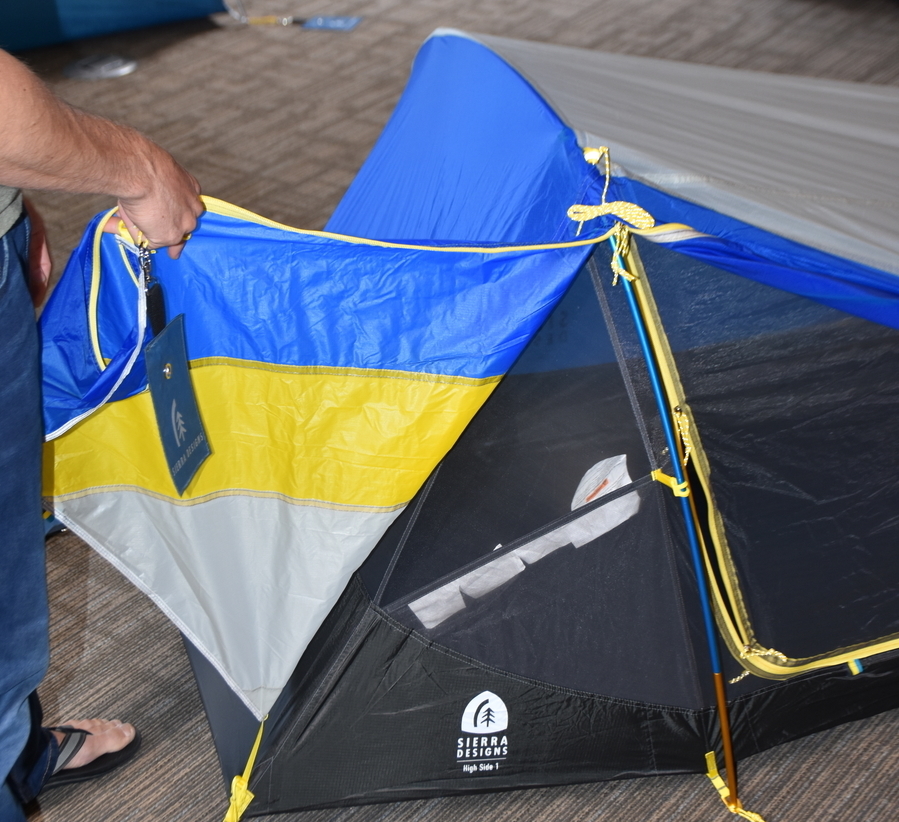 "During development, we do kind of break it up by category," said Casey Sumnicht, equipment product manager, who with Barnes showed us the collection. When addressing weight, strength and price goals, "We start with the higher-end, lighter tents, then apply what we learned down the line."
And while the tent lineup runs the gamut from the ultralight one-person High Side (pictured left) to the roomy Meteor and Summer Moon, the brand has worked hard to "cut down models that step on each other," said Barnes.
In 2014, Sierra Designs caused a stir with its Backcountry Bed, a zipperless sleeping bag that caught the attention of, among others, Backpacker and Wired magazines. And while the Backcountry Bed is getting both an update and a little brother – the Backcountry Quilt – for Spring 2018, it's also being joined by a lightweight mummy version, the Cloud, shown off by Sumnicht below. The 35-degree version weighs in at 1 pound 7 ounces, with bells and whistles to spare, including an insulated shoulder pocket to ward off drafts and SD's patented self-sealing foot vent for east ventilation.
The bags are color-coded according to temperature rating and have a consistent diagonal yellow stripe motif, with the colors and patterns echoed across the tent models. And everything in Sierra Designs' new lineup is pulled together with distinctive tri-color branding, represented on the bags with a simple three-stripe tag at the bottom.
The idea is to make a Sierra Designs product easy to recognize for consumers, a concept reinforced with an upcoming change in the brand's retail strategy.
The Spring 2018 collection will be made available via an early launch on September 1, 2017 with four key retailers – Moosejaw, Backcountry Edge, Backcountry.com and CampSaver.
"They were chosen because they're primarily online," explained Barnes, "and they all appeal to slightly different consumers." Asked where REI is in all this, Barnes is blunt: "They weren't invited."
Sierra Designs "wanted retailers that are nimble" to carry out its new strategy, "ones that are able to move with us," Barnes said. The exclusivity to the four above-named retailers will also help smooth the path to co-promotional programs and give an incentive for the retailers themselves to market Sierra Designs' products. "You look at other industries out there, and they do things differently," commented Barnes. The line will become available to the rest of the market on February 1, 2018.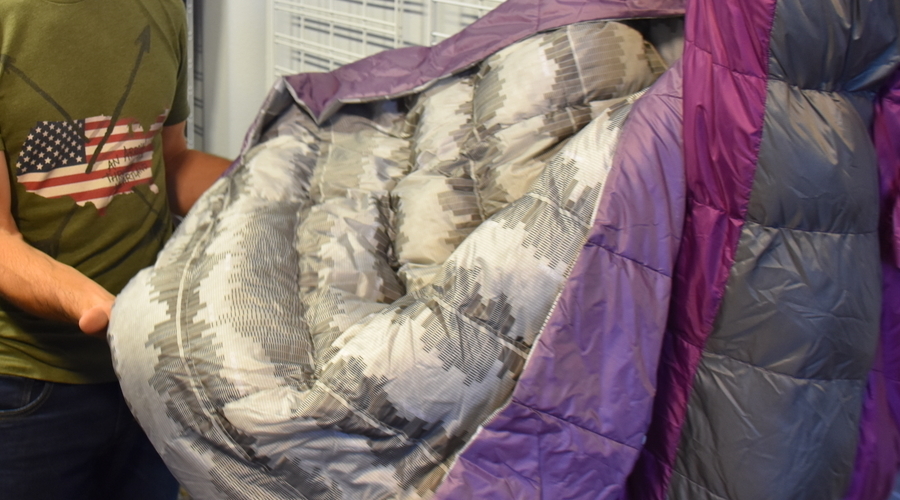 To help humanize the brand for consumers, the team is also working on videos for Backcountry Edge featuring Sumnicht or Sierra Designs athlete Andrew Skurka. On the home front, a new website is in the works, with an increased focus on mobile. The company will also continue its partnership with Packing It Out, which rehabilitates trails and wild spaces all over North America by picking up trash. Sticking with the "anyone can – and should – do things outside" rebranding initiative, Sumnicht said, "Packing It Out is out there with a message, which is picking up trash on trails. Anyone on any hike can do that."
Photos by James Hartford