By Thomas J. Ryan
Shoe Carnival Inc. reported a loss in the first quarter on a steep sales decline due to store closures tied to COVID-19. But online sales are increasing more than three-fold and officials believe a decision not to furlough any workers is helping drive above-plan sales as stores reopen.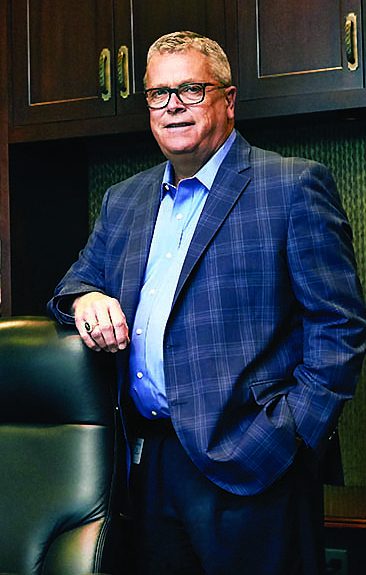 "During this period where our stores were closed, we continue to pay our employees and to date, we have not furloughed a single person," said CEO Cliff Sifford, shown right, on a conference call with analysts. "This was incredibly important to us and something we are very proud of as our store associates are what makes Shoe Carnival so special. Our store environment is unique by being fun and entertaining. It is supported by team members that have been trained to operate our stores the Shoe Carnival way. As a result, the decision to not furlough our store employees has been a clear competitive differentiator as we have reopened our stores."
Sifford added many store members were "busy and engaged" fulfilling e-commerce orders at each of its closed locations, with the inventory on hand, support "substantial e-commerce growth" as stores closed.
Indeed, online was a stand-out, increasing 160 percent in the period, including over 350 percent growth for the second half of the quarter. In all, online represented nearly 15 percent of sales in the latest quarter, up from approximately 5 percent in the year-ago quarter.
The retailer shifted marketing toward its online platform as traffic began declining in stores to support the outsized online growth.
For the last four weeks, ending May 16, e-commerce sales grew over 500 percent. Said Sifford, "We are optimistic that this accelerated growth with both existing and first-time Shoe Carnival customers will allow us to achieve our long-term e-commerce goals.
…
Overall, Sifford said the quarter began well with solid traffic driving a comparable store sales increase of 3.9 percent through March 12. With increasing risks to employees and customers, Shoe Carnival on March 18 temporarily closed stores.
As a result, sales dropped 41.9 percent in the quarter to $147.5 million from $253.8 million for the first quarter of fiscal 2019.
The net loss in the period came to $16.2 million, $1.16 per share, against net income of $13.9 million, or 91 cents, a year ago. Included in the year-ago of fiscal 2019 was a tax benefit of approximately $1.9 million, or 13 cents, associated with the vesting of equity-based compensation.
Gross margin in the quarter eroded to 21.3 percent compared to 29.6 percent. Merchandise margin decreased 1.9 percent and buying, distribution and occupancy expenses, which are generally fixed costs, increased 6.4 percent as a percent of sales. The decrease in merchandise margin was primarily due to higher shipping costs associated with e-commerce sales. The increase in buying, distribution and occupancy costs, as a percent of sales, was primarily due to the deleveraging effect of lower sales.
SG&A expenses decreased $4.8 million to $54.7 million. As a percent of sales, expenses increased to 37.1 percent from 23.4 percent. The SG&A decrease was primarily due to lower wages, and the recording of an employee retention payroll tax credit authorized by the CARES Act offset wages paid to employees while they were not working. Expenses were also lower in the quarter due to market return volatility associated with the company's deferred compensation plans. The decrease was partially offset by impairments of long-lived assets recorded in seven stores during the latest quarter.
Sifford called out the "incredible" efforts of its vendor partners in helping manage orders and inventory levels.
"We work hand-in-hand with our vendor community utilizing a multi-tiered approach to adjust quickly to the rapidly shifting environment," said Sifford. "First, we canceled any seasonal product that had a short selling window, which included dress shoes and some sandals. Second, we moved seasonal products with longer selling periods to later ship dates, where appropriate, including flat sandals, sport sandals and soccer sandals. And third, we worked with our vendors to adjust core model flow and reviewed and adjusted back-to-school assortments. This nimbleness is attributable to our best-in-class merchandising team and our strong vendor relationships which we have nurtured for years."
As a result, after a six-week shutdown, Shoe Carnival's on-hand inventory, at quarter-end, was only up 4.2 percent. Due to the strong reopening sales stores have experienced, on-hand inventory at the end of last week was down 6.3 percent year-over-year.
New product is arriving across all departments to support June's mix, including early initial receipt of athletic styles for back-to-school. Said Sifford, "Our athletic business was truly a bright spot as customers look to Shoe Carnival to get the athletic footwear they need as many begin to spend more time outside walking and being active during this quarantine period."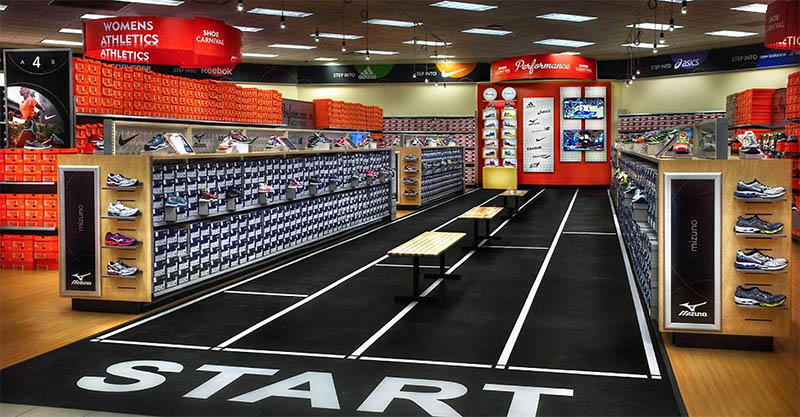 Between May 1 and May 6, Shoe Carnival reopened over 50 percent of its store fleet. Currently, it has over 80 percent of its stores open and sales are running above internal expectations. By the end of the first fiscal week of June, 95 percent of stores are expected to be open.
Among the safety measures, Shoe Carnival has introduced masks for staff and hand sanitizer, enhanced store cleaning protocols, and installed plexiglass shields at checkouts. Signage, floor decals and its professional microphone announcers are all supporting messages on social distancing.
"Early results from our stores that have reopened are encouraging," said Sifford. "Overall foot traffic in stores is down double-digits from the prior year. Shoppers coming in are converting at a significantly higher rate and purchasing more units per transaction."
Last week, Shoe Carnival achieved high single-digit comp growth for the total company despite having over 100 stores still closed. Comps are expected to increase mid-single-digits in May and low-single-digits in June.
…
From a product standpoint, the performances of both the athletic and children's shoe categories in May have performed particularly well. Sifford added that CRM data shows nearly 70 percent of the customers coming back in the stores are its Shoe Perks loyalty members, which was roughly flat with last year at this time.
The company said it continues to work closely with its vendor partners to manage inventory and payables. Extended credit terms have added financing flexibility to help Shoe Carnival end the quarter with $90 million of outstanding accounts payables. The retailer is also working with its lenders to increase its line of credit from $50 million to $100 million as a precautionary measure. As of May 2, Shoe Carnival had no outstanding debt and working capital of $186 million.
Said Sifford, "In summary, our financial strength and flexibility have served our investors well. I'm proud to say we managed through this unprecedented fiscal first quarter without adding any debt to our balance sheet. This stewardship, as well as our strategic investments in our business, have allowed us to keep our people working and continue to make progress toward our long-term goals."
Photos courtesy Shoe Carnival