Shimano North America Bicycle, Inc., in cooperation with the U.S. Consumer Product Safety Commission, recalled certain 11-Speed Bonded Hollowtech II Road Cranksets as they could separate and break, posing a crash hazard to consumers.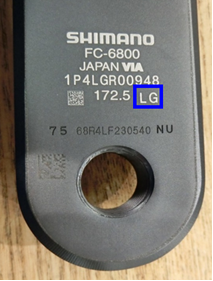 Approximately 680,000 cranksets were sold at bike shops in the U.S. from January 2012 through August 2023 for between $270 and $1,500. Another 80,000 were sold in Canada.
The company reportedly received 4,519 incidents of cranksets separating and six reported injuries, including bone fractures, joint displacement and lacerations.
This recall involves Shimano Ultegra FC-6800, Dura-Ace FC-9000, Ultegra FC-R8000, Dura-Ace FC-R9100, and FC-R9100P 11-Speed Bonded Hollowtech Road Cranksets manufactured before July 2019 sold individually and on bikes sold by other manufacturers such as Trek and Specialized.
A crankset is a bike component that the chain and pedals attach to for pedaling.
The recalled models have printed 'Ultegra' or Dura Ace' logos on the arm. The affected models are pre-July 2019 production and have the following two-letter production code on the backside of the crank arm where the pedals are attached: KF, KG, KH, KI, KJ, KK, KL, LA, LB, LC, LD, LE, LF, LG, LH, LI, LJ, LK, LL, MA, MB, MC, MD, ME, MF, MG, MH, MI, MJ, MK, ML, NA, NB, NC, ND, NE, NF, NG, NH, NI, NJ, NK, NL, OA, OB, OC, OD, OE, OF, OG, OH, OI, OJ, OK, OL, PA, PB, PC, PD, PE, PF, PG, PH, PI, PJ, PK, PL, QA, QB, QC, QD, QE, QF, QG, QH, QI, QJ, QK, QL, RA, RB, RC, RD, RE, and RF.
Consumers are advised to stop using the cranksets manufactured before July 1, 2019, and contact an authorized Shimano dealer to schedule a free crankset inspection. Only consumers whose cranksets show signs of bonding separation or de-lamination during the inspection will receive a free replacement crankset and installation.