SGB spoke with OrthoLite VP of Innovation and Strategic Partnerships Skip Lei about bringing insoles from underfoot to top of mind.
SGB:  With all the hype around new shoe models and signature launches, insoles seem to be the "forgotten component" of a shoe. Why is that?
SL: Brands do a great job in telling their story and sharing their brand message through design and technology … and these are their stories to tell. While insoles are one part of a shoe, the reality is that the insole (in our view) is one of the most important components to a shoe's comfort and performance.
In fact, 60 percent of consumers view insoles as the most critical component in driving their purchase of footwear, and 91 percent purchase their athletic shoes based on comfort according to a 2016 OrthoLite Footwear Consumer study conducted by Parthenon. The 200-plus brands that OrthoLite partners with do an amazing job with the products that they create, and we are honored to collaborate with them to engineer the comfort and performance solutions that deliver on their brand's promise.
SGB: What are some current trends in the world of footwear that get your juices flowing?
SL: OrthoLite has been the foam insole expert for 20 years, and we are continuously evolving with innovative formulations for our customers. Let's focus on the athletic segment – articulation and visible technology have emerged as uber-trends. Shoes have become far more flexible with each major brand having a story and a point of view on articulation – this has created a world of footwear that requires no break-in and easy wearing comfort for the consumer.
OrthoLite took a hard look at how to support this trend while being additive to the story of each brand. We worked with our development team and created a patent-pending process we named Super Sipe. In the past, flex grooves have just been designed into the bottom surface during the molding process, which actually makes an insole less flexible by packing in the foam to achieve the visible grooves.
The innovation we created delivers articulation on the bottom side of the insole, critical to that is the method in which we create the sipes. We love what we have created, as we feel we must always do our part to amplify the brand's story.
For as long as athletic shoes have been a driving force in the footwear world, so has visible technology. The fact that a brand can show a benefit to the consumer is a real advantage at point of sale. Somehow, insoles have always been somewhat of a wallflower at the visible technology dance. OrthoLite just launched a new visible technology called 3-D Skive Heel. We started with one of our many technical foam footbed options and then co-molded in an oval of our proprietary 3-D Skive technology that delivers outstanding massaging comfort in the heel area. The end result is a finished product that provides a wonderful under-heel sensation with a dramatic component of visible technology that the consumer can engage with from the second they pull the shoe off of the shelf.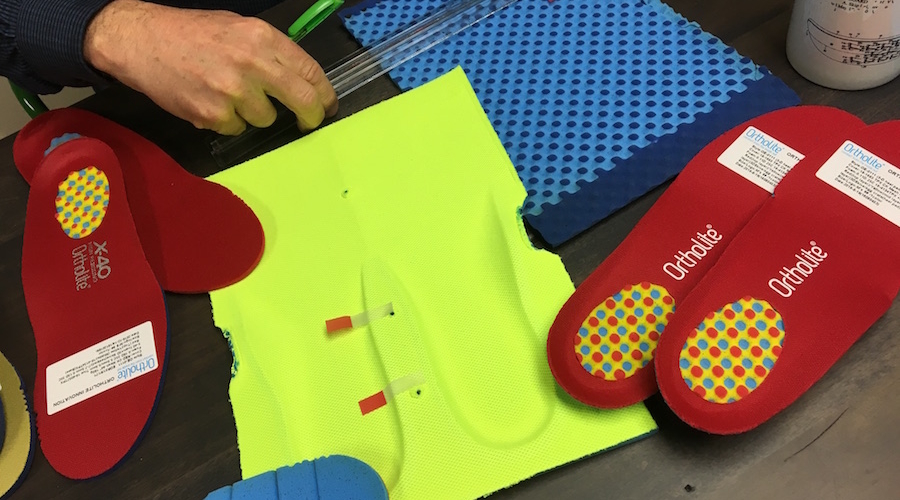 SGB: Brands seem to want to differentiate themselves from their competition. How do you address this with an insole?
SL: For us, it all starts with having a team of super-solid sales professionals. These are not just sales people, these are real shoe dogs, each with valuable industry experience. When they meet with a brand, the discussion is not just about what is in our catalog, but rather, how we can help solve a problem or better contribute to an under-foot experience that they are trying to achieve.
With category experience, development expertise, or a background in footwear production, these foam ambassadors work to create a solution, not just sell product. We know each brand has a unique set of criteria, and our goal is to help them deliver on their objectives. We take great pride in creating bespoke formulations for each customer rather than offering just an off-the-shelf solution.
SGB: I understand you produce over 400 million insoles a year. How is that even possible?
SL: This is certainly a bit of our secret sauce! First, we are totally vertically integrated … meaning we buy over 60 individual ingredients for our formulations and do our own chemistry rather than buying pre-made formulations. From there, we do our own foaming, cutting, lamination and molding, which allows us to manage the quality control of the entire process from start to finish.
We have over one thousand dedicated employees in Southeast Asia who work very hard every day. We make products in a variety of countries where our largest customers produce their goods to be as efficient as possible … for them, and for us. We have an amazing management team in China, Vietnam and Indonesia that are rock stars at what they do.
I guess the proof is in the pudding, as OrthoLite has less than a one percent defective rate and less than a five percent factory turnover rate. The commitment to having supply chain excellence as well as being great partners to not only the brands but to the factories, takes a small army … and we've got a great one!
Photos courtesy OrthoLite