With health club memberships at an all-time high, increasing by more than 6 percent in the last year alone, opportunity in the fitness industry is looking bright. But it's largely driven by experiences, according to a webinar covering SFIA's "2018 Tracking the Fitness Movement Report."
The study shows health club memberships reached 60.9 million in 2017, advancing from 57.3 million in 2016 and steadily expanding in recent years. Membership has grown a whopping 21.3 percent from 50.2 million in 2012.
SFIA President and CEO, Tom Cove, said the growth is being driven by the "many different kinds of club memberships that are offered and it seems very sustainable."
But the gains particularly are being driven by women and that's likely due to the popularity of boutique fitness clubs. According to the study, 59 percent of new health club members are female versus 41 percent male. Males were slightly ahead of females in identifying themselves as long-term health club members, at 50.6 percent to 49.4 percent.
Cove said the big movements over that last several years in the health club channel has been the success of value-priced clubs such as Planet Fitness that also come with flexibility and extended hours on one end of the spectrum and the success of high-end clubs that offer a variety of services at the other level. As a result, Cove said the traditional health club is feeling the squeeze with many needing to adjust their model.
Said Cove, "They have to figure out how they've got to change because there's too much competition out there and it really reinforces that it's all about the cost-benefits value proposition," said Cove. "It's not about the cost alone. It's generally not about all the benefits you offer either. It's about putting the costs and benefits together and everything that represents."
But the true innovation in the fitness club area is coming from the niche boutiques that include Orangetheory, Flywheel, Pure Barre, Soulcycle, Zengo Cycle and KoSama.
"The fitness category more than most anything we cover is seeing incredible innovation, incredible marketing, and this incredible opportunity to reach and connect and bring new people in and have those new people find that they found something wonderful," said Cove. "And they believe that it's not only a healthy thing, it's a lifestyle thing. It's a change in the way they see the world. That's real stuff."
Cove further noted that many of these boutique clubs are able to charge a "fair amount of money," particularly the ones charging by the class.
Creating communities that help make fitness a lifestyle choice for consumers packs a wide array of benefits, including making individuals engage more and become more likely to become core participants, making them likely spend more money on related products, and be more vocal in endorsing the activity and products in word of mouth to others.
Cove added, "It's the innovation, which creates competition, which is difficult for some. But in general it's pretty healthy for the industry."
The wide variety of fitness boutique experiences is being complement by the range of tech-driven innovations that are changing the way people "access" their fitness experiences. These include Classpass (Pay per class – wherever you want); Aaptiv (Take a class – online); Flexitarian (Pay for time spent at gym); Mindbody (Book the class); Peloton (Take our class at home); Splitfit (Share the class); and Soulcycle (Pay per class).
He noted how Flexfit is developing a formula for those working out to pay by the minute. Said Cove, "It's a new way to make [the experience] feel more valuable and makes [the user] feel like the company, whether the product or venue, is really understanding what they want and it speaks directly to Millennials who are sampling, sharing and changing. As the technology expands, they want a positive brand image about who they connect with."
Ultimately, he said it comes down to creating a cultural community around fitness. Cove noted how his daughter and her friend just took their first Orangetheory class and were overwhelmed when the instructor encouraged the class to give both of them an applause for marking their first class. Cove said, "That ability to create community, be it a formal or informal setting, is really an addictive thing. It's tied to sports as well but it's much broader."
Also capitalizing on community engagement are many non-traditional venues such the Tough Mudder and Spartan Race events or the Van Asset Community Center in South Portland that's thriving on a variety of youth-activity programs. Said Cove, "They're all looking for quality too. They're not looking to get some cheap machines that no one likes and they just sit there. So it's all part of creating their community and making fitness a part of it."
Cove's presentation included a chart showing healthy interest in a range of fitness activities on a one-year basis.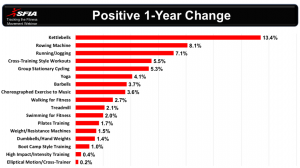 Overall, Cove said the sporting goods industry is in generally better shape following disruption at retail over 2015 and 2016 marked by the bankruptcy of The Sports Authority, MC Sports and others. Although the bankruptcy of Sears, traditionally the largest seller of fitness equipment, has rattled the fitness category, the overall industry generally fairs well when the economy is performing at a strong pace. Economic fundamentals are healthy with historic low unemployment, wages inching up and high levels of consumer confidence.
Other insights from the seminar included:
Top-ten activities in participation: The top 10 sport/fitness activities on a three-year average annual growth rate were bicycling (BMX), up 13.3 percent; cardio tennis, 11.3 percent; triathlon (non-traditional/off-road), 10.5 percent; skiing (freeski/freestyle) 9.7 percent; pickle ball, 8.5 percent; rugby, 8.4 percent; hiking (day), 7.5 percent; trail running, 6.7 percent; cross training styles workouts, 6.6 precent; and stand up paddling 6.5 percent.
Top fitness equipment categories: The top six equipment categories at the institutional level are treadmills ($348.9 million); elliptical machines ($296.6 million; multi-station selectorized ($188 million); single-station selectorized ($177.8 million); benches/racks/free weights ($106.3 million); and recumbent station bikes ($103.0 million).
Running revives: Among total participants, running picked up in 2017 to 50.8 million participants from 47.4 million in 2016. Total participation had slid for the three years prior after peaking at 54.2 million in 2013. Core participation likewise saw participation pick up to 26.8 million in 2017 from 25.6 million in 2016. Similarly, core participation had slid for the last three prior years after having peaked at 29.8 million in 2013. Cove said the decline in running falls in line with findings showing an overall decrease in core participants across many sports but an increase in casual participants. Said Cove, "People in the running business have said, "My customers have changed from a person who says 'I am a runner' to a person who says 'I run and I do a bunch of other things,'" which may include other activities that feature running. He also said it's all about Millennials who like to sample different things.
Health Clubs Rep Still Negative: Long-held perceptions around health clubs that they generally seek to "nickel-and-dime people" by not letting them out of contracts, charging extra for classes, etc. continues to hurt the industry and is particularly loathed by Millennials. Cove said Millennials often view such health clubs as similar to cables companies "who are trying to rip them off." The viral way information can be shared on social media has made delivering negative experiences riskier. Sad Cove, "It's a different world."
The presentation also showed top fitness activities across age segments: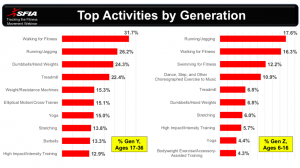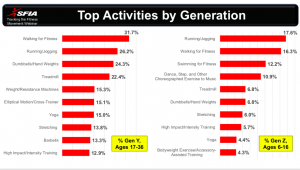 The full "2018 Tracking the Fitness Movement Report" is available HERE.
Image courtesy Orangetheory