Selkirk Sport, manufacturer of Pickleball paddles and accessories, announced the re-signing of Pickleball six-time National Champion Enrique Ruiz to the Team Selkirk Advisory Staff.
Ruiz, who resides in Portland, OR and has served as an ambassador for Selkirk Sport since 2014, is one of professional Pickleball's most accomplished players and the first-ever Pickleball player to have a signature series paddle, the Enrique Ruiz Signature Epic Graphite–2015. Complementing his continued role with Team Selkirk, the company has introduced the Enrique Ruiz Signature Series AMPED paddle as part of the new AMPED Series paddle line. The AMPED Series promotes increased power, better ball control and a larger sweetspot, which helps to maximize performance for players of all levels. The proprietary FiberFlex Fiberglass face and X5 Polypropylene core technology offer enhanced performance capabilities for advanced Pickleball players.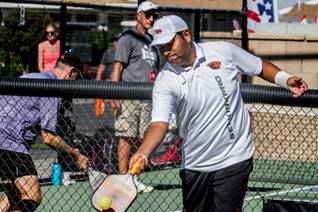 Known as "El Condor" for his amazing ability to switch hands, and for his long wingspan which allows him to cover a lot of space on the Pickleball court, Ruiz is a six-time National Open Champion; a national Gold Medalist in Singles, Men's Doubles, and Mixed Doubles competitions and a three-time Gold Medalist in the prestigious Pickleball Tournament of Champions.
"Enrique Ruiz is a true ambassador for the sport of Pickleball and one the game's all-time great players," said Rob Barnes, product manager, Selkirk Sport. "Enrique was one of our original Team Selkirk members and we created our popular Signature Series paddle program based on his popularity and success. Today, that program stands out in the industry and we thank Enrique for being a voice and a pioneer for the game, and for Selkirk Sport."
As a member of Team Selkirk, Ruiz is part of stable players who travel throughout North America competing on the professional circuit, while promoting the sport, which now boasts over 2.8 million players. Today, there are approximately 5,000 Pickleball venues and an estimated 15,000 courts covering every U.S. state and all Canadian provinces.
As the sport continues to gain popularity, many school districts in the U.S. are introducing Pickleball in grade school, junior high school and high school as part of physical education classes. The sport of Pickleball now stands alongside tennis as a recreational activity at sports and fitness clubs and at a collection of leading resorts throughout North America.
Pickleball has also exploded as a professional sport, with local, regional and national tournaments taking place annually for men and women of all ages, including junior divisions, senior divisions and open divisions for the game's elite players.
Barnes added, "Pickleball today is as popular as ever and as the sport continues to grow, the equipment market will continue to evolve. As the paddle remains the engine of the game, Selkirk maintains an unwavering commitment to product innovation, for both the game's elite players, like Enrique Ruiz, as well as for everyday recreational players."
For more information on Selkirk Pickleball paddles and accessories, as well as the Team Selkirk stable of Professional Pickleball Ambassadors, visit www.selkirk.com.