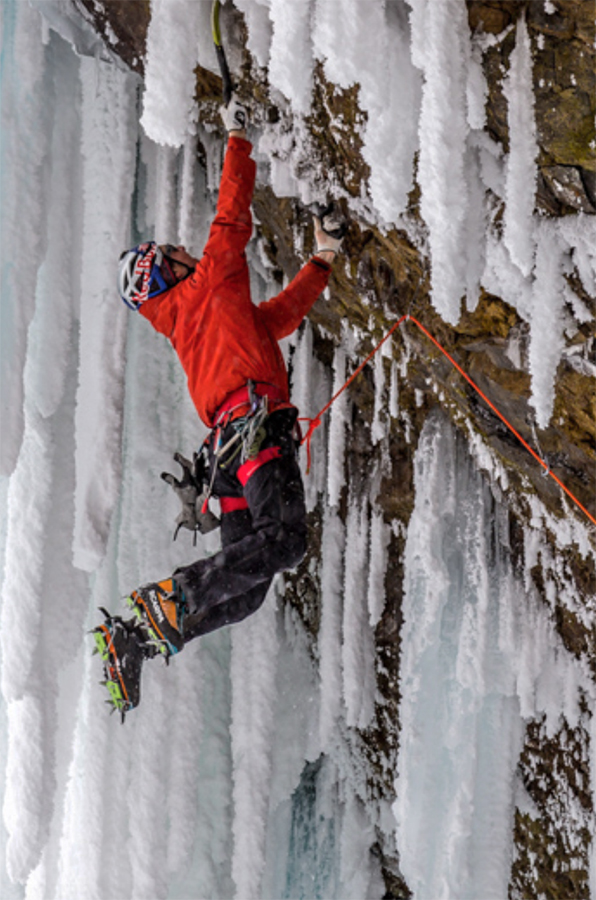 "Trends are important in any business, and that's true for ours. But at Scarpa, we're not so much chasing short-term trends as we are following long-term trajectories and using those to create the pillars of our product development strategy". —Mark Mathews, VP of Sales, Scarpa NA
Two of the key drivers of Scarpa's line for 2019, and the brand's collection over recent years, are weight reduction and versatility.
Weight reduction has been a trend for them for some time. Less weight is being an obvious one, but Scarpa has also worked on increasing performance, resulting in things like better warmth at the same weight or a slight reduction in weight, or more efficient walking in a lighter platform stemming from material advances and better design.
In terms of Versatility, Scarpa understands that, in general, people have less time for recreational activities and so they want to have products that are more versatile to be able to do different types of activities. So, if you have products that can work well for a few different activities rather than just one, then thats appealing in terms of being willing to invest in higher-quality products.
New materials and materials advances also allow Scarpa to deliver more efficient products that increase versatility. And that means  going farther while being more comfortable.
Two products that reflect this in the 2019 Fall Scarpa line are the Marmolada Pro HD and the Phantom Tech.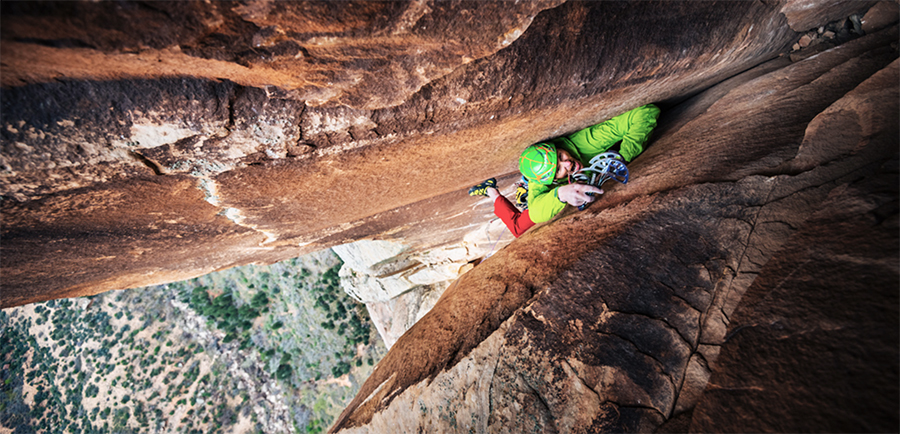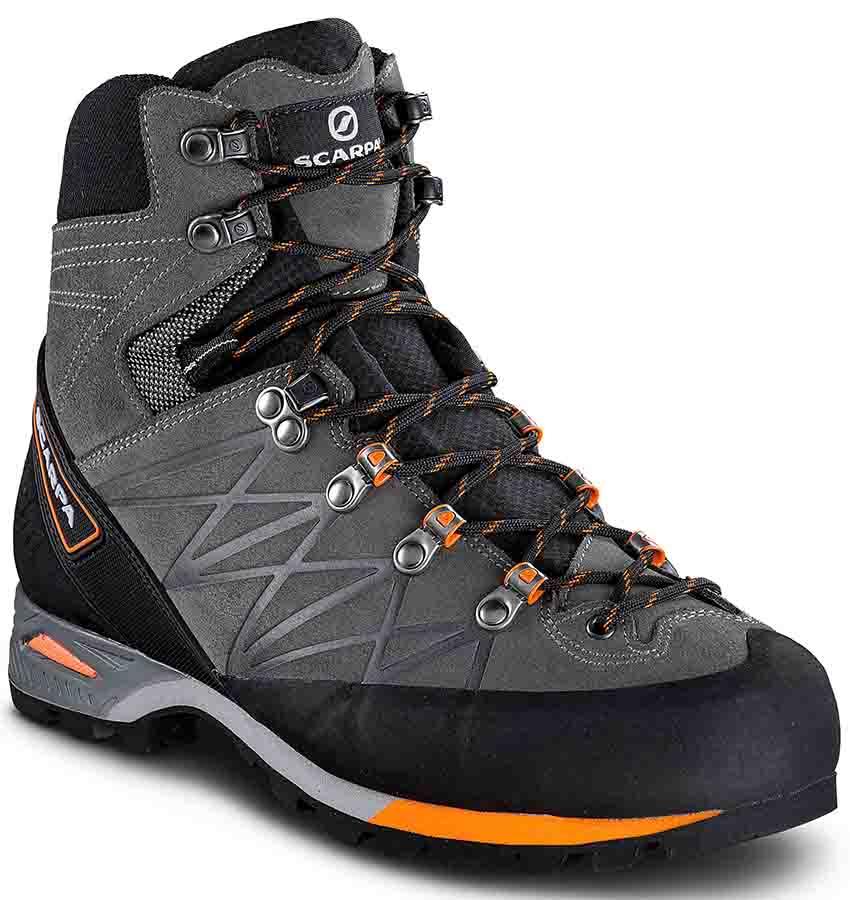 The Marmolada Pro HD, shown left, combines the support and performance of a mountain boot with the lightweight comfort of a trail shoe for all-around mountain use but stays light and nimble at 630 grams per boot. The technical performance comes from the midsole that pairs polyurethane reinforcements with three different densities of EVA for shock absorption and longevity. The 1.8 mm Perwanger suede upper is paired with embossed reinforcements which add structure to the leather without adding extra weight. Sock-Fit XT construction in the tongue-area uses softshell construction to reduce excess material and provides a precision feel while reducing weight. Details include bi-component hardware with reduced friction for tightening, an HDry waterproof membrane, a protective rubber rand, and a Vibram Drumlin sole.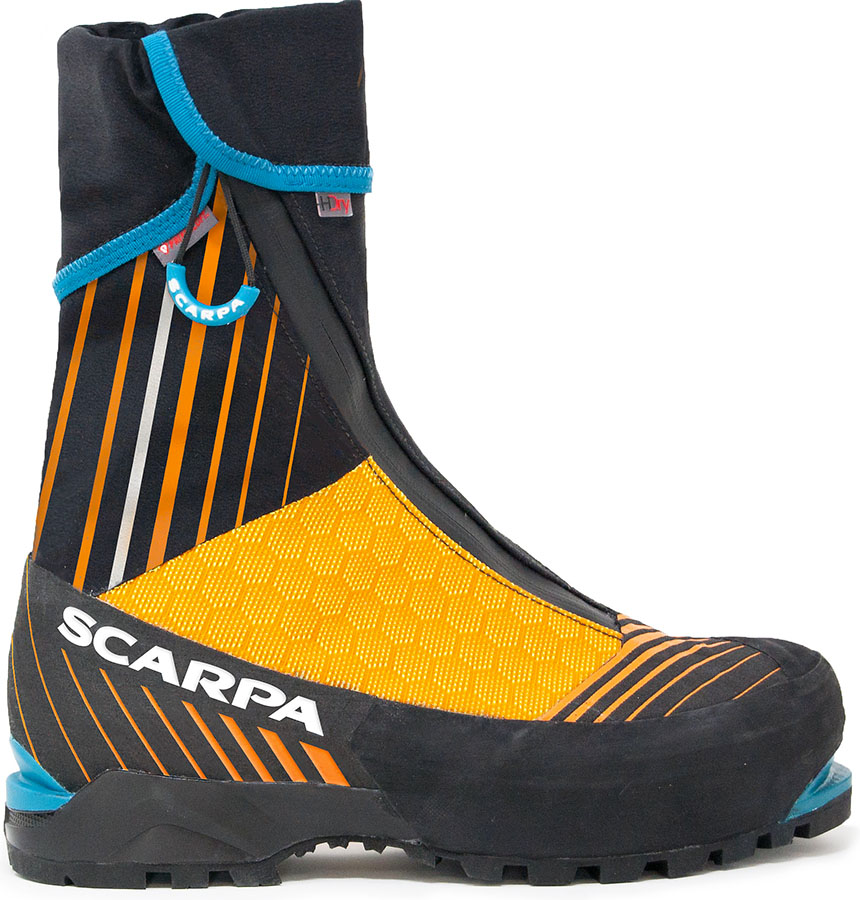 With the Phantom Tech, shown left, Scarpa's flagship boot for alpine, ice and mixed climbing, there's a similar story. It has been redesigned for Fall 2019. It's lighter, and it's more versatile Vibram Precision Tech Roll Sole offers a more efficient underfoot rocker profile that yields substantial energy savings over a day in the mountains. That translates to better comfort on long approaches, paired with precision on rock and ice.
An updated materials package allows the Phantom Tech to drop 100 grams per boot over its predecessor. Eight-layer construction offers warmth, pairing layers of Primaloft silver, micropile, Primaloft 100 and Microtech. A carbon-fiber insole board keeps weight at a minimum, and an integrated gaiter with an offset closure for ease of use and durability keeps weather at bay.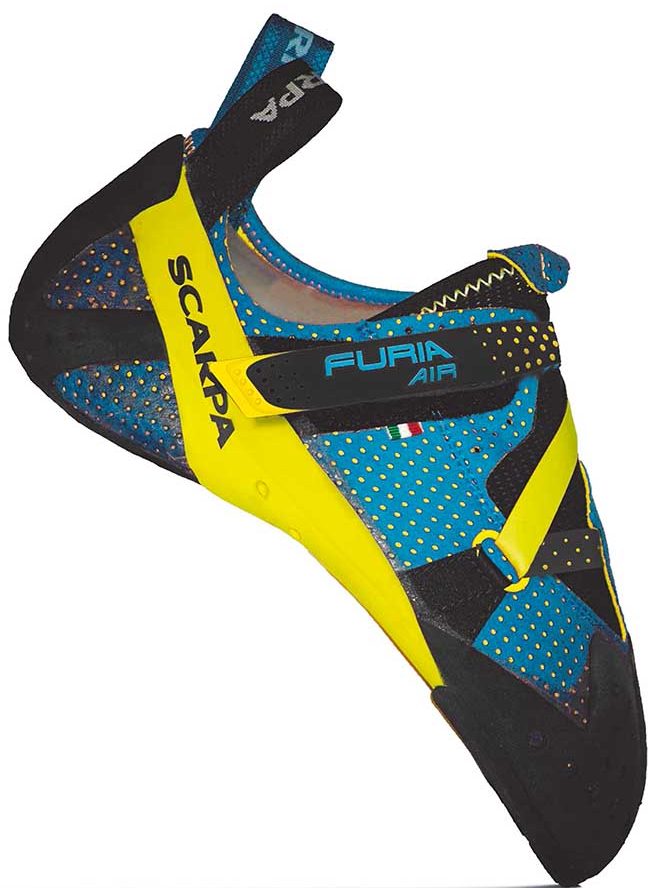 Scarpa will also introduce a new rock shoe, the 150-gram Furia Air, shown left, which also has a weight story. It's the lightest weight rock shoe on the market but beyond that, the shoe is highly specialized for pushing the grades for climbers who are looking to take on a route or a problem that maybe they haven't been able, and they're looking for that specialized tool that helps them get there.
It's an example of innovation and pushing the boundaries of materials development. The shoe is about 25 percent lighter than other rock shoes on the market, and it's incredibly sensitive but still offers the support of rock shoes that weight quite a bit more. Though the Furia Air is incredibly soft and sensitive, its internal construction makes it extremely precise on small holds, and able to hold its shape and performance over time.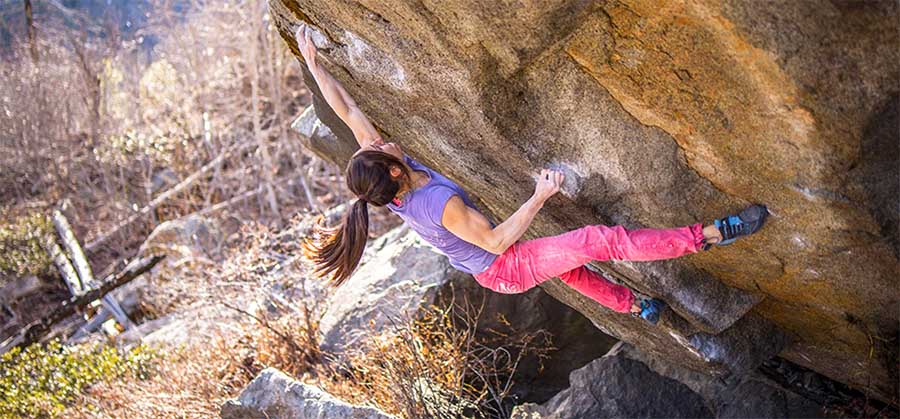 The design of the Furia Air starts with two differing weights of microfiber bonded together with a perforated outer. This is used to create a supportive but super-thin and flexible sock-like upper. That, in turn, allows a completely contoured fit to the foot. The uppers are built in an eight-panel design and on the sides of the foot and underneath, a new active-tensioned rand design called MLT (medial lateral tension) is paired with a specially placed, extremely minimal Flexan midsole. The result drives power from the foot forward into the front of shoe, creating precision and support in the edging zone with minimal use of materials,
Inside, the toe area is lined with Alcantara, a high-tech synthetic material used in the seats of Formula One cars and space capsules. Alcantara offers the features of leather with less weight, more durability and a higher-friction surface. It also adapts to the shape of the user's toe for a custom-molded fit over time, further increasing precision. In the heel, a single piece of elasticized rubber holds the pocket together, absorbing tension in the system that allows for adaption to the wearer's heel shape and reduces pressure on the Achilles tendon. Underfoot there is 3.5 mm Vibram XS Grip rubber sole. Photos courtesy Scarpa