Safilo Group will relocate key functions of Smith Optics from Ketchum, ID to a new global design center in Portland, OR and Safilo's North American headquarters in Parsippany, NJ in a bid to take the brand global.
This decision has been taken following an in-depth analysis conducted over the past year in collaboration with Smiths top management, and with the goal of evolving Smith from its strong North American snow sport position into a global eyewear brand.
"Safilo strongly believes in the global potential of the Smith brand and its development plan is an important element of Safilos Group strategy," according to a statement released by the Italian company Tuesday. "It builds on the core strengths of the brand and adds essential new ones in order to reach the brands full global potential."
As a consequence, four key decisions have been taken with regards to the future locations of Smith:
Portland (Oregon) has been chosen as the US West Coast location and will serve as the inspirational base for the product leadership activities of the Global Sports & Outdoor Lifestyle segment. Consequently, Smith design, product development, marketing, artwork, and e-commerce activities will relocate to Portland. Therefore the Portland site will become the Global Sports & Outdoor Lifestyle Design Center, creating and developing all potential future brands and products targeted at this consumer segment.
The manufacturing of all Sports brands ski goggles will be concentrated in the Clearfield, Utah site, the current home of the Smith manufacturing and distribution center.
In line with Smiths goal to become a global brand and integrated part of Safilos portfolio, the global Smith business will be led out of Safilos Group Headquarters, side-by-side with Safilos other global proprietary brands Carrera, Polaroid, Safilo and Oxydo.
To enable joint capabilities with Safilos USA Headquarters, the IT, HR and finance functions will be moved to Parsippany (New Jersey) where Safilo USA is based.
The objective is to write this new, global chapter of Smith from a range of strategic locations that enable the Group to design the future of the brand while capturing important synergies and integration opportunities within Safilo, according to the company's announcement. Because Safilo is fully aware of the implications of the plan to Smith's employees and the community in Ketchum, the transition will be phased gradually between 2015 and 2018.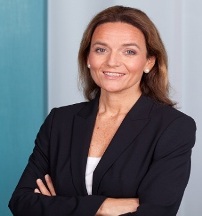 Safilo Group CEO Luisa Delgado, shown to the left, was in Ketchum Tuesday to discuss the plan, the strategy and the vision for the future of the brand. She also planned to meet with the key representatives of the local community to discuss how to maintain a lasting heritage for Smith in Ketchum and to recall the bond with the community and the outdoor environment that has been home to Smith for the past 50 years.
We believe in the Smith brand and we are taking decisions that are aimed at further developing it sustainably across the globe," said Delgado, a veteran executive of Proctor & Gamble who took the reins as CEO Oct. 15, 2013. "To do so, we have to create a more efficient platform and Smith can strongly benefit from the synergies deriving from our Group as a whole, said Luisa Delgado. We need therefore to organize ourselves to leverage these opportunities.
Priority regions for expansion will be Europe (2015), and then selected Far East and Latin American markets.
Based in Sun Valley, Idaho, Smith Optics Inc. was founded in 1965 with the creation of the first-ever goggle featuring a sealed thermal lens and breathable vent foam. Today, Smith is known for a diverse line of sunglasses, snow and motorsports goggles, snow helmets, prescription eyewear and ballistic eye protection.
Safilo Group is the fully integrated Italian eyewear creator and distributor of optical products and a global leader in premium sunglasses, optical frames and sports eyewear that reported 2013 net revenues of more than Euro 1.1 billion. Internationally present through 30 owned subsidiaries and exclusive distributors in key markets-in North and Latin America, Europe, Middle East and Africa, and Asia Pacific and China-Safilo is committed to quality distribution in over 130 countries around the world. Its portfolio encompasses proprietary brands Carrera, Polaroid, Smith Optics, Safilo and Oxydo as well as licensed brands Dior, Fendi, Gucci, Alexander McQueen, Banana Republic, Bobbi Brown, BOSS, BOSS Orange, Bottega Veneta, Céline, Fossil, HUGO, J.Lo by Jennifer Lopez, Jack Spade, Jimmy Choo, Juicy Couture, Kate Spade, Liz Claiborne, Marc Jacobs, Marc by Marc Jacobs, Max Mara, Max&Co., Pierre Cardin, Saint Laurent, Saks Fifth Avenue and Tommy Hilfiger.
Subscribers to The B.O.S..S. Report can read additional details Delgado shared with reporters in a conference call Monday online.