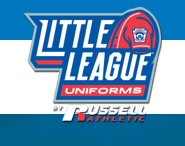 Little League and Russell Athletic announced a partnership to transform the way local Little League programs design and order their uniforms. The newly launched LittleLeagueUniforms.com will be a one-stop-site where coaches, league administrators, and parents can order team uniforms. The website will be the only uniform generator on the web that will include the Little League official Keystone patch with each order.

Until now, Little League teams lacked a simplified online system to quickly design and place group orders of uniforms. Using LittleLeagueUniforms.com will provide convenience and ease of purchase for Little League coaches, managers, and parents everywhere by simplifying the team uniform ordering process, greatly reducing the workload for those local volunteers ordering uniforms.

The site will allow teams to customize the proven high-quality apparel that Russell Athletic has outfitted Little League World Series competitors in for more than 30 years. All uniforms will include the appropriate Little League official Keystone patch for all divisions of Little League Baseball and Softball pre-sewn onto the jerseys in the appropriate location to meet all Little League regulations. This unique, new licensing project from Little League and Russell Athletic, was led by Fermata Partners, Little League's official retail licensing agent.

LittleLeagueUniforms.com will leverage a new online platform and enable uniform ordering in three easy steps:

– Step 1: Choose team name and selection of league patch
– Step 2: Design team uniform
– Step 3: Place orders online

"We are very excited to launch a website that provides our leagues an easy-to-use portal to create quality uniforms, complete with Little League patches for their players," said Liz DiLullo Brown, Little League Vice President of Marketing and Strategic Partnerships. "The uniform and the patch are symbols of affiliation and distinction for our program, and for millions of Little Leaguers around the world, wearing their Little League uniform creates a feeling of belonging and global comradery with other boys and girls wearing these same patches in more the 80 countries. We're excited to offer our local Little League programs a website that provides a turnkey uniform offering from our trusted partner, Russell Athletic."
The platform is currently limited to the United States, but will expand internationally in the future to continue Russell Athletic's mission of supplying the highest quality materials to Little League teams around the world.

Teams can begin ordering uniforms from LittleLeagueUniforms.com. For more information follow Little League and Russell Athletic on Facebook, Twitter and Instagram.