By Teresa Hartford
This week, while scoping stories pre-ORSM, I came across the UniFly Harness on Ruffwear's website. Somehow I missed the product launch in February 2019.
Here at SGB, we have the privilege to report on world-class outdoor products from the leading product designers in our industry. And much of what fuels their passion is the desire to make life in the outdoors easier and more enjoyable. The product design team at Ruffwear unleashed a game-changer this winter with the brand's UniFly Harness.  For man + his dog, it doesn't get much better than this (although I'm betting they're at the drawing board).
—•—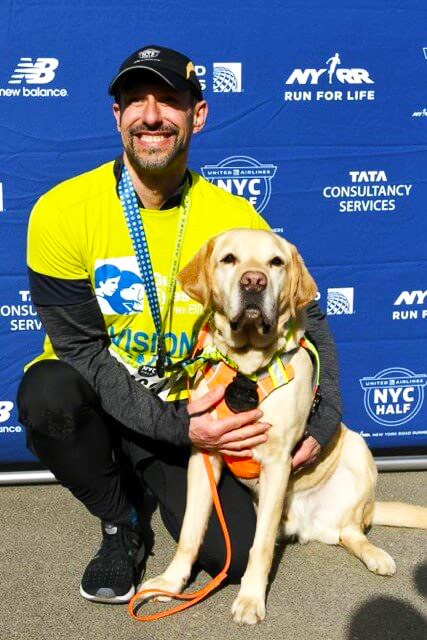 <span style="color: #999999;">When you live life in the visual world, the thought of what it might be like to lose your sight and live in darkness is terrifying. It's a world of the everlasting night unable to see the people you love and the places you love around you.
Now, take that up a notch up … way up.
For people who are blind or severely visually impaired and love to run — and are competitive runners — their lives are restricted even further depending on a "guide runner" to call out what they see as they see it and to clearly get the message across where their next footfall should and will be.
Pretty quickly you understand that the world a blind man runs in is one that we normally take for granted — navigating a trail, knowing how and what pace to set, staying hydrated drinking from a water bottle or bladder.
Vision impairment is an obstacle of enormous magnitude.
In 2014 at the Boston Marathon, two men Tom Panek, CEO of  Guiding Eyes for the Blind, shown above and Richard Hunter, shown below, a former Marine, both blind and life-long runners met and shared the same frustrations. That their lives depended on the assistance of a "human" guide to run which cut short their independence. 'What if a guide dog could be trained to run marathons instead?'
Within a short period of time, their Vision became a reality.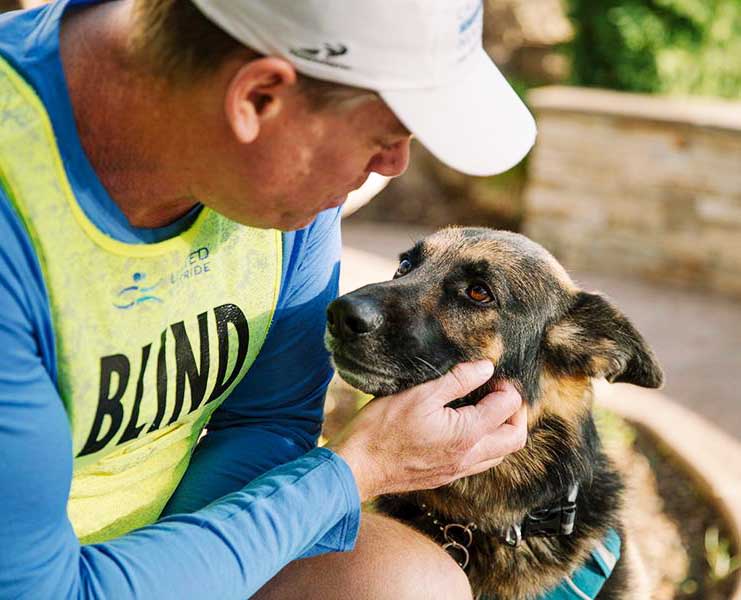 <span style="color: #999999;">Guiding Eyes for the Blind, based in New York, launched the Running Guides program to train guide dogs to run with the visually impaired runner. Richard and his German shepherd, Klinger, shown left, were the first graduating team of the program in 2015.
Klinger is trained to clear objects, stop for changes in elevation like stairs and curbs and exercise routes at a faster pace than Richard could do with a "human" guide.
Prior to 2015 dog harnesses for the blind had not changed much since they were first designed in the early 1900s. They were designed for pulling and ergonomically were heavy and hindered a dogs ability to move out at a trot comfortably and for long distances. They also didn't adjust to the height of a person if they changed out their shoe heel height.
Tom and his team at Guiding Eyes for the Blind reached out to Ruffwear's Bend, OR design team to ask if they could help collaborate on the development of a highly-adjustable, ergonomic harness for the Running Guides program. The result, introduced in February this year and available to guide dog schools nationally, is the UniFly Harness, shown throughout in Today's post.  Click here to learn more about the Unifly Harness. Click here to watch a short video on the product creation or click on the still shot below.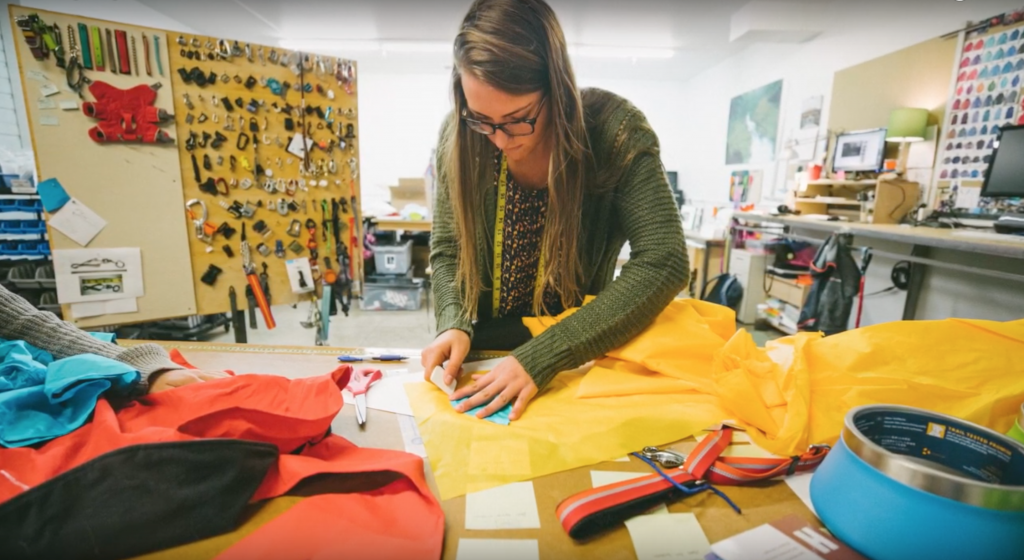 "We jumped at the chance to help them. We realized we could build a great harness that also works great for a running harness. It was always more than just a running harness. Ruffwear designers wanted this new harness to be lightweight, adjustable and washable—all things that traditional leather harnesses aren't." — Greg Freyberg, Specialty Product Line Manager, Ruffwear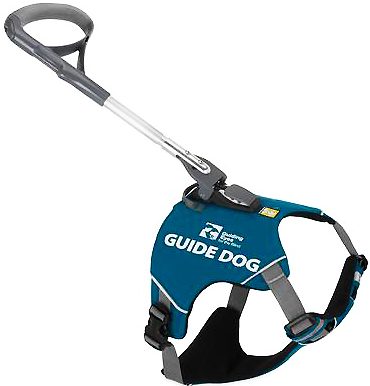 Extensive testing and research went into the making of the UniFly Harness and the equipment opened up a new world of performance for the visually impaired runner.
"We needed to have the ability to push on a rope (that feeling) but for the rope to push back … to give feedback to the handler," said Tom Panek. The resulting handle that Ruffwear developed for the Guide dog school is one that makes Tom completely confident when using the product.
"The only feedback I get through a [run or race] is through my left hand. I'm not seeing what's around me, I'm not able to see elevation changes, I'm not able to see turns ahead or runners ahead — all that information is being conveyed through the handle. It's striking a balance between being comfortable for the dog yet rigid enough for me to feel where the dog is so that ultimately I fly, " he said.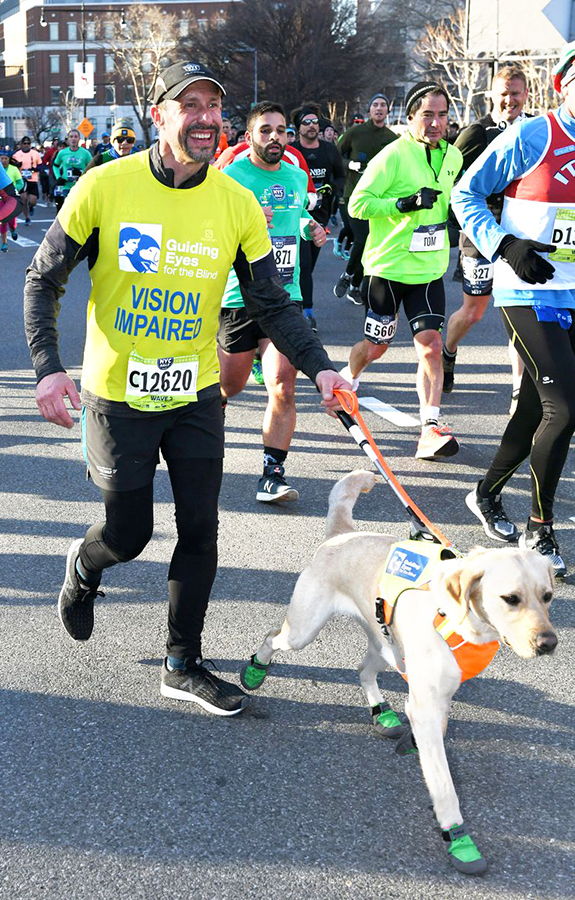 <span style="color: #999999;">Tom's Guide dog Gus, shown in the lead photo and the first photo in Today's post, is one special dog. He gave Tom the independence he longed for all his life and together they've clocked a lot of running miles.
This past March, they made history together as the first visually impaired runner/guide dog team to complete the NYC half-marathon, (with the assistance of two guide dogs named Westley and his sister Waffle)
"Crossing the finish line in Central Park with Gus was bittersweet (who retired from running after the race). He's been with me since the beginning of this program, for the past five years. Gus is the first guide dog that was actually trained to run."
"Seeing Gus and Tom cross the finish line was a swirling combination of excited butterflies and pride. I know the magnitude of the dream and the dedication with which the Guiding Eyes team pursued this goal," said  Tim Gorbold, Ruffwear, Lead Product Designer, on the Unifly Harness' each dog wore during the race.
<span style="color: #999999;">A guide dog allows visually impaired runners to experience running the way those of us with our sight enjoy it — as a solo sport.
"Sometimes you just want to get out there and be like this is my time, my space. That is not possible with a human guide, but it's possible with a dog," said Tom. "If we're born to run, they're born to run plus. They absolutely love it," he said.
Guiding Eyes for the Blind and Ruffwear shared a vision for the UniFly Harness — harness a dog's natural abilities that will give visually impaired athletes the ability to go.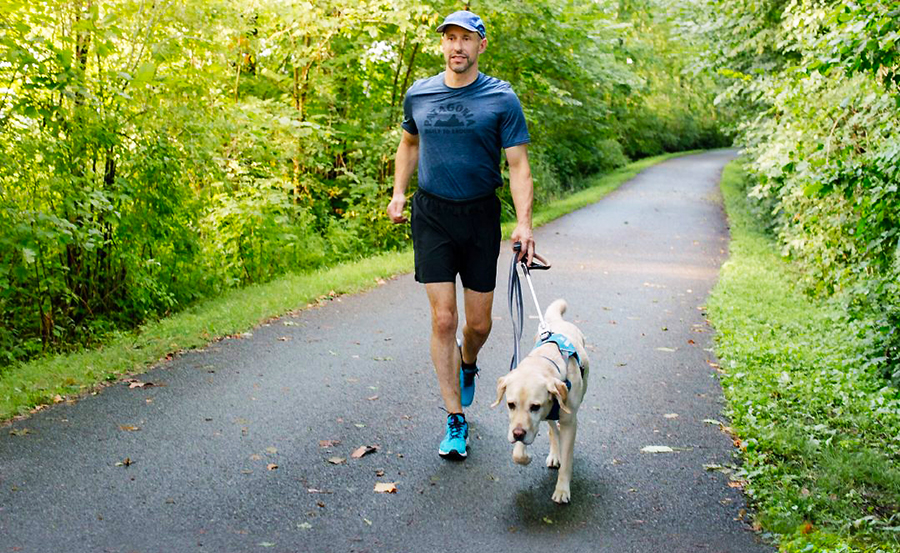 "The work that Ruffwear has done to help make this harness is really part of a really important component of our mission as a Guide dog school — helping people achieve greater independence through a guide dog. The [Unify Harness] opens up more opportunities to enjoy the outdoors." — Tom Panek, CEO, Guiding Eyes for the Blind, shown above with Gus
Photos courtesy Ruffwear + Guiding Eyes for the Blind
---
Editor's Footnote: Ruffwear's specialty product line is for Working Dogs is available exclusively through accredited guide dog and service dog schools and handlers. Ruffwear builds each product to order based on the branding and color requirements of each organization. Individual working dog handlers interested in Ruffwear's specialty Working Dogs products can contact their training organizations for more information.
Ruffwear partners directly with Guide Dog schools that are accredited and certified by the International Guide Dog Federation (IGDF) and Service Dog schools that are accredited by and meet the standards of Assistance Dogs International (ADI), and Ruffwear makes Working Dogs products available exclusively through these accredited organizations.