With a spurt of innovation, a healthy shake-out of stores, and a number of nimble adjustments to the changing retail landscape, run specialty is back in growth mode, according to participants at last week's The Running Event in Austin.
It's not fantastic growth.
Terry Schalow, executive director at the Running Industry Association (RIA), the nonprofit trade group representing independently owned running retailers and the brands they sell, estimates that the industry is generating low-to-mid single digit growth. That's below the high-to-low double rates seen earlier in the decade but marked improvement over the generally flat levels seen over the past couple of years, including declines for many specialty doors.
"We see a little bit of a momentum picking up and we see businesses are healthy," said Schalow. "They're profitable, they're vibrant. That doesn't mean there's not still massive challenges, there are. But specialty retail overall is in a healthier place."
The pick-up is evident in SSI Data that arrived last week showing that performance running footwear sales ran up more than 7 percent in the run specialty channel in the 52-weeks through November 24 with growth accelerating over the last two months. Among core brands, Brooks and New Balance are finding double-digit growth in the channel while newer brands, including On, Altra, 361 Degrees and Topo Athletic, are gaining traction and providing a boost.
Another sign of recovery was the return to healthy double-digit growth by Brooks, the leading footwear brand in the run specialty space. In October, Brooks reported a whopping 29-percent increase in global revenue in the first nine months of this year, driven by a 32-percent hike in footwear sales.
But the improvement was also heard from many attendees at TRE.
"The industry's doing great," Eric Bartos, who owns Fleet Feet Orlando with his wife, Stacey, told SGB Exec on the expo floor at the show. "Personally we had a challenging time in 2014 probably through 2016. But since then we've seen the industry kind of boom. My two stores are averaging 19 percent growth. So it's actually bringing it back to where we probably were before everything went kind of south."
Fleet Feet Orlando is now looking to double revenues over the next five years. Bartos added, "We don't see it slowing down."
"From our standpoint, the industry is strong," said Brian Jones, a co-owner of Playmakers in Okemos, MI. "We've got a unique channel and specialty is a big family. We're very collaborative in nature and we're fortunate in that regard. There's always headwinds and outside pressures but we're working together, moving forward, growing and it's fun. This is something most of us have grown up in, whether as runners or race directors, and we see nothing but opportunities still."
Among the factors seen driving the sales pick-up are innovation arriving in the footwear space; a shake out that reduced the level of competition across several markets; efforts to enforce MAP pricing and tighten distribution to offset online pressures, and data showing a pick-up in running participation, particularly at the core runner level.
Finding Solutions For Online Pressures 
"There's more optimism from retailers than I've seen in a long time," concurred 361 Degrees USA's president Jim Monahan. "A lot of them are reporting their businesses as being up."
Monahan said many stores have figured out how to get even more involved with their local communities. Both vendors and shops have also collaborated to thwart some of the pricing pressures caused by online selling, particularly through Amazon and other online marketplaces.
"It's not going to go away," said Monahan of online selling. "It's how you choose to manage it and compete with it. As brands we have an obligation to help."
Many brands' stepped-up investments around MAP (minimum acceptable price) policies seem to be working better. Some are taking other steps to control online distribution.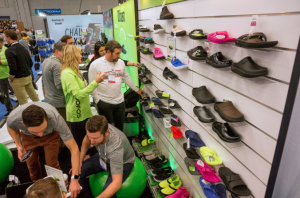 Oofos, the recovery sandal, for example, shifted to selling through its own store on Amazon after facing pricing issues previously. Oofos' co-founder and CEO Lou Panaccione said Oofos sells online because some consumers know the brand and only want to re-order a pair.
But Panaccione said the brand needed better control over prices online to make sure its run specialty partners weren't being undercut. Run specialty is seen as primary way customers learn about Oofos' recovery and injury prevention benefits.
"It's critical for Oofos because we're pioneering recovery technology that really is new to people but helps them be healthier," said Panaccione. "It takes this group of retailers to make that happen."
Altra Running, acquired by VF Corp. earlier this year, now just sells through one running shop on Amazon as part of its attempt to control the "Wild West" of the site's online marketplace, according to Golden Harper, Altra's founder. He added, "And the day they break MAP, we move on."
But he also said healthier stores in the run world are taking other steps to compete at a higher level with online players, including, in some cases, matching prices, offering free shipping and upgrading to faster delivery. While always the bedrock of specialty, amplifying efforts around education and bringing in differentiated product, he believes, has become more critical with online competition. Said Harper, "The best retailers are figuring out how to compete and bring something different to the table."
Indeed, while improving, the industry continues to be challenged managing online pressures as well as vendor's direct-to-consumer (DTC) ambitions.
One running store owner noted that a customer showed him a colorway on Nike.com on her mobile phone at his store and asked if he could order it for her. He found out the color wasn't accessible to dealers. Several of the sessions at TRE focused on digital engagement.
Schalow said omni-channel solutions providers such as Locally and Exchange Collective are arriving to enable brands to support specialty retailer sales. Conversely, specialty retailers end up supporting their loyal vendors when customers are seeking product online.
Said Schalow, "We want them to come into stores but in some cases where they know what they want, online is more convenient and we want the specialty retailer to be able to play there too. That's critical for their health."
Schalow also said DTC efforts by vendors "aren't going away" and he estimates that most vendors in the critical footwear category are aiming for DTC to make up about 10 percent of sales. But he said the conversation has shifted to "ensuring that it's manageable DTC" that doesn't hurt the local run store that's critical to bringing credibility to brands. Schalow added, "They're keeping the product pristine in terms of the pricing. And they're even pushing some of those sales towards retailers, which we love also."
Careful Curation At The Store Level
At the store level, stores are benefiting from a greater effort around "curation," Schalow said. While the term is typically associated with art galleries and museums, it's the same focus of "creating the visitor experience" for run shops. Schalow believes in-store curation includes a wide range of elements such as the dressing room experience, the payment process on down to follow-up but a core focus is merchandising.
"So instead of an associate saying, 'How can I help you today?,' they say, 'Hey, I want to show you something cool,'" said Schalow. "And these amazingly differentiated products create reasons for a customer to come back to check them out on a regular basis."
In footwear, newness is coming in the form of innovation from a few core brands, including Nike coming out with three cushioning platforms, as well as a newer brands such as Hoka One One becoming bigger drivers.
At Brooks, the gains in the nine months were led by franchise icons, the Ghost and Adrenaline GTS but also a healthy reception to new models. This month, Brooks brought some innovation to the stability category with the introduction of the Adrenaline GTS 19, featuring a new DNA LOFT foam as well as updated GuideRails support system. The GuideRails foster stability at the most injury-prone part of a runner's body, the knee.
"We believe performance is timeless for the runner so the industry needs innovation," said Jim Weber, CEO of Brooks Running. "At Brooks, we have invested in performance running and are committed to accelerating the development of innovation that benefit runners including creating new experiences, using advanced materials in design and development, leveraging in-depth Run Signature insights and pushing the boundaries of design."
Some slips by a few leading brands, Asics, Mizuno and Saucony, are said to be opening up space on shoe walls for newcomers. But run specialty stores are also said to be seeking out smaller brands because they're bringing newness to their stores and more limited in distribution.
Casper Coppetti, co-founder of the Swiss running shoe brand On, believes the U.S. market is in a "much healthier place" than it was two years ago because "everybody has adjusted now to a new market environment where people can shop anytime anywhere and they cross-channel shop. Everybody had to figure out their own formula."
The retailers that have adapted well, according to Coppetti, have recognized that beyond physical interaction at the store level, greater investments have to be made in community. He added, "At the same time I think consumers are more informed and they're looking for the unique thing, the special thing, the craft beer of running. And so it's a good time for innovation."
Coppetti believes consumers are seeking out ""smaller, more authentic brands" like On or Hoka with strong backstories to them. He added, "People are more mistrustful of the big brands. They want more than a marketing story."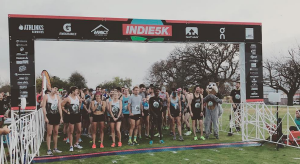 "I think the industry has improved over the last year," said Tony Post, founder and CEO, Topo, another one of the newer brands gaining traction. "There was a period there where there probably was a little shake out of stores and maybe we had too many stores. It's always sad to see people exit the business but I think it's helped right-sized the business in terms of distribution. So I feel that like it's moving in the right direction."
He believes the industry has become more open to newer and emerging brands than it has been historically to support differentiation and that's helping Topo secure new doors. Post further said that while the better stores are figuring out ways to get a stronger presence online, the in-store experience remains the backbone of run specialty.
"For emerging brands like ours, it's so vital for a customer to be able to go into a store and touch and feel the product and try on different shoes so they can compare how it feels next to someone else's product," said Post. "That's harder to do online so those types of customers will always gravitate towards brick-and-mortar stores."
In-Store Experience Still Essential
Kevin Hanson, co-owner with his brother, Keith, of Hansons Running Shop, with four stores in the Metro Detroit area, believes that while the industry has benefited from improved MAP policies, the in-store experience is making a comeback. While purchasing online is convenient, some runners miss the service aspect found at the store level.
"The Amazon way of ordering everything from your couch is not what running retail does," said Hanson. "Running retail is a hands-on thing and it's a communication thing and I think that the pendulum has started to swing back."
Hanson likewise believes consumers miss the "one-on-one conversations" they used to have more regularly at their local grocer. But he believes offering runners a place to try on merchandise, gain advice from staff and particularly get involved with their community socially makes the local running store stand out from the online experience.
"I think the nature of our sport attracts people that want to be involved in something," said Hanson. "I don't want to say it's something bigger than themselves but something that's inclusive so that means running shops become a conduit to that."
Bryan Mahon, specialty running channel manager for Diadora U.S., said Diadora's fast comeback in the U.S. has benefited not only from its running heritage and quality product, but its commitment to keeping Diadora's top running shoes exclusive to run specialty. Online, Diadora's elite models are only available to sites that have stores. Said Mahon, "I think retailers are appreciating what we're trying to do to try to drag people back into retail."
Mahon, who formerly ran Philadelphia Runner, believes channel segmentation has become a more common buzzword in run specialty and he noted efforts by other brands to fine-tune distribution. Said Mahon, "Things got murky in the last few years with product selling across different channels. It got really convoluted. I think to keep it clean as best as you can will be a benefit for everyone."
Amphipod's CEO and co-founder June Angus, in the same vein believes run specialty stores are increasingly seeking out  brands across categories dedicated to run specialty.
"Our sales are just skyrocketing," said Angus. "I think more dealers in specialty run are realizing that to survive, they really need to focus in on that curated product across footwear, apparel and accessories."
Russell Nadel, head of core running, specialty and partnerships at Jaybird, the maker of wireless earphones for runners, said Jaybird has gained traction in the space because of its sound quality, fit and durability (sweat and water proof). He also believes more running stores are understanding the importance of earbuds to women as 80 percent have been found to enjoy hearing music or spoken word when they run.
But Nadel believes Jaybird has been convincing running store owners to dedicate more space to the $100-and-up headphone category because both are committed to the run space, including not only with product features but relevant content. Said Nadel, "We're not spending money on basketball or musicians. We're solely focused on the needs and content around the running consumer."
Playmakers' Jones said the industry has clearly benefited from the revival of Brooks and he also noted that Diadora clearly has some buzz although Playmakers hasn't picked up the Italian brand yet. At his store, Hoka and Altra are doing well as well as New Balance.
Jones noted that footwear continues to dominate the conversations at many run specialty shops. Word of Fleet Feet opening a footwear-only store in Austin about four months ago earned some buzz at The Running Event. In apparel, Playmakers in finding success with boutique brands like Vuori. But Jones said stores have to seek out those niche brands and cultivate customers for those brands. Said Jones, "We have a bigger store format so we do well with apparel but you have to be committed to it."
Jones also noted that customizing and local branding has recently become a more important ingredient. He noted that brands such as Boco Gear and Nofel Pro have helped develop items for Playmakers with local messages such as "Run Michigan" and "Run Detroit" that have resonated with locals. Said Jones, "It gives you something unique to sell in our marketplace."
Hanson said footwear continues to be a primary driver for his stores while noting that apparel's main challenge is longevity. Said Hanson, "People need a shoe three times a year. We all have jackets that are 10 years old and they still fit."
With his team in regular contact with key footwear resources, Hansons often uses to The Running Event expo to find unique product in the accessories area. The prior year, he found AfterShokz that helped him overcome safety concerns around running while listening to music and it took off with his consumers. Said Hanson, "AfterShokz was the best pickup we ever had here. We could pay our rent with just AfterShokz."
The Running Event Again Delivers
Overall, The Running Event was well attended with some noting that the show's new owner, Diversified Communications, an experienced trade show operator, added a higher level of professionalism to the event.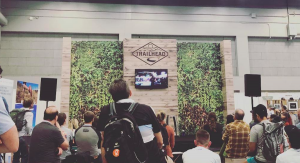 Some of the newer elements included a "Trailhead at TRE" corner featuring athletes and other experts exploring the trail running opportunity, a Sportstyle Select area teaching proper fitting and merchandising techniques; and a parade of social media influencers touring the show on the last day. Race directors were also invited to the show for the first time.
But the show didn't significantly change and Bill Springer, EVP Diversified Communications, said the company is planning to slowly test and introduce changes. He noted that the privately-held firm doesn't have to pressures to grow like some publicly-held event producers.
But many attendees were also relieved to hear that a number of key personal that have guided the 13-year show, including Mark Sullivan, Troy Leonard and Daemon Filson, would be staying on for another year. Topo's Post said, "It was really reassuring to see Mark Sullivan walking the floor and hearing him saying he's going to be here for another year, which I think is a great move. I think the show, with his leadership and a new group, is in really good hands."
Fleet Feet Orlando's Bartos places high value in the educational sessions for himself and his team at TRE and is concerned that the new owners may be change up the content in the years to come. But he particularly looks forward to meeting with other run specialty shop owners across the country. Bartos said, "It's really important for me just getting together with people you see once a year to talk about best practices."
Hanson echoed his comments, "There's something about misery loves company When things are down, you want to commiserate with your peers. When things are up, you celebrate with them."
The industry next year will get another event to talk shop when RIA launches its first working event, called the RIA Kick Show. The event, to be held in Denver in June 2019, won't have an expo and will focus on best practices, according to Schalow.
Schalow believes a large part of the run specialty's bounce back is because running shops have embraced a significantly higher level of sophistication from an operational perspective, including not only merchandising but staffing, training, marketing, leasing and other areas.
"Being a retailer these days means wearing a lot of hats and being good at all of them and that's tough," said Schalow. "The level of sophistication has increased dramatically from what it was even 10 years ago and it's night and day from 30 years ago when you could be a running geek and just hang a shingle out and all your friends would buy from you. That doesn't make it anymore."
Schalow said the RIA Kick Show will look to build on that progress. He added, "Running is still your passion, it's still your lifestyle but you've got to be a good business person to survive."