By Thomas J. Ryan
Sturm, Ruger & Company Inc. has seen a tremendous surge in demand since mid-March with the firearms purchasing activity accelerating much faster than the last gun surge in late 2012 through 2013 that was tied to the mass shooting at Sandy Hook Elementary School.
March was the second-busiest month ever for gun sales, trailing only January 2013, which was just after President Obama's re-election and calls for new restrictions in the wake of the Sandy Hook incident.
"I think, the biggest difference between this time period and that time period that we're referring to is likely the suddenness of this surge in demand," said CEO Chris Killoy, on a conference call with analysts. Demand during the 2013 timeframe related to an election cycle and "obviously it changed in the political spectrum. But that was not as rapid, and as sudden, as we saw in the middle of March. I think that was the biggest difference."
He also noted an obvious difference between the two periods is safety measures. Said Killoy, "We have to be extraordinarily careful in how we take care of our employees, how we manage production and how we ramp-up production. It's quite a bit different than that time period in my mind."
Killoy said the "significant increase" in consumer demand arrived in the latter stages of the first quarter. The estimated unit sell-through of Ruger products from the independent distributors to retailers increased 37 percent in the first quarter year-over-year. For the same period, the National Instant Criminal Background Check System (NICS) background checks, as adjusted by the NSSF, increased 42 percent.
Killoy said, "Anecdotal evidence suggests that this increased demand, especially during the last few weeks of the quarter, may likely be related to COVID-19, the impact of state-level restrictions and heightened concern for personal protection."
Indeed, Killoy said the company was unable to ramp-up production quickly enough to meet the increased demand in March. As a result, the combined inventories of warehouses and distributors decreased 113,000 units during the first quarter of 2020. The CEO said, "Although we do not have comprehensive inventory data at the retail level, the retail information we do gather suggests that a retailer inventory of Ruger as well as most other firearms brands has been depleted in the last month or two."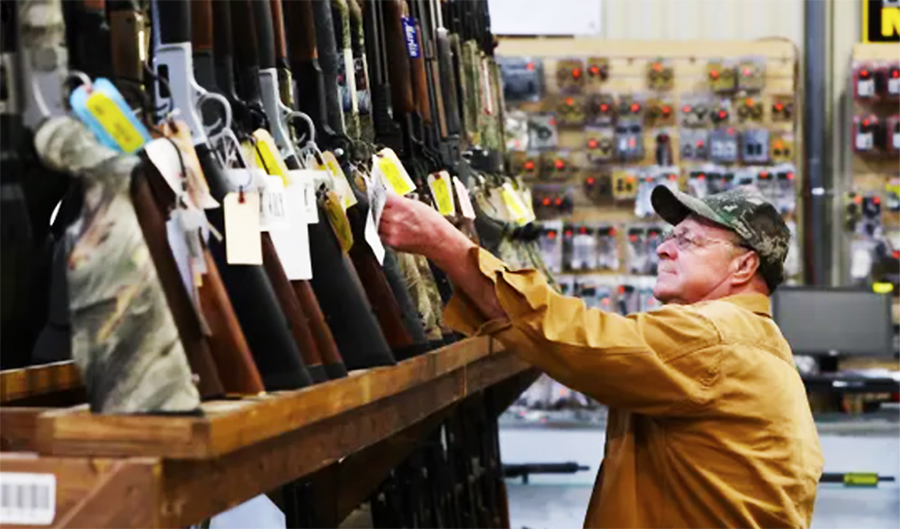 Killoy said negative impacts of COVID-19 on Ruger's businesses were "negligible" in the first quarter with the company able to keep all facilities open with only limited restrictions on production.
Ruger has launched a "very active hiring process" to support the ramping up production to meet demand. Killoy said the company's HR team developed a 10-step process to ensure facilities are safe for existing, and any new employees, that are expected to slow hiring.
Said Killoy, "We're fortunate to have several nurses that work for Ruger, and that's been a big factor in our ability to manage through this. It's a lot more cumbersome, but we think that extra prudence, while it may delay ramping up as quickly as we might like, we think it's the right way to go to make sure we're protecting our employees and protecting our existing production capacity."
Among the steps Ruger has taken since the beginning in March in response to the coronavirus:
Providing all hourly employees with an additional two weeks paid time off;
Encouraging employees to work remotely, wherever possible, and implementing social distancing throughout each manufacturing facility, including in every manufacturing cell;
Communicating with, and assisting employees with, potential health issues;
Restricting visitor access to avoid introducing new people to the factory environment;
Implementing additional cleaning, sanitizing and other health and safety processes to maintain a clean and safe workplace; and
Manufacturing and donating personal protective equipment to hospitals, health care facilities and police and fire departments in local communities.
The total cost of these actions are expected to cost approximately $2.5 million in 2020, of which approximately $400,000 was recognized during the first quarter.
…
In the quarter, net earnings rose 18.5 percent to $15.4 million, or 87 cents per share. Revenues were up 8.4 percent to $123.6 million. Beyond strong consumer demand, earnings improvement was traced to the success of new products and reduced reliance on promotions improved earnings.
Sales of new products, including the Wrangler, the Ruger-57, the LCP II in .22 LR, the PC Charger, and the AR-556 pistol represented $23 million or 20 percent of firearm sales in the first quarter of 2020. New product sales include only major new products that were introduced in the past two years.
During the first quarter, the company's finished goods inventory decreased 35,500 units, and distributor inventories of the company's products decreased 77,900 units. In the aggregate, total company and distributor inventories decreased by 34 percent during the quarter.
Improving cash flow in the period also strengthened Ruger's already debt-free balance sheet. Cash provided by operations during the quarter was $31.1 million. At March 28, cash and short-term investments totaled $187.6 million. The company's current ratio is 4.2 to 1.
In the first quarter, capital expenditures totaled $4.1 million. The company expects 2020 capital expenditures to total approximately $20 million, most of which relate to new product introductions.