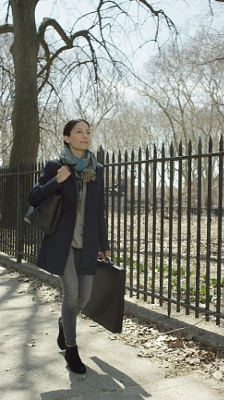 Rockport has partnered with Dress for Success as part of its fall 2015 #MyDailyAdventure campaign. The collaboration will support the international nonprofit's work in promoting the overall economic independence of disadvantaged women.
To help create opportunities for women struggling to find employment, Rockport is asking consumers to share their daily adventures on Instagram using #MyDailyAdventure and tagging @DressforSuccess starting today through Oct. 22. For every post, Rockport will donate five dollars, up to $10,000, to the non-profit.
"Dress for Success and Rockport both stand for much more than shoes or clothing; we share a commitment to inspiring the confidence necessary to face challenges, seize opportunities and make the most out of everyday moments," said Susan Dooley, senior vice president, The Rockport Group. "We're humbled to play a small role in helping these courageous women get back on their feet."
The #MyDailyAdventure campaign focuses less on shoes and more on what adventures the day can bring when your footwear makes you feel great. Underscoring the brand's ability to deliver comfort and confidence, the campaign tells inspirational stories of real men and women making the most of life's everyday moments.
These stories can be found on the newly launched Rockport.com/MyDailyAdventure, a hub for capturing and sharing daily adventures and a real time look into the diversity of daily lives around the world. Throughout the season, the #MyDailyAdventure campaign will be featured at retail, in print and throughout the brand's digital platforms, supported by bloggers, social influencers and consumers.
The Rockport Fall 2015 men's and women's collections are now available at retail and online. For more information about Rockport and #MyDailyAdventure, visit Rockport.com/MyDailyAdventure.
In August 2015, Drydock Footwear Group acquired The Rockport Company to form The Rockport Group, the new home to the companies' combined portfolio of men's and women's brands, including Rockport, Cobb Hill, Aravon and Dunham.