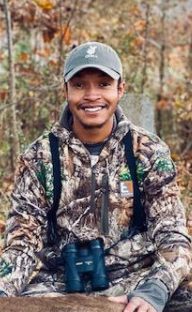 Rock Ridge Outdoors has added Micah Denesse, shown below right, to its sales and marketing team, effective immediately.
Denesse brings five-plus years of sales and marketing experience in multiple industries. He has worked with both product manufacturing and marketing companies as well as TV/media sales companies in and out of the outdoor industry. Most notably, he was the co-producer and product/sponsor integration manager for several Outdoor/Sportsman Channel shows such as, "For Love or Likes" and "Viral Outdoors". He also managed more than five social marketing platforms with millions of viewers each year.
Denesse attended LSU and BRCC studying Agriculture Business and Marketing.
Mike Galloway, EVP of Sales at Rock Ridge, said "We're very excited to have Micah on board. He will be a substantial piece to the puzzle for growth and fill many needs for our business."
Logo courtesy Rock Ridge Outdoors