Rock/Creek has added staff to support continued brick-and-mortar growth, including hourly sales staff positions to support their new store in Cleveland, TN which opens this month.
"We're hiring immediately for several part-time and full-time, hourly positions, and we're interviewing currently with a goal of having the Cleveland store staff hired and trained in the coming weeks," says Rock/Creek General Manager, Jim Sapere. "Carson Craig, a Cleveland native and veteran Rock/Creek employee, will be the store manager, and we're excited to give him this opportunity. Hamilton Crossing store manager Jason Hayes will also take on additional responsibility overseeing these two stores."
"Cleveland is an obvious and exciting move for us in this market," explains Chad Wykle, head buyer for the company. "We know that Cleveland residents drive to our existing stores, run our trail races, participate in our climbing comps, and generally support what we're doing in the community. Opening a store in Cleveland just makes it easier for us to help equip them with the best outdoor gear and clothing available."
The new location, which is shown in the photo to the right, will include about 4,500 square feet of selling space, which places the store in between The Block and Rock/Creek's two North Shore stores in size. Key brands in the new location are Marmot, Patagonia, and The North Face, with plenty of supporting brands like Prana, Toad&Co., Osprey packs, Yeti coolers, and more.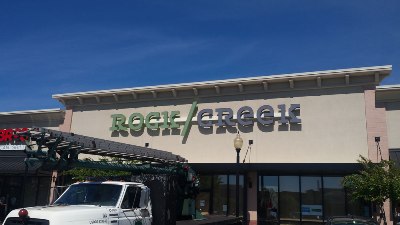 The footwear section will feature Chaco sandals, climbing shoes, hiking shoes and boots, running shoes and casual styles. Locally-produced socks from SmartWool, Goodhew and Sockwell will be represented, as will several American-made apparel items like Rock/Creek's logo wear and Marc Nelson t-shirts. Hard goods like climbing gear, hiking poles, camping and backpacking equipment will also be represented. Electronics will include GoPro cameras and Suunto GPS sports watches.
This sixth brick-and-mortar store will be located in Cleveland Towne Center, joining top retailers like Target, Kohl's and Bed Bath & Beyond and Shane's Rib Shack. Grand opening ceremonies and a ribbon cutting will be announced early next week after the company completes construction and confirms an opening date.
Rock/Creek is an independently-owned specialty outdoor gear and clothing retailer based in Chattanooga, TN. With over 27 years of brick-and-mortar experience and an award-winning online store, the Internet Retailer "Second 500" shop offers only the very best outdoor apparel and equipment for travel, hiking, backpacking, camping, climbing, kayaking, SUP, and kayak fishing.