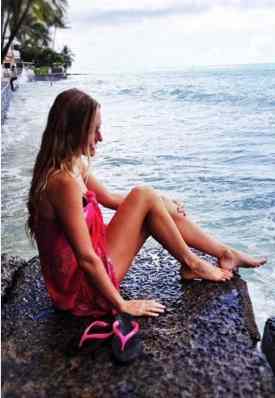 Brazilian footwear brand Rider Sandals has signed popular Indie rock band Surfer Blood as the newest member of its growing brand ambassador program. The band, based in West Palm Beach, Florida, embodies the Rider brands passion for adventure and will be taking Rider sandals on the road with them to spread the Always Good Times message.
Rider Sandals are crafted in Brazil, in some of the most eco-friendly manufacturing plants in the world. In the spirit of celebrating the outdoors and causing the smallest possible impact on the environment, the shoes are recyclable and 99 percent of the waste created in their manufacturing is recycled or reused, ensuring that Riders footsteps are felt around the world.
To expand its impact even further, Rider has just launched a new brand ambassador program. The brand is partnering with creative artists to spread a commitment to the planet and the Rider attitude: a laid-back way of life and a choice to never settle for less. Along with Surfer Blood, the Rider brand ambassadors include:
Willian Cardoso, a professional surfer from Brazil who recently placed 2nd in the 2014 Vans US Open of Surfing.
Colleen Malia Wilcox (PICTURED TO THE RIGHT), an artist living in Honolulu, Hawaii, who channels her passion for the island lifestyle into acrylic on canvas paintings and designs for surfboards and accessories, depicting tropical island scenery in vibrant colors.
João Brasil, a musician, DJ, performer, music producer and composer who has created tropical remixes for major artists including Lorde and Iggy Azalea, is featured in the new Fatboy Slim album, and composed the FIFA world cup closing ceremony fireworks.
Chris Burkard, a self-taught photographer and artist whose work depicts surf and travel in wild, remote destinations and offbeat landscapes, capturing a spirit of adventure-seeking and bliss.
These ambassadors each spread the Brazilian lifestyle and surf culture through their unique creative expressions. Rider Sandals state-of-the-art soles, designed to feel as natural as going barefoot, fit perfectly into their various lifestyles and the brands message resonates uniquely with each of them. Riders concept of lightening and softening life a bit is such an important message – in a super stressed world, Rider is doing its job really well, said João Brazil.
The Rider vibe is equally meaningful for Colleen Malia Wilcox, who says I relate to Rider's philosophy of kicking back, enjoying life and having fun outdoors – I love that the product is eco-friendly. In fact, Riders commitment to the planet is something that is meaningful to all of the brand ambassadors. Says Chris Burkard, I love how over 30 percent of the sandal is made from recyclable material. Its so important for me to work with brands that make sustainability a priority.
Rider designers get their inspiration from extreme sports, fashion trends and the great outdoors and these ambassadors embody that inspiration perfectly, said Brad Gruber, National Sales Manager, Rider Sandals. Our brands mission is to spread good times and a love for the active Brazilian lifestyle and we are excited that these ambassadors are partnering with us in that mission, taking Rider sandals and the Rider way with them from surf to sand to street.
The Rider Brand Ambassadors will continue to spread the Rider footstep around the world and will be wearing the 2015 Rider line, which will be introduced in January 2015, on www.ridersandals.com.