A recent report from Placer.ai suggests that middle-income shoppers limited their spending and consumer confidence fell in August after the mall space offered reasons for optimism earlier this summer when month-over-month (MoM) visits rose for three months in a row between May and July 2023. The company, which tracks foot traffic by store type, mall type and store brand, said that renewed economic headwinds in August, coupled with the seasonal drop in mall visits between July and August seen over the past couple of years seems to have impacted malls particularly strongly as all three mall formats analyzed saw a drop in MoM visits.
Still. Placer.ai said in the August 2023 Mall Index report that while MoM visits fell for the month, other foot traffic metrics painted a rosier picture for the period when delving deeper into the location analytics for more context on August 2023's mall visitation patterns.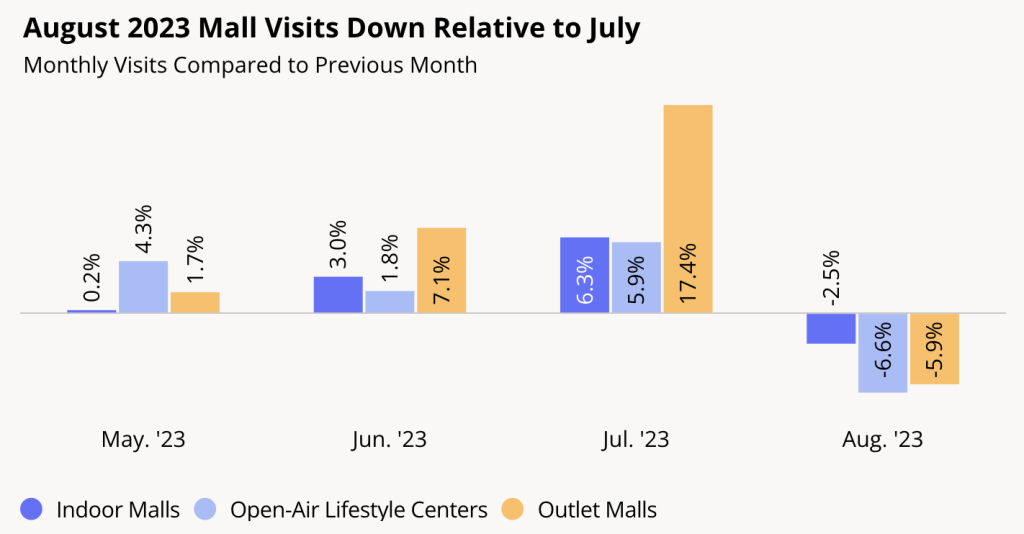 Drop in Visitors Smaller Than the Drop in Visits
Placer.ai pointed to year-over-year (YoY) mall visit numbers that reflect the wider August downturn, with foot traffic to Indoor Malls, Open-Air Lifestyle Centers, and Outlet Malls relative to August 2022 down 4.5 percent, 0.6 percent, and 8.0 percent, respectively. But unique visitors were down just 2.6 percent, 0.4 percent, and 6.7 percent, respectively, for Indoor Malls, Open-Air Lifestyle Centers, and Outlet Malls, so the YoY gap in visits was larger than the YoY gap in visitors.
The larger YoY visit gap compared to the YoY visitor gap appears to indicate that some of the drop in August visits was due to a drop in visit frequency, with some shoppers visiting fewer times in August 2023 than in August 2022. The company said the drop in visit frequency is not necessarily all negative, consumers looking to save on gas and consolidate their shopping are likely accomplishing more during each visit, which could be offsetting the reduced frequency of their mall trips. The latest indication of the ongoing value of mission-driven shopping.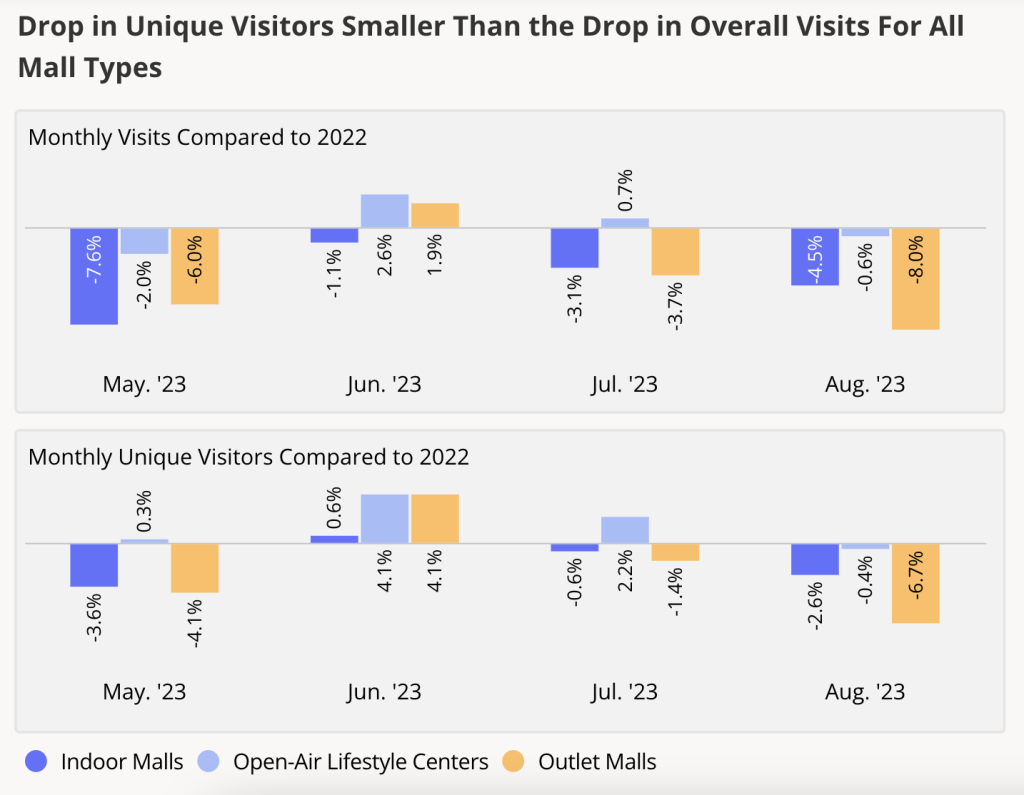 Median Visit Duration Still High
Placer.ai said median visit duration to all three mall types increased significantly YoY in June, July and August, which it said seemed to indicate that the quality of mall visits had improved, even as the quantity dipped. Outlet malls, which saw the biggest YoY dip in visits, also saw the largest YoY increases in median dwell time. So while August 2023 consumers may be cutting down on mall visits and discretionary spending, those who are still heading to malls are making the most of their less frequent visits by spending more time shopping, dining, and hanging out, according to the company's analysis.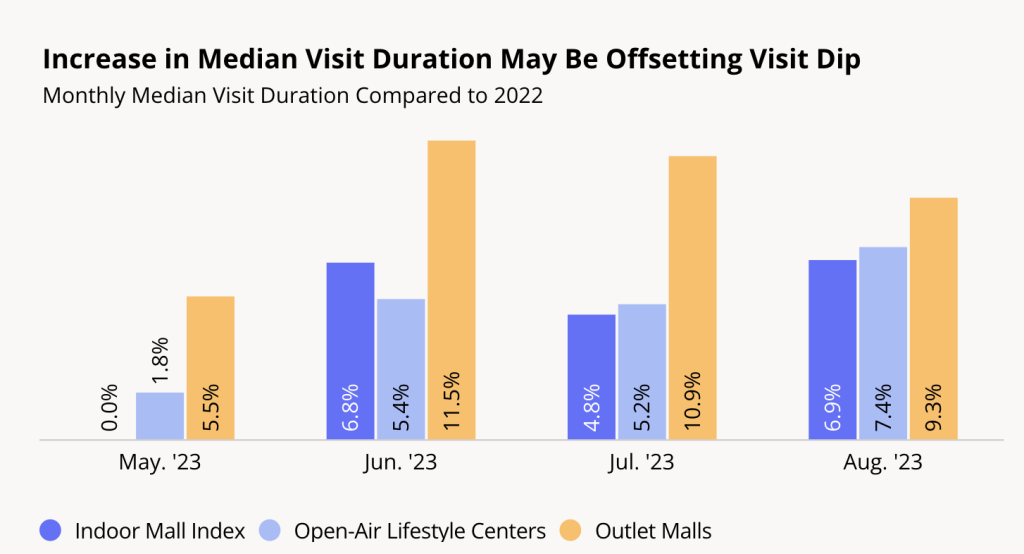 What Happened to Back-to-School?
Malls used to play an important part in parents' back-to-school shopping, but their function as a one-stop-shop for apparel for all ages has become less central in recent years. Even in the summer of 2021, when brick-and-mortar retail rebounded with a vengeance, and July mall visits exceeded pre-pandemic levels, foot traffic dipped back down towards the end of August, just as Back-to-School season was peaking. And in 2022, just like this year, the August YoY visit gaps for Indoor Malls and Open-Air Lifestyle Centers outstripped those of July. Looking deeper into the data reveals the retailers that supplemented malls as the go-to back-to-school shopping destination in the July-August period this year.
Analyzing cross-visit data for indoor malls indicates that a larger share of visitors to indoor malls also visited value-priced superstores, discount & dollar store chains, and off-price retailers in July/August 2023 when compared to July/August 2022. Placer.ai surmised that the increase in cross-shopping to budget-friendly chains, coupled with the longer dwell times in malls, could mean that parents are focused on low prices during this year's back-to-school season and visiting malls for the activities and experiential component offered by the format.
Mall-Based Behavior Continues to Evolve
Although much has been predicted regarding the demise of malls, Placer.ai suggested that foot traffic indicates that malls continue to serve an important purpose in the wider retail landscape. Still, mall-based consumer behavior seems to be undergoing a shift. Instead of functioning as one giant superstore, malls may be regaining some of their 1990s-era character as experiential hubs where visitors spend hours hanging out, eating in the food court, engaging in unique activities and entertainment—and shopping.
Placer.ai concluded that as the retail space continues to stabilize post-COVID and post-inflation and the role of malls continues to evolve, malls are here to stay.
For more data-based retail insights, go here.
Graphics and data courtesy Placer.ai