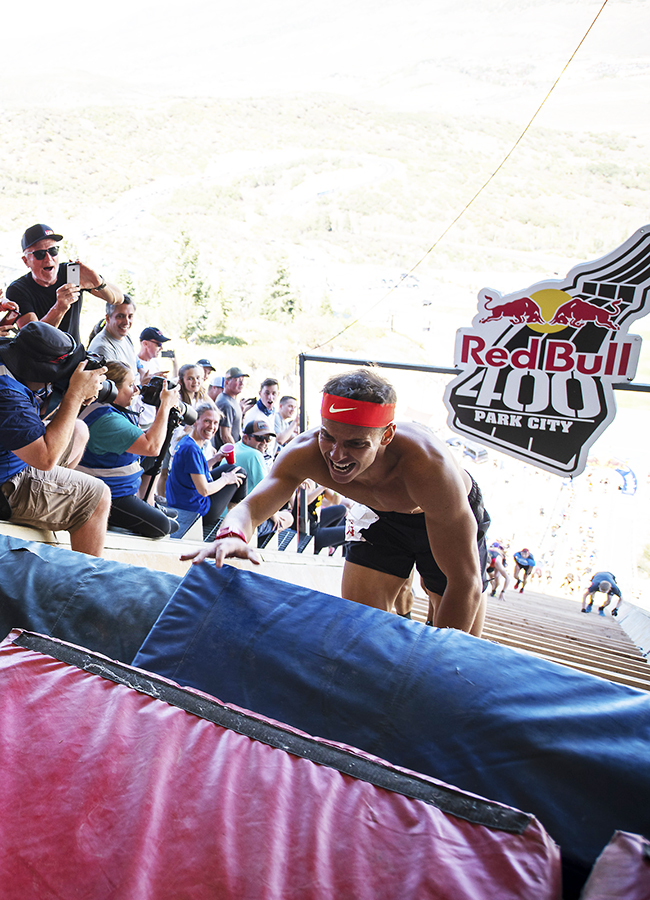 On Saturday, the fourth annual Red Bull 400 returned to Olympic Park in Park City, UT.
The challenge  …  460 feet of a near-vertical spring up the toughest hill imaginable at a starting point of 6870 feet—an added challenge of altitude affecting all of the racers and resulting in a vast number of oxygen tanks on-hand for the competition.
Almost 1200 athletes from around the world and from all disciplines and levels of fitness took part in the challenge, racing up the 2002 Winter Games ski jump. There were three main categories—Individual Men, Individual Women and a Co-Ed Relay (4×100).
Miles Fink-Debray from Sun Valley, ID, won for Individual Men, outrunning the 2017 Men's Individual winner time by 40 seconds at an impressive time of 3.45.6.
"This was something I've really wanted to do for a long time. I trained really hard for this. The last four months have been focused on short, hard efforts up hills. To win this is just unreal. A dream come true." — Miles Fink-Debray, ex-professional Alpine skier and endurance sports expert, pictured right
Megan Foley, professional triathlete, from Salt Lake City, UT, defended her title in 5.14.4 to take gold in Individual Women.
"I was really nervous because of the high caliber of the athletes that are here this year, so I was stoked to be able to just hold my own against them. The last 100m or so was a really tough effort, but [it was] still a great day and [I'm] happy for everyone that finished and that came out to spectate." – Megan Foley, professional triathlete, defending champion, lead photo
Team Raging Bulls finished in 2.05.3 to top the podium in the co-ed relay.
Photos courtesy Red Bull