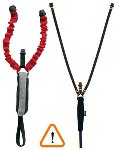 Petzl has extended its May 13 voluntary recall of its Scorpio via ferrata lanyards (L60 and L60CK) from those manufactured until March 2005 to include those sold through May 19, 2011 following its initial analysis of a via ferrata accident in France.
The lanyards are used for personal safety on "via ferratas," or mountain routes with fixed safety cables and other climbing aids that are popular in Europe and used in a few locations in North America, according to the Outdoor Safety Institute.
Petzl's investigation and analysis of manufacturing procedures specific to the production of tear webbing energy absorbers identified a weakness which could explain the defect leading to the cause of this accident, the company said.
Even though the probability of this defect recurring remains very low, Petzl temporarily halted production of all lanyard tear webbing May 13 to allow for further inspection before resuming sales and has extended its May 13 product safety alert to include all Petzl Scorpio energy absorbing lanyards sold up to 19th May 2011 up to serial number 11137****).