Eecycleworks LLC of La Cañada, CA is recalling about 400 high-end bicycle brakes because the bridge of the brakes can crack, posing a fall hazard for riders, the U.S. Consumer Product Safety Commission reported.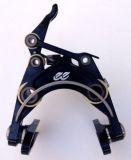 The firm has received two reports of brakes cracking, one of which resulted in scrapes and bruises. This recall involves "eebrake" model aftermarket brakes sold between September, 2008 and March, 2011 for use on adult road racing bicycles. The recalled models have both a white "ee" logo on the front of the brakes and a five-digit serial number beginning with either "80xxx" or "09xxx" engraved on either the front or the back of the strut portion of the brake.
The brakes were sold by specialty bicycle retailers nationwide and eecycleworks.com from September 2008 through March 2011 for between $570 and $590.