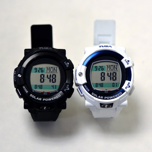 Tabata USA Inc. (TUSA) of Long Beach, CA has recalled about 175 TUSA DC Solar Link IQ1204 diving computers that can malfunction and display an incorrect reading to the diver, posing a drowning and injury hazard due to decompression sickness.
Though no injuries have been reported, TUSA is instructing consumers to immediately stop using the recalled diving computers and contact TUSA to receive a free replacement diving computer.
The dive computers, which were manufactured in Japan, were sold at sporting goods stores nationwide from March 2016 through June 2016 for about $750.