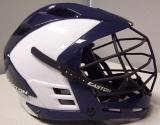 Easton Sports is recalling 12,000 Easton Raptor Lacrosse helmets because the chin bar can break, causing the wearer to suffer a jaw or facial injury. Easton Sports has received six reports of the chin bar cracking or breaking on impact with a ball or lacrosse stick, including one laceration injury.
The helmets were made in China and certified by their manufacturer as meeting the standard of the National Operating Committee on Standards for Athletic Equipment (NOCSAE).
They were sold in sporting goods stores and online from November 2011 through March 2012 for about $250. "Easton" is printed on either side of the back of the helmet and on the jaw strap. "RAPTOR" is printed low on the back of the helmet in the center. The helmets were sold in sizes XS/S, M/L, and XL/XXL and were available in the following colors: white; matte black; silver; navy blue and white; royal blue and white; and red and white.