Black Diamond Inc. is recalling about 1,200 avalanche airbag packs because the electric motor that was their defining feature can malfunction and prevent the airbag from deploying.
While no injuries have been reporting, a failure of the air bag to inflate defeats the primary purpose of the packs, which is to prevent skiers, snowmobilers and other backcountry adventurers caught in an avalanche from being crushed or suffocated. Though they only became widely available in North America in the last five years, decades of use in Europe has shown such packs to be very effective at saving lives.
Gear reviewers have generally praised the Black Diamond's JetForce technology, which substitutes a battery operated electric motor for air cartridges traditionally used to inflate avalanche bags. Backcountry
enthusiasts have long sought an alternative to air cartridge systems
because cartridges must be recharged after each use and charged
cartridges are banned by commercial airlines.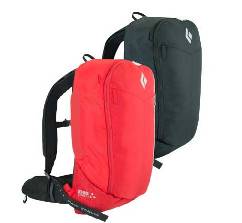 The Black Diamond Pilot 11 JetForce Airbag Pack is among the seven models being recalled.
The recall affects the first generation of JetForce Avalanche Airbag Packs manufactured between October 2, 2014 and March 3, 2015.
The packs were sold in North America under the Black Diamond, PIEPS and POC brands between December 2014 through June 2015. Specialty outdoor retailers sold about 1,000 of the bags airbags in the United States and 200 in Canada for between $1,250 and $1,300 each. The bags were manufactured in the U.S.
This recall involves all first generation JetForce Black Diamond, PIEPS and POC model airbag packs manufactured by Black Diamond between October 2, 2014 and March 3, 2015. The manufacture date code ranging from 14275 to 15077 can be found inside the front pocket label. The date codes are listed in a YYDDD format. Date codes on some products are truncated in a YDDD format (ex.4275). The JetForce Technology logo is on the left shoulder strap, and an instruction label is on the inside flap of the back panel.
Consumers have been instructed to immediately stop using the recalled packs and contact Black Diamond for instructions on returning the product for a free repair. Consumer can reach the company at (800) 775-5552 from 8 a.m. to 5 p.m. MT Monday through Friday, or online at www.blackdiamondequipment.com, www.pocsports.com or www.pieps.com and select "Customer Service" at the top of the page, then click on Product Recalls in the drop down menu. Consumers can also go to www.jetforcerecall.com to submit their repair claim. The firm can be reached by email at service@jetforcerecall.com.
The following models and colors are included in this recall:
Brand
Model and Capacity
Colors
Black Diamond

Pilot 11 Liters

Halo 28 Liters

Saga 40 Liters

Black, Fire Red
Pieps

Tour Rider 24 Liters

Tour Pro 24 Liters

Black with yellow, Black with chili red
POC
Thorax 11 Liters
Orange