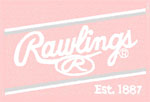 Rawlings has reached an agreement that will allow the company to continue as the official supplier of baseballs and helmets for Babe Ruth League baseball, a relationship that is in its 10th year. The extension of the current agreement specifies that Rawlings baseballs, softballs and helmets be used for all Babe Ruth League tournament play.
"Our long-standing partnership with the Babe Ruth League depicts our shared dedication to youth athletes and the development of their skills and character as it relates to the game of baseball," said Rawlings Senior Vice-President of Marketing Mike Thompson.
"We are very excited about our continuing partnership with Rawlings as they share in our goal to do what is best for the young athlete while providing them with a fun and educational experience," said Babe Ruth League President and CEO Steven Tellefsen. "We are sure our participants will enjoy playing the game in 'Major League' style with the Rawlings baseballs, softballs and helmets. We make a great team and are proud to be associated with such commitment to the game of baseball."
The renewed partnership between Rawlings and Babe Ruth League baseball will be promoted via banners, advertising, email blast, website banner ads, newsletters, media guides, rule books, sign up sheets, and other printed material for players and coaches.