Whistler, B.C., February 12, 2020 – Local creative agency Origin, Fairmont Chateau Whistler and Tourism Whistler today announced pro-am photographer teams for the new outdoor cultural and creative event Uprising. Uprising will take place on Saturday, February 22 at the Fairmont Chateau Whistler and celebrate Whistler talent and culture while raising money for Protect Our Winters Canada.
Photographer teams were created in the name of mentorship and include professionals and up-and-comers: pro Reuben Krabbe and up-and-comer Duncan Sadava, pro Mitch Winton and up-and-comer Matt Sylvestre, pro Erin Hogue and up-and-comer Vincent Emond, pro Scott Serfas and up-and-comer Rob Lemay, and pro Mason Mashon and up-and-comer Tyler Ravelle. A roster of world class athletes including names such as Jamie Anderson, Anna Segal, Rory Bushfield, Jody Wachniak and more, will be joining the photographers on screen.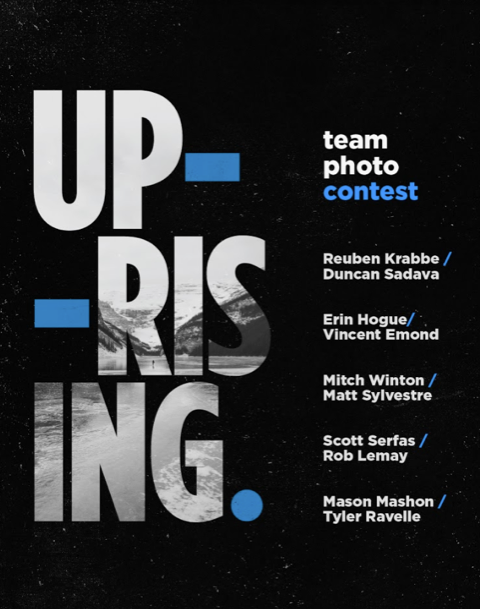 The pro-am duos will spend three days in February in Whistler-area mountains capturing and creating the ultimate slideshow with professional and emerging-star athletes. On February 22, the five teams will compete to see who can lay claim to a $5,000 People's Choice cash purse presented by Tourism Whistler, as well as $2,500 cash prizes for Best Image from an Up-and-Comer (sponsored by gogglesoc) and Best Action Photo (sponsored by CLIF Bar).
"We're really happy with how the photography community has embraced Uprising's theme of mentorship," said Origin Principal and Creative Director Danielle Kristmanson. "Everyone has validated its importance in terms of growing mountain culture. These teams are packed with an incredible amount of talent—both on the photography and athlete sides—but they're all really interested in learning from each other. The team approach has brought down the competitive angle so the teams can focus instead on collaboration and doing something cool and fun for both the audience and themselves."
Tickets are $25 and available at originoutside.com/uprising and proceeds—along with raffle prize draws—will support Protect Our Winters Canada.
"A big part of our decision to produce Uprising was to give our team at Origin an opportunity to get involved in something that would give back to our community, but also to Protect Our Winters," continued Kristmanson. "Origin-ers have been all-in from the beginning, and we're thrilled to support this deserving organization while celebrating local talent and culture."
Following the main event at the Fairmont Chateau Whistler, Uprising will feature multi-venue after parties with local bars hosting "Pour One for POW" events. Partner venues will be pouring limited edition Protect Our Winters Pilsner from Coast Mountain Brewing and raising money for POW Canada. Each party will include prizes, music, beer, photographers and athletes all in support of a great cause.
"Our presenting partners, Tourism Whistler and the Fairmont Chateau Whistler, keep going above and beyond in making this happen but also so many of POW's partners have come to the table to support the event with prizes or product to generate even more money for the cause," said Kristmanson. "This is a true community effort, and we can't wait to come together to celebrate and pay it forward to protect our winters."
Presenting partners include Origin, Tourism Whistler, and Fairmont Chateau Whistler; Event sponsors include CLIFBar, gogglesoc, and PSAV; Event supporters include Coast Mountain Brewing, Mountain FM, The North Face, Salomon, Arcteryx, Patagonia, Buff, Smartwool, Jones Snowboards, Mountain Life Media and Whistler Blackcomb.
To purchase tickets and learn more, please visit originoutside.com/uprising. To participate, sponsor, support or volunteer at the event, please contact uprising@originoutside.com.
About Origin: Origin is an outdoor-focused, digitally-driven creative, content and marketing agency. Founded more than 20 years ago, the agency works with a multitude of prominent outdoor brands such as Whistler Blackcomb, Tourism Whistler, L.L.Bean, lululemon, Smartwool, The North Face, and many more. With offices in both Montreal and Whistler, as well as a Vermont-based US subsidiary, Origin provides a bilingual and suite of capabilities to the outdoor brands it helps succeed and grow in both Canada and the US. For more information about Origin, please visit originoutside.com.
About Tourism Whistler: Tourism Whistler is the member-based marketing and sales organization representing Whistler, operating the Whistler Conference Centre, Whistler Golf Club, Whistler Visitor Centre, as well as 1.800.WHISTLER and whistler.com – Whistler's official source for visitor bookings and information. As the convention and visitors bureau for the Resort Municipality of Whistler, Tourism Whistler represents more than 8,000 members who own, manage and operate properties or businesses on Resort Lands including hotels, restaurants, activity operators and retail shops.
About Fairmont Chateau Whistler: Fairmont Hotels & Resorts is where occasions are celebrated and history is made. Landmark hotels with unrivalled presence, authentic experiences and unforgettable moments have attracted visitors to Fairmont and its destinations since 1907. The Plaza in New York City, The Savoy in London, Fairmont San Francisco, Fairmont Banff Springs and Fairmont Peace Hotel in Shanghai are but a few of these iconic luxury hotels, forever linked to the special places where they reside. Famous for its engaging service, grand public spaces, locally-inspired cuisine and celebrated bars and lounges, Fairmont promises a special brand of thoughtful luxury that will be remembered long after any visit. With a worldwide portfolio of more than 75 hotels, Fairmont also takes great pride in its deep community roots and leadership in sustainability. Fairmont is part of Accor, a world-leading augmented hospitality group offering unique and meaningful experiences in 4,800 hotels, resorts, and residences across 100 countries. Learn more at fairmont.com
###