When Toray launched Entrant in 1980, waterproof/breathable fabric treatments were narrowly-focused on specific performance attributes demanded by professional outdoor athletes.
As they often do, Toray spotted an opportunity to broaden the market.
Working with top outdoor and snowsports brands like Burton and Patagonia, Toray introduced Entrant and led the evolution of waterproof/breathable fabrics that achieve the optimal balance between functionality and comfort.
Entrant is a waterproof, moisture-permeable coating/lamination is made from hydrophobic polyurethane, with a literally countless number of micropores.
It's designed to respond quickly to changes in both external weather conditions like rain, wind and snow as well as internal conditions caused by the body heat of wearer activity.
The goal for Entrant, as expressed by Toray's slogan "One For All Conditions" has always been designing the most effective range of performance for customers.
Toray went on to develop multiple versions of Entrant, according to the balance of breathability and waterproofness needed by manufacturers. Treatments like Entrant MP, for example, are highly waterproof with lower levels of moisture permeability, while Entrant MAP goes the other way, being extremely moisture permeable while maintaining comparatively lower water resistance.
Toray's vertically-integrated structure gives the company a unique ability to design and produce custom textiles. Product developers can truly partner with Toray to produce one-of-a-kind fabrics to meet the needs of customers, which has led to the development of products like Airtastic, Kudos and Primeflex.
Toray's booth at this month's OR Show will display outdoor and snowsports products from all 40 years of Entrant development.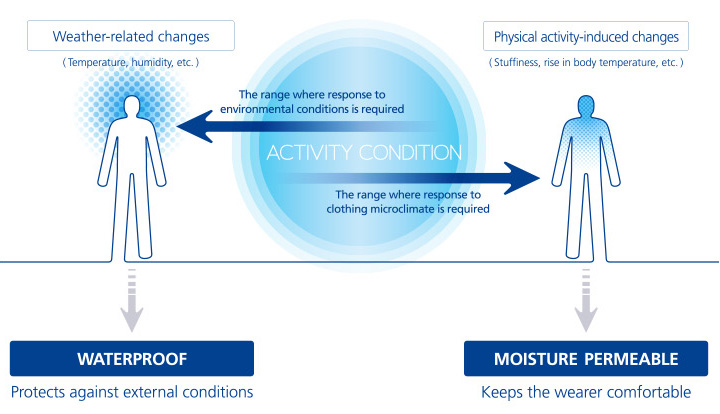 Come see us at MR103.
About Toray: Toray Industries, Inc., founded in 1926, is an integrated chemical industry group developing its businesses in 27 countries and regions worldwide. Its consolidated revenues for fiscal 2018 (ended March 31, 2019) totaled 2,388,848 million yen ($21,521 million). In addition to the fibers & textiles created at the time of its establishment, Toray has gone on to create cutting-edge, high value-added products including films, fine chemicals, plastic resins, electronics & information-related products, as well as carbon fiber composite materials, pharmaceutical and medical products, and products for the water treatment and environmental fields.
In 2018 Toray formulated the "Toray Group Sustainability Vision", which integrates the Toray Group Initiatives and the Quantitative Targets for Fiscal 2030 for realizing the World as Envisioned by the Toray Group in 2050.
For more information on Toray, please visit the company's website at toray.com
About Toray International: Established in 1986 to serve as the trading arm of the Toray Group, Toray International handles a wide range of products and services, from materials to end-user consumer goods, by drawing on the experience and know-how accumulated and built over the years through global trading business and business offices located in Japan and abroad.
Toray International America is the North American subsidiary of the Toray International. We have delivered technologies and advanced materials that provide solutions addressing the balance between development and sustainability.
For more information on Toray International, please visit the company's website at toray-intl.com/