Statesville, NC (June 3, 2019) – Thorlo is releasing its new First Nation™ Collection of outdoor sockwear in honor of the Indigenous people of North America. The company worked with Native American tribes of North America to develop this sock collection as a canvas to tell their stories using Native symbols, designs, and legends to depict their spirit and strength, and to create awareness of and interest in the history and rich traditions of Native Americans.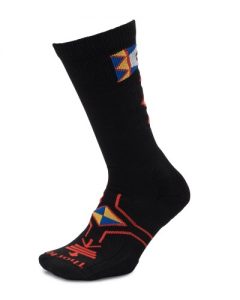 Eight different designs and colors depicting tribal symbols and legends will be featured in the initial products, which honor the Cherokee and Sioux nations and comprise the first release of the collection. Each pair of socks is emblazoned with original designs from Cherokee and Sioux artists. The designs of other Native American tribes and nations will be featured on socks in the months and years to come.
Thorlo will donate 5% of profits from the First Nation™ Collection to the American Indian College Fund, the nation's largest charity supporting Native American students' access to a higher education and academic success for 30 years.
James Jesserer, Executive VP of Marketing and Sales noted, "We at Thorlo were shocked to learn the national statistic that only 14% of Native Americans have a four-year college degree – less than half of other groups. We believe that education is the catalyst for greater opportunity, personal and collective progress, and quality of life. Everyone who purchases a pair of the Thorlos First Nation sockwear helps support the American Indian College Fund in its work providing Native Americans with access to a higher education, and we at Thorlo are excited to make this possible."
You can see the First Nation collection at the Thorlo booth at Outdoor Retailer Summer Market – number 46129-UL.
About THORLO, Inc.
THORLO, Inc., based in Statesville, North Carolina, is the originator and innovator of high performance activity specific socks. The Thorlos brand offers a variety of products that are designed for outdoor activity and sports performance and protection, for work, and for general wear. It is the only brand that offers clinically tested padded foot protection shown to reduce blisters, reduce pain, reduce pressures and reduce moisture. Thorlos' purpose and passion is to encourage people everywhere to embrace life and experience it to its fullest, and to share generously to achieve that purpose. For more information, visit thorlo.com.
About the American Indian College Fund
Founded in 1989, the American Indian College Fund has been the nation's largest charity supporting Native American higher education for more than 30 years. The College Fund believes "education is the answer" and provided 5,896 scholarships to American Indian students last year totaling $7.65 million. Since its inception more than 131,000 scholarships and community support totaling over $200 million have been distributed. The College Fund also helps underwrite a variety of academic and support programs at the nation's 35 accredited tribal colleges and universities, which are located on or near Indian reservations, ensuring students have the tools to graduate and succeed in their careers. The College Fund consistently receives top ratings from independent charity evaluators and is one of the nation's top 100 charities named to the Better Business Bureau's Wise Giving Alliance. For more information about the American Indian College Fund, visit collegefund.org.