London, England, October 17, 2019 – Tentsile, the leaders in elevated and portable Tree Tents and hammocks, is thrilled to announce the launch of its Generation 3 line of products to consumers and retailers in Spring 2020. The new Gen 3 line provides upgrades to its entire product range and debuts three key pieces for 2020, all the while adhering to its core principle of protecting the world's forests.
"We are always looking to push the boundaries of where and how our products can be used, enhancing usability and refining the designs to constantly improve them," said Alex Shirley-Smith, Founder and Chief Product Development Officer of Tentsile. "The features and updates found in Generation 3 create an even better user experience, more comfortable habitable spaces to sleep in, and new features to make life even easier when you're camping."
The key highlights from Tentsile's Gen 3 line for 2020 are the Safari Vista Tree Tent, the Safari Trillium Hammock, and the Ground Conversion Kit. The Leave No Trace Tree Protectors will now come standard with every Tree Tent and Hammock sold.
Tentsile Safari Vista Tree Tent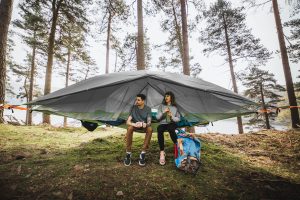 The Safari Vista Tree Tent debuts a revolutionary transformation from the original Vista design and makes this model Tentsile's biggest Tree Tent. The larger rainfly, stronger poles and double-stitched, heavy-duty, ripstop 450D Dacron floor offers increased protection from the elements and additional living space in all seasons.
The Safari Vista is the perfect hangout given this model's unique domed design that offers unbeatable headroom and easily converts from a Tree Tent to a giant hammock that sleeps three adults. The 100% waterproof, UV-resistant rainfly, easy-to-assemble pole configuration, and tear resistant no-see-um insect mesh can all be removed for an open 360-degree view view—ideal for the backyard or the park.
Set Up Size: 13.5 x 13.5 x 13.5' // Weight: 39.7 lbs
Max Load: 880 lbs.
MSRP: $999
Tentsile Safari Trillium Hammock
The largest and most robust hammock on the market, the Safari Trillium Hammock was designed from the highest quality and most durable double-stitched ripstop 450D Dacron floor fabric and UV-resistant material. This model can be left up for months at a time, and with care, can last up to five years in the harshest conditions. Perfect for more permanent camps or backyard set-ups, this hammock is made to withstand extreme climates and a high volume of occupant turnover and use.
Set Up Size: 13.5 x 13.5 x 13.5' // Weight: 17.5 lbs
Max Load: 880 lbs.
MSRP: $399
Tentsile Ground Conversion Kit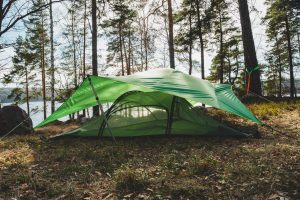 No trees? No problem. Perhaps the most revolutionary update to the 2020 Tentsile range is Tentsile's Generation 3 Tree Tents are optimized to be used with the all-new Ground Conversion Kits. You can camp with more freedom than ever before. Kit includes: Heavy duty 100% polyethylene footprint that conforms perfectly to the footprint of the Tree Tent.
"We're confident that customers will love the new features of Generation 3 as its interconnective modular system means you can use your creativity to have fun combining tents, hammocks and accessories to suit all of your needs," continued Shirley-Smith.
Zero footprint, felt tree protector wraps now come standard with every Tree Tent and Hammock so adventures can be elevated without the potential to damage bark on more delicate tree species.
All Tentsile rainflies have been upgraded to 5000HH (the Safari models to 8000HH); zippable, internal storage pockets have been added to keep gear secure; new detachable, underfloor storage nets for increased interior living space and comfort. All the top features customers have come to expect from a Tentsile Tree Tent will still be a part of Gen 3.
The Gen 3 range will launch online in January 2020 and in retail stores in March 2020. To learn more about Tentsile, visit tentsile.com.
About Tentsile: Tentsile is an award-winning brand founded on the pillars of passion, respect and innovation with a dedicated mission to inspire a love of trees by elevating the outdoor experience for all. The unique design of Tentsile's portable tree houses allows people to enjoy the experience of camping amongst the trees, suspended above the ground for increased separation from insects, predators, damp or uneven ground. For each tent sold, Tentsile plants 20 new trees with partner organizations WeForest, The Eden Project and the Arbor Day Foundation. These international nonprofits promote pioneering movements in large-scale sustainable reforestation and poverty alleviation initiatives. Follow Tentsile's #BecomeOneOfTheMillion campaign as it works toward planting over a million trees by 2021. For more information, visittentsile.com and follow @Tentsile on Facebook, Instagram and Twitter.