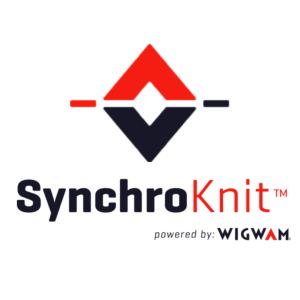 Sheboygan, WI. (December 17, 2019) – SynchroKnit™, the latest technology driven brand from the sock innovators at Wigwam Mills Inc., the family-owned maker of premium, made-in-the-USA socks since 1905, has launched a unique website for the new technology. SynchroKnit.com will serve as a homebase for the new brand providing a thorough explanation of the new patent-pending knitting technique, a purchasing platform, and videos and blogs featuring SynchroKnit Ambassadors.
The new SynchroKnit technology was launched in the run category because runners, in particular, demand precision fit from their shoes. Up until now, all socks have been knit with an equal number of stitches from top to toe, using elastic fibers to adjust the fit. This one-shape-fits-all approach to knitting socks does not provide optimal fit between your foot and a running shoe. SynchroKnit technology strategically eliminates stitches in areas where there is less volume in the leg and foot, so bulk is reduced in the ankle and arch/instep area. With a consistent layer of fabric between the shoe and the foot, an athlete has improved feel and more precise control. The design hugs the details of your foot, cradles your arch and provides just the right amount of room in the toe box. Your feet are supported and more comfortable, for increased performance. Currently, five styles of SynchroKnit running socks are available on the site. SynchroKnit will also be available at REI stores and specialty run and outdoor retailers starting in January 2020.
SynchroKnit technology will debut a Merino wool application at the January 2020 Outdoor Retailer show in Denver, CO for the Fall/Winter 2020 season. Several additional categories including Ski/Snowboard, Hike and Winter Running will also be shown. SynchroKnit allows a skier to marry the ski boot even more closely to the foot for maximum control, providing a precision feel when initiating a turn or holding an edge. Similarly, hikers who battle blisters because poorly fitting socks which slip will appreciate the merits of this new technology. Merino adds luxurious softness, natural moisture management, temperature control, and anti-microbial properties to the amazing fit achieved by SynchroKnit.
About SynchroKnit by Wigwam: Wigwam has been proudly crafting socks in Sheboygan, WI since 1905. We carefully knit every pair with the goal of delivering the highest quality and performance for the most comfortable experience for our customers. Wigwam holds two patents in moisture management technology: UltimaxÒ and IngeniusÒ NXT, and SynchroKnit™ a fit technology is patent pending. Our commitment to local USA manufacturing, community, sustainability and stewardship of the environment has always been central to who we are. For more details visit wigwam.com and  SynchroKnit.com follow SynchroKnit at Facebook and Instagram.