SylvanSport, the Brevard, NC-based maker of trailers and camping gear, launched the Loft rooftop tent, suitable for rooftop camping on cars, trucks and SUVs.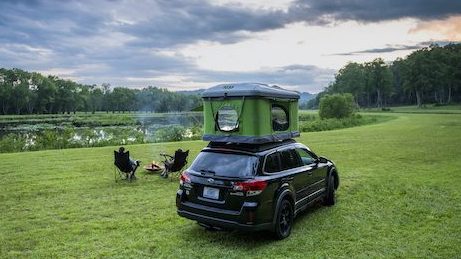 The Loft sets up and packs down in under a minute with four hydraulic assist arms. Other key features include an anti-condensation mat to increase airflow and moisture absorption, a thick mattress for comfort and a rechargeable fan/light combination system.
With comfort in mind, the LOFT has four large openings with high-density screen mesh, weather panels to control ventilation, and hanging organizer pockets and gear lofts to stow items. 
When paired with SylvanSport's Go Easy kayak trailer, campers can haul gear and easily access the tent through two wide entry points on a low-height, three-step expandable ladder.
Weighing 117 pounds and measuring 82″ x 50″ x 41″ when open, the tent's composite ABS shell includes heavy-duty fabric sides and is compatible and mountable with most rack systems and rooftop camping on cars or trucks.
"Making camping even simpler for all groups of people has always been a priority for SylvanSport," shared Tom Dempsey, CEO and founder of SylvanSport. "With the LOFT, outdoor adventurers can play hard, rest on demand, and sleep in supreme comfort off the ground. If paired with our Go Easy trailer, folks can transport their boats, bikes and other gear with any vehicle and only need to climb three steps to be inside their bedroom."
Photo courtesy SylvanSport