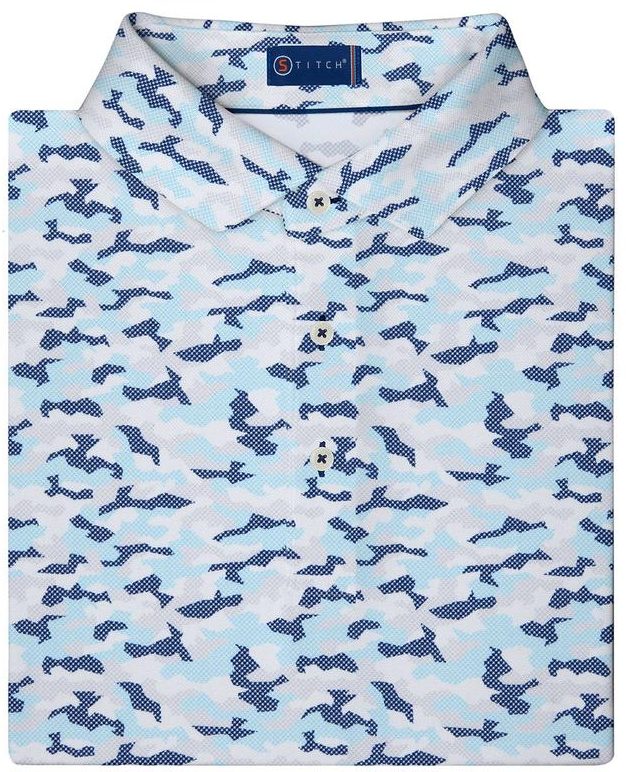 STITCH Golf announces the launch of its 2019 Summer Apparel collection—apparel designed to allow you to transition from the boardroom to the fairways with ease.  Classics with a twist, these pieces feature details that perform.
"We are thrilled to bring the classic and stylish Summer 2019 STITCH Golf Apparel collection to market," stated Brad King, CEO of STITCH. "The Summer 2019 collection embraces true timeless designs with modern twists that perfectly blend performance, function and fashion."
The expanded Summer 2019 collection's comfort and versatility combines high-quality multi-functional pieces encompassing its industry-leading technically advanced fabrics and sophisticated style that can be worn with comfort and confidence on and off the course. An upscale collection of ultra-premium garments, STITCH represents the best in craftsmanship, materials, and design all the way down to the last stitch.
Highlights of the Summer 2019 Collection include:
Modern Camo
If you want to blend in, but still stand out, our Modern Camo is for you. Made from a breathable pique, comfort is key with this piece. This polo is perfect from the barbeque to the back nine and keeps you cool in the summer heat. The contrast between the Stitch Blues and oxford overlay adds for an interesting element to show off during your next round on your favorite course. The under buttons and vintage placket add to the simple luxuries combined into your new favorite polo.
End on End
The End on End is the ultimate modern twist on a classic look. It is the perfect look for the guy who wants to stick to his roots but also stays updated. Made from our signature jersey in a cool bluebell color and our new elevated vintage navy, stand out from the crowd on the course with this new take on your basic navy blue. This piece has all the modern yet classic details of under buttons and vintage placket to keep you refreshed from the boardroom to the links. Pair the End on End with our khakis and take on your day.
Circuit
What's old is new again with the Circuit Polo. The time-honored tradition of the rugby shirt is reinvented with a unique engineered stripe in Miami Pink mixed with Bluebell and Vintage Navy accents. This throwback pique is a classic that will have people stopping and starring at the contemporary update of the popular style. Oh, and for an added bonus, pop the collar for a surprise.
Paisley
The Paisley Polo is designed for the man who wants to make a statement but is also still conservative. This Bluebell pique polo boasts a modern paisley print that is visible closer up but looks like a solid from a distance due to the comfortable pique fabric. Be prepared for second looks and compliments by those around you as the print comes into view. The Paisley is perfect for the transition from a casual day to an evening look with its elevated vintage placket and under buttons.
About STITCH: Founded in 2011 as a headcover company, STITCH is known for designing and creating products with a precise attention to detail, all the way down to the last stitch. Based in Apex, North Carolina, STITCH gives a unique experience, whether it's the high quality leather used in our headcovers, the durable waterproof fabrics in our bags and gear or the fashionable color schemes seen in our apparel. STITCH products are designed to be effortlessly fashionable, allowing you to create a stylish, comfortable and color-coordinated look-on and off the course. Designed with details that perform, our line of golf bags and gear, travel bags and apparel combine function and fashion with three themes in mind: DRESS YOUR GAME™, ARRIVE IN STYLE™ and FROM WORK TO PLAY™.  STITCH products are available at leading golf, country clubs and select retailers around the world and at  stitchgolf.com
For more information, contact:
Stuart Goldstein
RG Narrative Inc.
(W) 212-863-4109
(M) 201-681-0618
stuart@rgnarrative.com