STITCH Golf announces the launch of the men's Fall 2019 collection- a perfect combination of style, function, and fashion by fusing traditional golf aesthetics with advanced performance technologies.
"We created the upscale Fall 2019 Collection for comfort and performance while staying true to our roots," stated Brad King, CEO of STITCH. "This collection re-emphasizes the importance we place on versatility including a wide range of classic wardrobe necessities from layering pieces  to pants that easily allows one to transition from the fairways to the boardroom."
The collection introduces a wider selection of core basics that are exciting additions to the brand and covers all Fall apparel needs.  The Fall 2019 collection offers seasonal color palettes that reflect the tastes of today's discerning golfer.
Highlights of the Fall 19 collection include:
Roadster Vest
A customer favorite style is back, but with a twist and with all the classic details you've come to love. Transition from work to play in our two-toned color block vest that will have you looking your best when the weather has its ups and downs. Filled with Thermore® Ecodown®, it will keep you warm and protected in even the coolest weather. 43% Polyester 43% CD 14% Spandex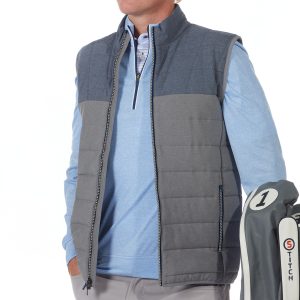 Delaney Pullover
We have taken a vintage piece and given it a modern twist in this pullover. Made of 100% Merino extra-fine wool, we have created a sensuously soft and extremely durable garment. Designed with an attention to detail down to the last stitch, a technical zipper with a locking mechanism ensures your zipper stays right where you want it. Breathable fabric plus ribbed cuffs, waistband and collar make this piece a great year-round sweater for any weather.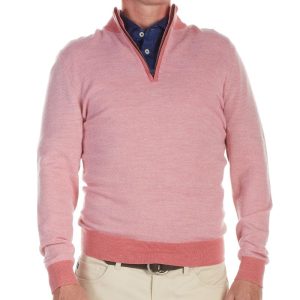 Commuter Merino V-Neck
We've created the perfect pullover with our STITCH® weather system technology. Made of high-quality 100% Australian Merino wool, this piece stands out for its silky luster and softness. The ribbed cuffs, waistband and collar combined with the waterproof yarn and stainproof body make this piece both highly fashionable and functional. Available in 5 colors.
Cabrio Vest
Combining high function and high fashion, this vest is a must-have addition to your wardrobe. A Thermore® Ecodown® fill allows this vest to transition from chilly temperatures to warmer ones with ease. Wear this piece in comfort from work to play with breathable fabric and soft insulation as well as a four-way stretch. Our STITCH® signature orange logo is placed on the back collar of the vest.
Enzo Hybrid Tech Jacket
An iconic piece for your wardrobe. Designed with a four-way stretch, quilted front and double zipper features, this two-toned hybrid jacket is sophisticated, yet functional. A Polyester spandex shell over a 100% extra fine Italian Merino wool body creates the ultimate in performance and breathability.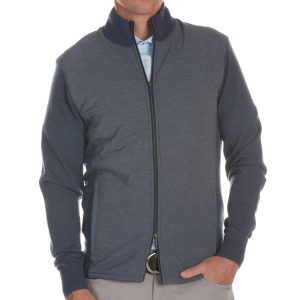 Sterling 5 Pocket Pants
Designed with a storm finish, these stretch chino 5 pocket pants are perfect for accidental spills or whatever the weather might bring. The water-repellent finish does not affect the natural ability of the cotton in these pants to breathe and keep you cool.  A subtle soft touch combined with maximum mobility and stretch make these pants ideal to transition from the boardroom to the fairway. Offered in 5 colors
Racer Track Jacket
Our signature jacket is an updated take on the classic track jacket with an added striped ribbing on the waist, sleeves and neck. Designed with a four-way stretch and breathable fabric. Its versatile fit is lightweight and casual and makes for the perfect transitional layer. 55% cotton 45% polyester Full zip
Speedster Pullover
Old school comfort meets modern style. A classic quarter zip pullover designed using a super lightweight and soft-brushed technical performance fabric. Once you put it on you will never want to take it off. Offered in 4 colors the soft touch fabric offers 4 way stretch and combines the latest in breathable and wicking fabrication.