Since 1965, Sierra Designs has pledged to create beautiful, functional and attainable gear for adventurers of all backgrounds, experience levels and budgets. Fifty-five years later, the award-winning camping equipment manufacturer is taking its mission to the next level by implementing Reach Out, an interdisciplinary initiative to increase accessibility and participation in the outdoors. Throughout 2020, Sierra Designs will partner with four nonprofits—Big City Mountaineers, SheJumps, Black Girls Trekkin' and Nature Bridge—to address common barriers to outdoor recreation, such as accessibility, cost of gear and skill development.
In addition to donating 1% of all web sales and $2,000 in gear per quarter, Sierra Designs is committed to providing each selected nonprofit with education, event support and awareness-raising messaging. "Our focus for this initiative is to ensure genuine long-lasting partnerships that maximize the impact and truly support our mission of attainability in the outdoors," says Andrew Day, VP/GM of Sierra Designs. "We are thrilled to be working with community partners who are dedicated to shaping future outdoor leaders of all backgrounds and experience levels."
Echoing Sierra Designs' mission statement, each of the chosen nonprofits is committed to making the outdoors more accessible to all. Big City Mountaineers strives to instill critical life skills in under-resourced youth through transformative wilderness mentoring experiences. Based in Los Angeles, Black Girls Trekkin' seeks to create a community for women of color to explore the outdoors together. As the largest residential environmental education partner of the National Park Service, NatureBridge serves more than 40,000 participants annually through field science, youth leadership and teacher training programs. Dedicated to increasing female participation in the outdoors,  SheJumps organizes events and provides outdoor education and youth initiatives.
By uniting education, monetary donations, new equipment and awareness, Sierra Designs is proud to support accessibility in the outdoors. For more information on Sierra Designs and the Reach Out initiative, contact Katie Richter at katie@darbycommunications.com.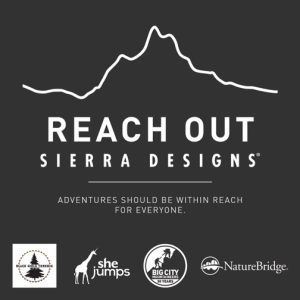 About Sierra Designs: Born in California and bred on the trail, Sierra Designs has been on a mission to redefine how people interact with the outdoors since 1965. Today, that means creating equipment and apparel that is functional, beautiful, and most importantly, attainable. Our team believes that adventures should be within everyone's reach, because it's not only about the destination, it's about the journey you take along the way. Find more information at sierradesigns.com.
About SheJumps:
Our mission is to increase female participation in outdoor activities. We accomplish this by creating high visibility "Get the Girls Out!" events, outdoor education, youth initiatives and grassroots recreational gatherings. The SheJumps community consists of females of all backgrounds and ages who help one another reach their highest potential through outdoor adventures and education. Find more information at www.shejumps.org.
About Black Girls Trekkin':
Black Girls Trekkin' is a group created for women of color who choose to opt outside. Through their passion, Black Girls Trekkin' seeks to inspire and empower black women to spend time outdoors, appreciate nature, and protect it. We hope to build a community that will show the world that women of color are a strong and present force in the outdoors. Join us on one of our Los Angeles group events as we hike, climb, run and embrace the challenges that the outdoors has to offer us. Find more information at www.blackgirlstrekkin.com.
About NatureBridge:
Founded in 1971, NatureBridge connects over 35,000 students and 600 schools each year to the wonder and science of the natural world, igniting self-discovery and inspiring stewardship of our planet. We provide multi-day, hands-on environmental science programs in Yosemite National Park and the Golden Gate National Recreation Area in California; Olympic National Park in Washington; and Prince William Forest Park in Virginia. After nearly 50 years, NatureBridge has provided life-changing experiences for more than 1 million participants and is a national leader in the field of environmental education. To learn more about NatureBridge and its programs, visit www.naturebridge.org. 
About Big City Mountaineers:
Big City Mountaineers is a 501(c)(3) non-profit organization whose mission is to instill critical life skills in under-resourced youth through transformative wilderness mentoring experiences. Serving youth ages 8-18 in seven cities around the country, BCM provides overnight camps and week-long backcountry expeditions that are fully outfitted, professionally led, and completely free for participants. Find more information at www.bigcitymountaineers.org.