Salomon continues innovating and advancing runner performance with the updated S/LAB Phantasm lightweight, carbon-plated road running shoe.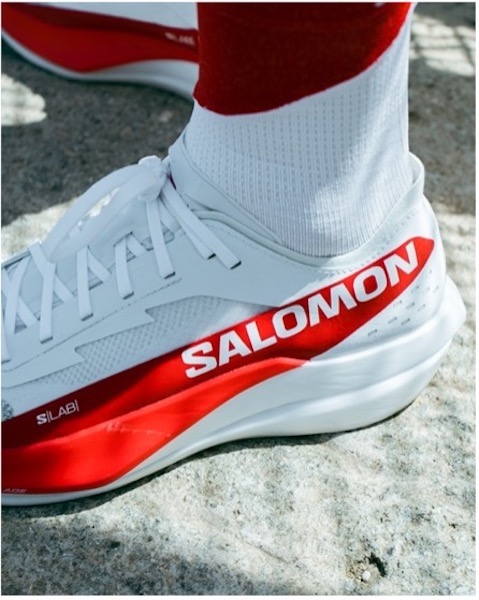 "The foam, plate and geometry are the three essential parts to constructing a premium road racing shoe. These three elements on the new S/LAB Phantasm 2 are significantly improved to offer a better performance for elite and sub-elite runners on race day," shared Gatien Airiau, product line manager for Salomon road running footwear.
The running shoe has PEBA foam in the midsole, located above and under the carbon fiber plate, is lighter and more responsive, "delivering an explosive, propulsive energy when running at high speed." The full-length carbon fiber plate provides a more "rigid and demanding build for athletes, while its spoon-shaped geometry optimizes propulsion."
With 3mm of foam added under the plate, the S/LAB Phantasm 2 reaches a height of 37.5mm, meeting the regulation limit of 40mm from the World Athletics Organization.
Salomon re-engineered the shoe's upper to be a lighter, single-layer mesh for increased breathability, reducing the shoe's overall weight. Designers shaved 10 grams off the shoe for a total weight of 219 grams per pair. The rocker was also redesigned and moved forward to "reduce the transition time from heel to toe, benefiting runners with a forefoot stride."
"We are proud to say that the S/LAB Phantasm 2 is the best performance shoe we can provide to our road athletes to reach their goals," said Airiau.
Salomon road running athletes have raced in versions of the shoe this year, with Maggie Montoya running in a version at the 2023 Boston Marathon and Anaïs Quemener testing it at the Paris Half-Marathon.
Salomon's S/LAB Phantasm 2 will be available October 1 through Salomon and select retailers.
Photo courtesy Salomon