Salomon announced that Noah Droddy will wear the brand's road running footwear, gear and apparel as part of its U.S. athlete team and as the company's first elite road running athlete.
Droddy recently ran a 2:09:09 marathon at the Marathon Project, setting a personal record and becoming the ninth-fastest American marathoner in history.
"Sometimes it turns out the next path is right outside your door, and I am so excited to hit those roads with Salomon on my feet. The opportunity to partner with a well-established running brand and help carry their trail and outdoor success to the roads was one that I couldn't pass up," said Droddy. "I'm looking forward to kicking off our partnership on the streets of New York City this weekend and continuing that momentum on roads around the country in the years to come."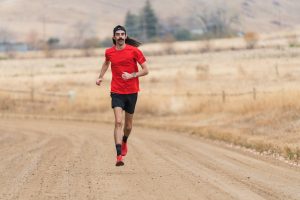 Droddy ran Division III track at DePauw University in his collegiate years and continued to train on his own post-grad. He relocated to Boulder, CO to join the Roots Running Project. Within two months after joining the group, he broke a personal record in the half marathon by two minutes and went on to the 2016 Olympic Trials.
Despite not qualifying for the Olympics, he went on to beat personal records in both the half marathon and marathon. In 2020, Droddy scratched from the Olympic Marathon Trials due to injury, so he set his sites on the 2020 Marathon Project, an Elite-only marathon in Chandler, AZ. He finished second, breaking his personal best after not having raced in 14 months.
"We've been big fans of Noah for a long time and feel incredibly honored that he chose Salomon to be his partner in this next chapter of his professional career," said Erin Cooper, run marketing manager, Salomon North America. "We've got big things in store for the brand, and Noah is the perfect person to be with on that journey."
Droddy will run in this weekend's New York City Marathon wearing a full Salomon kit and racing in Salomon's S/Lab Phantasm CF, which will launch at retail in 2022.
"We are extremely happy to welcome Noah to the Salomon running team. With his performance and personality, he perfectly embodies the Salomon spirit. We are looking forward to seeing him racing in our new S/Lab Phantasm CF," said Florian Lang, head of road running development, Salomon. "Noah will also bring a high level of expertise to the development of our upcoming road running innovations. Our partnership with Noah is a perfect example of the ambition of Salomon as a running brand."
Droddy joins the Salomon team with a three-year partnership that includes representing its apparel and footwear, including the Phantasm and Spectur road running shoes, which launch in SS22. Droddy will also elevate Salomon's road-running stories through his personal platform.
P