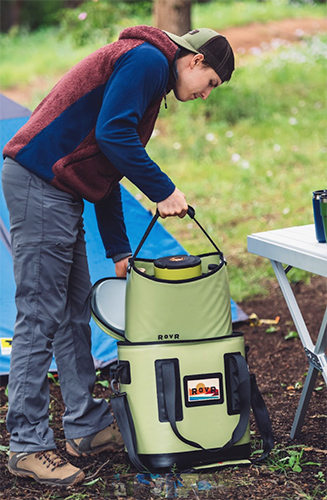 RovR recently introduced its portable TravelR cooler. When paired with the brand's KeepR, IceR, RovR SnackR, and ChillR, the cooler bumps up its versatility for the outdoor enthusiast.
Constructed with waterproof TPU and high-density foam, the cooler comes in two colors with welded seams and a water/leakproof zipper. Its features include a wide opening for easy access, 1-inch closed-cell high-density foam for cooling, a removable shoulder/sternum strap for hauling, and an antimicrobial liner. It also works as a softshell for the KeepR, where the latter can be placed inside the former.
"The TravelR completes the vision for the soft cooler family where a combination of products are sold as a system and introduces form and function which have never been seen in the cooler category," said RovR Chief Innovator and Founder Tommy DeFrancia.
Photo courtesy RovR