Prana announced it has reached its long-term goal of 100 percent plastic-free packaging with the launch of its Fall/Winter 2021 collection. The announcement coincides with the one-year anniversary of the brand's Responsible Packaging Movement (RPM), a program developed to "both inspire and create industry-wide change around responsible packaging."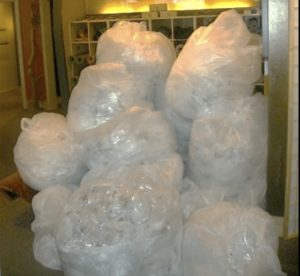 The brand's journey to 100 percent plastic-free packaging started 11 years ago when the manager of its Boulder, CO retail store sent a picture, shown right, of a pile of plastic polybags collected from a daily product shipment, with the question: "What do you want me to do with all of this?"
Since 2010, Prana has taken a grassroots approach to reduce plastic and excess waste in its packaging. Through its roll-pack method, the brand has successfully removed "over 20 million polybags from its supply chain to date."
"Finding a solution to protect our more sensitive products, like swimsuits and outerwear, was our final hurdle in the journey towards plastic-free packaging," said Prana's Director of Sustainability, Rachel K. Lincoln. "It's true that some products need protection and implementing the glassine bag was a great solution. It allowed us to eliminate the plastic bag while still ensuring we deliver a top-quality garment and brand experience."
Prana's Packaging Methodology
To eliminate polybags and overall waste, the company developed a roll-pack method that is used "in over 70 percent" of its products. Once rolled, the apparel is secured with a recyclable raffia tie which leaves it "wrinkled for a reason";
If the roll-pack method is not an option, it uses an FSC-certified paper glassine bag and is working to convert these bags to 100 percent regenerated fiber content;
It uses 100 percent recycled paper hangtags and organic cotton string;
Accessories use origami-style paper packaging free of plastic and metal fasteners;
FSC-certified, recyclable paper tape is used to seal all orders; and
All orders are shipped in recycled content kraft paper mailers or corrugated boxes.
Prana has pledged to eliminate the use of ancient and endangered forest fibers by the end of 2022, eliminate virgin forest fibers by the end of 2025 and produce 100 percent of its apparel in Fair Trade Certified factories by the end of 2028.