Carlsbad, CA—SPY's Dirty Mo 2 sunglass has been named the winner of Outside Magazine's prestigious 2020 Gear of the Year Award. The Dirty Mo 2 was released as part of SPY's 25th Anniversary Collection, a series of frames and colorways celebrating the legacy of one of the most original eyewear brands in the U.S.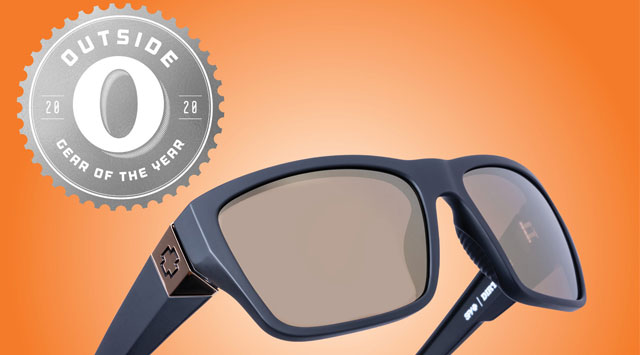 The Dirty Mo 2 is a modernized take on SPY's classic Dirty Mo sunglass, first released in 2009 and still a mainstay of SPY loyalists across the world. Combining the iconic temple design of the Dirty Mo with a modern 6-base flat-front design, the Dirty Mo 2 merges the flat front trend with the classic wrap thick temple for a modern and unique look.
The Dirty Mo 2 comes equipped with SPY's HD+ lens technology, combining the superior clarity of digitally mastered high definition lenses with the therapeutic and visual performance benefits of the patented Happy Lens™. Ultra tacky rubber nose grips help keep it in place, while a lightweight yet tough Grilamid® frame construction adds to its durability. The Dirty Mo 2 also features SPY's 6-base Accurate Radius Curve (ARC®) lenses, injected in a uniquely tapered shape to provide optically correct, distortion-free viewing at all angles. The Dirty Mo 2 is available in a wide assortment of frame and lens options ranging from basic black to a bold Orange Spectra version created in collaboration with Dale Earnhardt, Jr., as well as the 25th Anniversary Matte Black Gold special edition colorway.
"The team was excited to learn that SPY would not only be featured in the new Outside Buyer's Guide but also that we were going to win their prestigious Gear of the Year award. In the last few years, SPY's lens technologies and bold designs have received solid exposure in both the outdoor and mainstream media. This award is a testament that our team is doing something right, and we're humbled, as well as grateful, for all the media attention we've been receiving," commented Curtis Ellis, SPY Brand Director.
Over the past few years, SPY has received numerous accolades and favorable mentions from Outside Magazine for both its goggles and sunglasses at every price point. The clarity of SPY's lenses have been heralded by Outside in the past, as well as sunglass models ranging from the $65 price point Sundowner to the durably-versatile Hunt, and Helm 2, which was called one of the best do-everything sunglasses of 2019. SPY's goggles have received their share of attention from Outside recently as well, including the high-tech digital Ace EC, the mid-priced Ace with its lens change system, and the wallet-friendly Crusher Elite, which will be available in November for the first time.
SPY is one of the few eyewear and outdoor industry brands that that has stayed true to its roots for 25 years. SPY will keep its 25th-anniversary celebration going through the end of the year with a new special edition black and gold colorway available in select snow goggles.
About SPY: Established in 1994, SPY is a Southern California-based eyewear company that delivers the best lens experience in styles that fit your life. We take a playful approach to everything we create, which means we've got frames to match every mood or moment, wherever your day takes you—from sunglasses and goggles to prescription styles. Our HD+ lens is the only technology on the market that combines the superior clarity of digitally mastered high definition lenses with the therapeutic and visual performance benefits of our patented Happy Lens. To learn more about SPY, visit spyoptic.com.