Whistler, BC, May 5, 2020 — Award-winning outdoor marketing agency Origin today announced the launch of an Instagram Live series in collaboration with outdoor industry humorist and hellraiser Katie Burrell. The series, titled Are You OK?, features Katie in candid conversation with a motley crew of people whose love for the outdoors is exceeded only by their struggle to stay sane indoors.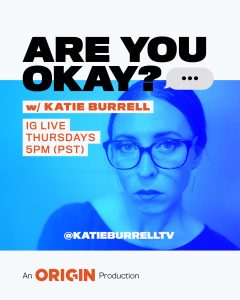 "From athletes, to musicians, to activists, and pretty much anyone who returns our calls, we're setting Katie loose on these unsuspecting guests with a singular goal: To determine if they are actually ok…And to have fun while answering that question," said Origin Principal MJ Legault. "These are strange times, and we want to find a way to unite outdoor enthusiasts while having a chance to decompress and hear how others are handling the lockdown."
Tune in to the first live episode of Are You Okay? at Katie Burrell's Instagram channel on Thursday, May 7, at 5 p.m PST. The first episode will feature self-described backcountry queen Angel Collinson and daring climber and filmmaker Cedar Wright. Future guests will include fearless adventurer Sage Cattabriga-Alosa, all-around outdoor/activist goddess Sierra Quitiquit, lululemon yogi Ryan Leier and Olympic Gold Medal skier Julia Mancuso.
"We'd tell you what to expect, but honestly, we don't have a clue," added Andrea Wing, Origin's director of video and content. "All we know is that Katie is entirely unqualified to dispense sound psychological advice, which should keep things, um, interesting."
Origin and Katie will release four episodes every Thursday beginning May 7, 2020 at Katie's Instagram, instagram.com/katieburrelltv/, and welcome viewers to join the conversation.
About Origin: Origin is an outdoor-focused, digitally-driven creative, content and marketing agency. Founded more than 20 years ago, the agency has worked with a multitude of prominent outdoor brands such as Whistler Blackcomb, L.L.Bean, lululemon, Smartwool, The North Face, and many more. With offices in Montreal and Whistler, as well as a US subsidiary based in Vermont, Origin provides a bilingual and suite of capabilities to the outdoor brands it helps succeed and grow in both Canada and the US. For more information about Origin, please visit originoutside.com.