The National Shoe Retailers Association (NSRA) honored Troy Dempsey as its 2022 Retailer of the Year during its Leadership Conference held November 9-10, 2022, in Tucson, AZ.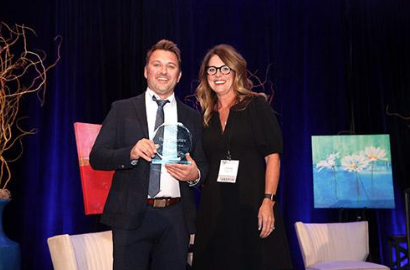 Troy Dempsey is the owner of The Heel Shoe Fitters in Green Bay, WI. He joined the business in 2009 and partnered with then-owner Bob Sanderson to run the store. As a board-certified pedorthist, Dempsey's training allowed the store to focus on foot health and carry higher quality brands. In 2012, he acquired ownership of the business when Sanderson retired. Between 2012 and 2016, Dempsey added 13 employees, including a full-time shoe cobbler. In 2016 he relocated the store to a 23,000-square-foot building that houses over 60,000 pairs of shoes, including clothing and accessories.
"'The Heel takes a step-by-step approach to serving customers, taking a zero-pressure approach to sales and helping customers make the best decisions. In 2020 the store was down only by 6 percent after several weeks of closure due to COVID. In 2021, 'The Heel' increased "total sales by 70 percent while maintaining a 51.5 percent gross profit margin."
"This not only exhibits grit and resilience, but it's an example of exemplary leadership through what many may say is the most challenging years they ever faced in business," said NSRA Vice Chair Jill Snyder of Snyder's Shoes, Ludington, MI.
Dempsey joined NSRA as a retail member in 2016 and was elected to the NSRA Board of Directors in 2019.