Nikwax released its Sustainability Report through 2025. As a manufacturer of PFC-free aftercare products, Nikwax said it "understands it has a fundamental responsibility to preserve the natural environment while preventing further damage to the planet and its people." And founded on these principles 45 years ago, and now as a global business, Nikwax said its "core values and principles remain the same—to continue to lead with innovative, sustainable, ethical, authentic, and fair practices."
"When we launched Nikwax in 1977, the environmental movement, as we know it today, was still in its infancy," said Founder Nick Brown. "The term 'global warming' had only just been coined, and it would be almost two decades before people started talking about their 'carbon footprint'. Against this background, for us to make environmental protection a specific business objective and stated brand value was positively radical, but those were the values upon which the company was founded. 45 years on, I'm proud to say that protecting our planet is still very much at the heart of Nikwax's goals. This sustainability report documents the journey we have been on and outlines our goals for the next three years."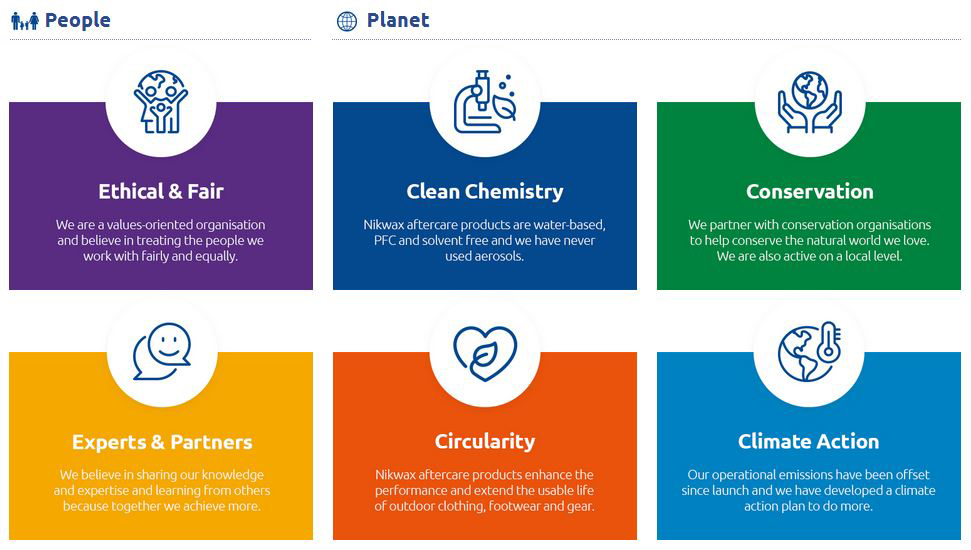 The Report highlights six action items that will guide the brand toward its goal: Clean Chemistry, Climate Action, Conservation, Circularity, Ethical & Fair, and Experts & Partners.
Maïté Angleys, Nikwax's director of sustainability, said, "One key message which came out of COP26 was the urgency with which we all need to act. As businesses and individuals, we can always do more. We're excited to share the findings of our Sustainability Report and the steps we are taking to further reduce our impact on the natural world, while also creating a more positive impact on people."
To read the full report, go here.
Infographic courtesy Nikwax