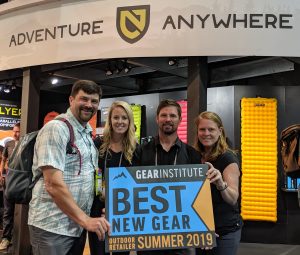 NEMO, award-winning designer of outdoor gear and accessories that are built to improve the experience of adventure, was recognized with multiple awards at the Outdoor Retailer Summer Market show in Denver late last month. Products from NEMO's tent, sleeping pad, furniture and accessories lines stood out as some of the best when it comes to design, price and livability.
Awards & Recognition
Popular Mechanics – Editor's Choice, 2020 Sweepstake™ tent stake
Gear Institute – Best New Gear, 2020 Dagger™ Porch tent
Best Products – Best of Outdoor Retailer, 2020 Aurora™ tent
The Adventure Podcast – Best of Outdoor Retailer, updated 2019 Stargaze™ Recliner Luxury
Section Hiker – OR Editor's Choice Gear Picks, 2020 Flyer™ sleeping pad
REI Co-op Journal – 7 Coolest New Products for Backpackers at OR, 2020 Flyer™ sleeping pad
SNEWS – Gear Watch: The 25 coolest products at OR, updated 2020 Kunai™ 2P tent
Backpacker – The Best Gear from OR, 2020 Sweepstake™ tent stake
"With the addition of Noah Pitchforth as Director of Product earlier this year, the depth of our design team continues to grow," said Cam Brensinger, Founder & CEO of NEMO. "Combining our personal experiences in the outdoors with multiple levels of testing, we focus on the user experience—whether it's something as mundane as a tent stake, or as vital as a tent's architecture, we want the experience to be enjoyable. After a great response from retailers at OR, we're really looking forward to launching the 2020 product line next Spring."
More than 1,400 brands attend the Outdoor Retailer show, exhibiting upcoming products for the following year. Outdoor Retailer is the leading business-to-business outdoor sports show where industry brands, retailers, reps, suppliers and leaders gather.