Montrose, CO, September 20, 2019—Mayfly Outdoors, the award-winning manufacturer of high-performance fly-fishing products, has been named an honoree of The Civic 50 Colorado by CSR Solutions of Colorado, and Points of Light, the world's largest organization dedicated to volunteer service.
The award recognizes Mayfly as one of the state's most community-minded companies as determined by independently administered analytics from True Impact, a company specializing in helping organizations maximize and measure their social and business value. The report is the only evaluation that exclusively measures corporate involvement in communities. Mayfly is best known for its internationally recognized fly fishing brands Abel® and Ross Reels®.
"Montrose is really important to us, and our goal is to make it a better place," said David Dragoo, Mayfly's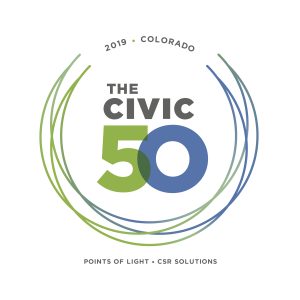 founder and CEO. Mayfly is currently partnering with the Montrose community to restore and enhance nearly 1.5 miles of the Uncompahgre river. The endeavor includes the installation of nearly 2.25 miles of new river trails for families and outdoor enthusiasts, including over 40 acres of open space enhancement and wildlife preservation.
In January 2018 at the State of State Address in Denver, Mayfly was also recognized by former Governor John Hickenlooper for their positive impact in Montrose. "Our products are manufactured in Montrose, and we're very proud of that," added Dragoo. The company supports several engineering and manufacturing jobs, and recently expanded into a new, 41,000 square foot facility. Mayfly is also a Certified B® Corporation, a designation the company earned alongside businesses like Kleen Kanteen, Patagonia and Ben & Jerry's. Certified B® corporations pass more third-party analysis while committing to using business as a force for good.
The Civic 50 Colorado awards, modeled after the Points of Light national program, provides a standard for superior corporate citizenship and showcases how companies can use their time, skills and resources to impact their communities. The Civic 50 Colorado honorees were recognized during The Civic 50 Colorado Awards on September 19, 2019. The event was held at Infinity Park in Glendale, Colorado.
CSR Solutions, a leader in community engagement and philanthropy, is pleased to be the first in the country to bring the nationally revered Civic 50 Awards to Colorado. "Colorado companies, like Mayfly, have invested significant resources in communities to build a strong, resilient, connected and healthy place for us all," said CSR representatives. "The impact stories are aimed to inspire us all to support their efforts."
For more information about The Civic 50 Colorado and this year's honorees, visit csrsolutionsco.org/civic50colorado.html
About Mayfly Outdoors: Mayfly Outdoors is a Colorado-based outdoor products company founded in Colorado Springs, Colorado. Mayfly subsidiaries operate under various brand names including Abel, Ross Reels, and Charlton. Combined, these businesses are the recipients of more industry "Awards in Excellence" for innovation, dependability and performance than any other fly-fishing tackle manufacturers in the world. Learn more at mayflyoutdoors.com
About B® Corporations: Certified B Corporations are leaders of a global movement of people using business as a force for good. They meet the highest standards of overall social and environmental performance, transparency and accountability and aspire to use the power of business to solve social and environmental problems. There are more than 2,000 Certified B Corporations in over 130 industries and 50 countries with 1 unifying goal – to redefine success in business. For more information, go to www.bcorporation.net.
About CSR Solutions of Colorado: CSR Solutions is committed to making Colorado a thriving place to live and work.  By empowering Colorado businesses of all sizes with the strategies and tools they need to give back to their communities, we align business purpose with employee need to make a better tomorrow.  With our combined experience in CSR, you walk away with a customized roadmap for your company, that allows you to do better by doing good.  For more information, visit www.csrsolutionsco.org.
About Points of Light: Points of Light – the world's largest organization dedicated to volunteer service – mobilizes millions of people to take action that is changing the world. Through affiliates in 250 cities across 37 countries and in partnership with thousands of nonprofits and corporations, Points of Light engages 5 million volunteers in 20 million hours of service each year. We bring the power of people to bear where it's needed most. For more information, go to www.pointsoflight.org.
Media Contact:
Andrew Gerrie
Backbone Media
andrew.gerrie@backbonemedia.net
970-963-4873, ext. 133