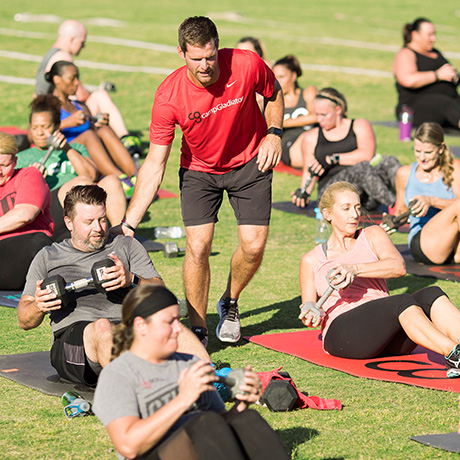 Mantra Labs announced a new partnership with Camp Gladiator (CG), a fitness platform and wellness community, for 2021. The partnership includes being the "official nutrition partner" of its CG Games which "brings together over 15,000 athletes nationwide to test endurance, strength, agility, and speed."
"There is an overwhelming sense of community with Camp Gladiator and a drive to be the best version of yourself through everyday habits, both mentally and physically," said actor, mental health advocate and Mantra Labs Co-founder, Jared Padalecki. "We are honored to partner with Camp Gladiator as we have an aligned mission to support physical and mental fitness through community, nutrition and activity."
Mantra's Chrono-Nutrition System was developed to provide optimal nutrition, hydration and bio-rhythm matched ingredients to fuel, optimize and support the mind and body. The brand's formulas offer "clean-crafted, science-backed ingredients" in three time-of-day drink mixes — Rise, GO and Rest.
"We are excited to be partnering with MANTRA Labs. CG is for all fitness levels and Mantra has a product for everyone, no matter your fitness goals. There are a lot of supplements and options in the market, and I can say Mantra Labs products really work," said Britt Knighton, VP Business Development, Camp Gladiator. "Their brand is a great partner for CG because we share the belief about the health of the whole person—physical, nutritional and mental—as well as the importance of community."
For more product information, go here.
Photo courtesy Mantra x Camp Gladiator